Natural Gas Prices Forecast: Weather, Weak Demand Setting an Early Bearish Tone
Updated

: Oct 2, 2023, 17:20 UTC
•
2
min read
Today's natural gas futures slide, even as OPEC calls for increased investment in the sector, signals a bearish short-term outlook for the commodity.
Highlights
IEA and OPEC's bullish outlook on natural gas is falling flat in the face of market realities.
NatGasWeather forecasts a chill across ERCOT, signaling a potential demand slump.
U.S. lower 48 gas output dips to 102.1 bcfd in Sept, despite record highs in August.
Pipeline exports to Mexico and U.S. LNG flows rise, but maintenance clouds the view.
Global Outlook Versus Market Reality
Despite optimistic forecasts from the International Energy Agency (IEA) and OPEC, natural gas futures are showing a declining trend. The November contract was down by 1.37% to $2.886 as of 11:48 GMT. These price movements occurred even after both IEA's Fatih Birol and OPEC's Secretary-General Haitham Al Ghais emphasized the importance of investing in the gas sector for energy security during an event in Abu Dhabi.
Weather Conditions and Demand
NatGasWeather's recent reports indicate a drop in temperatures across the Electric Reliability Council of Texas (ERCOT), which would decrease demand levels. Concurrently, the Great Lakes and Northeast areas are expecting their first cool shots, resulting in a modest uptick in heating demand. However, national demand is expected to remain low this week.
Supply Chain Adjustments
Financial analytics firm LSEG reports that average gas output in the U.S.'s lower 48 states has slightly decreased to 102.1 billion cubic feet per day (bcfd), contrasting a record 102.3 bcfd in August. Meanwhile, pipeline exports to Mexico have marginally improved, and gas flows to major U.S. LNG export plants are rising despite ongoing maintenance activities at key facilities.
Short-Term Forecast: Bearish Tendencies
With unconvincing comments from international agencies, fluctuating weather conditions, and a sluggish demand outlook, the natural gas market appears to be settling into a bearish short-term trend. Traders should exercise caution and closely monitor ongoing geopolitical and weather-related developments.
Technical Analysis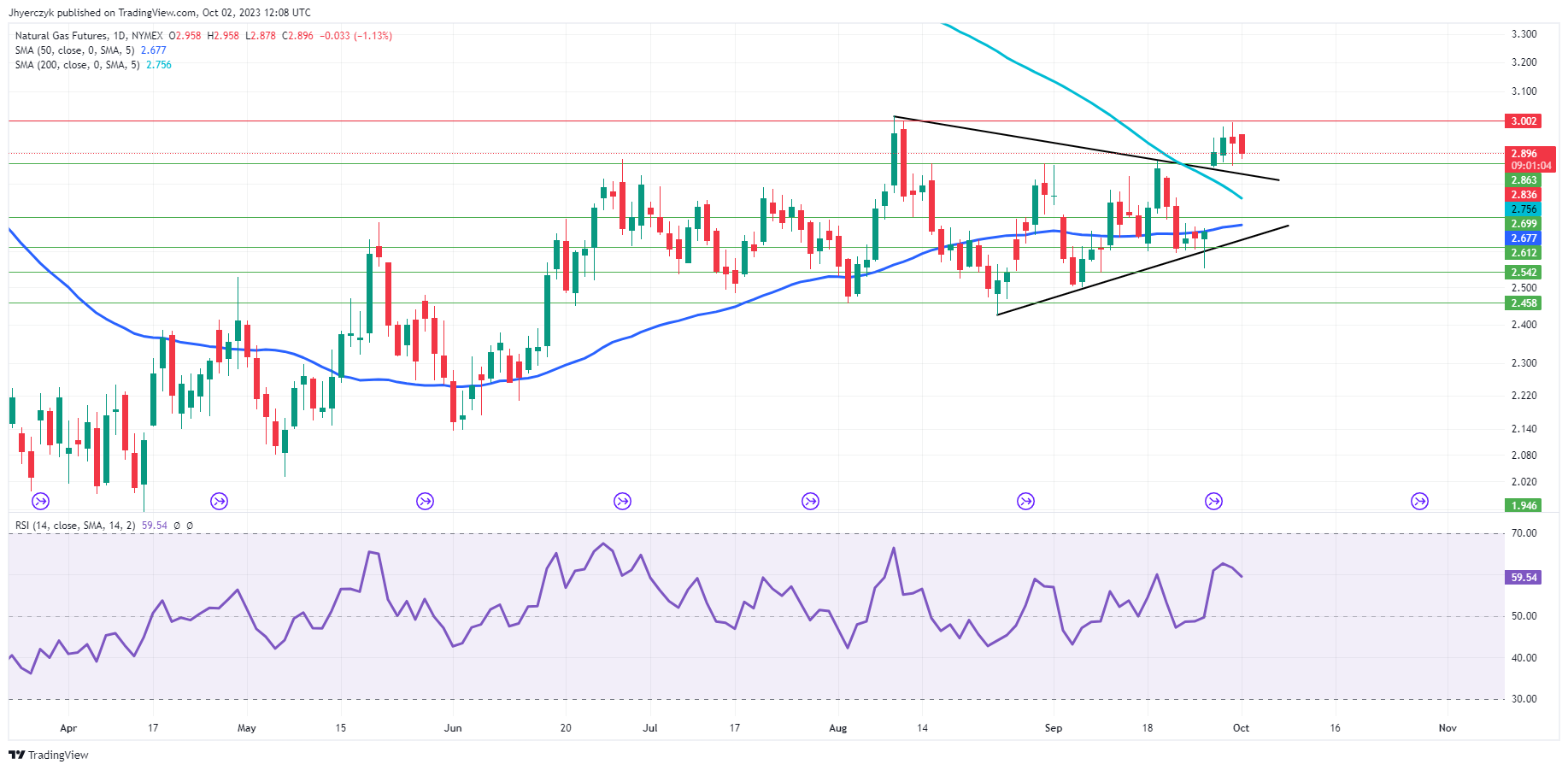 Daily Natural Gas
Based on the daily chart, the Natural Gas market with a current daily price of 2.893 is above both the 200-Day moving average (2.756) and the 50-Day moving average (2.677), indicating bullish momentum.
The 14-Day RSI of 59.60 suggests stronger momentum but is not yet in overbought territory.
Regarding support and resistance levels, the daily price is just above the minor support of 2.892 but below the minor resistance of 3.002.
The market is operating above both uptrending support (2.637) and trend line resistance (2.832).
In summary, given the daily price's position relative to key moving averages, RSI readings, and trend lines, the current market sentiment for Natural Gas appears cautiously bullish. Keep in mind, however, that the chart pattern may be skewed because of last week's "Rollover Gap".
Don't miss a thing!
Sign up for a daily update delivered to your inbox
Sponsored Financial Content