Organic Soybean Prices Rise as Indian Organic Soybean Meal Imports Drop
Updated

: Dec 1, 2021, 20:30 UTC
•
1
min read
The decline in organic soybean meal imports from India has buoyed U.S. organic soybean prices
The chart of Mid-West organic soybeans versus Indian organic soybean meal imports (U.S. Customs Department) shows a negative correlation between the price of organic soybeans and the volume of Indian organic soybean meal imported into the United States. Despite the rise in demand, organic soybeans prices remained flat throughout 2019 and 2020 as Indian organic soybean meal from India satiated the lion's share of market demand.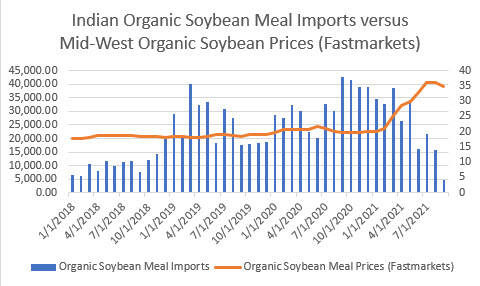 *Source Fastmarkets and U.S. Customs Department
The demand for organic grains has not declined yet, as many animal protein providers have been able to pass on their higher grain costs to their customers. Bell and Evans said they had already increased chicken prices in their quote to Reuters published in October. The consumer can absorb the higher price of organic poultry, eggs, and dairy as long as wages rise in tandem.
The risk to the cycle is an increase in interest rates by the Federal Reserve. The Administration and Federal Reserve have heard the people's cry, complaining about higher food costs and rising energy prices. Fed Chair Jerome Powell has even admitted that inflation is "no longer transitory".
Once the Fed begins to tighten, the cycle of passing on higher prices to the consumer will end and potentially reverse upward momentum in organic soybean meal prices.
Don't miss a thing!
Sign up for a daily update delivered to your inbox
Sponsored Financial Content