Retail Investors Gain Unprecedented Chance to Participate in Robinhood's Blockbuster IPO
Updated

: Jul 27, 2021, 14:29 UTC
•
4
min read
Robinhood is offering an IPO like no other as the wildly popular and ever-newsworthy trading app prepares itself to go public.
Retail investors have been offered a greater level of access to the initial public offering than ever before, with over a third of its shares being reserved for public access. So just how can retail investors take part in this blockbuster IPO?
Robinhood has long professed its dedication towards 'democratising finance' and in opting to make more of its shares available to retail investors, the platform has taken a significant step in welcoming more smaller-scale investors in giving them access to IPOs that would otherwise only be accessible to their institutional counterparts.
When Robinhood lists on the Nasdaq on July 29th, the company will be shooting for a $35 billion valuation with a share pricing range of between $38 and $42. To help make its shares more accessible to retail investors, the IPO coincided with the arrival of a new feature in the Robinhood platform: IPO Access.
IPO Access has been developed as a way of putting retail investors in touch with the IPOs of Robinhood and other companies readying themselves to go public with the intention of finding more initial public offering participants away from the favoured realm of institutional investors.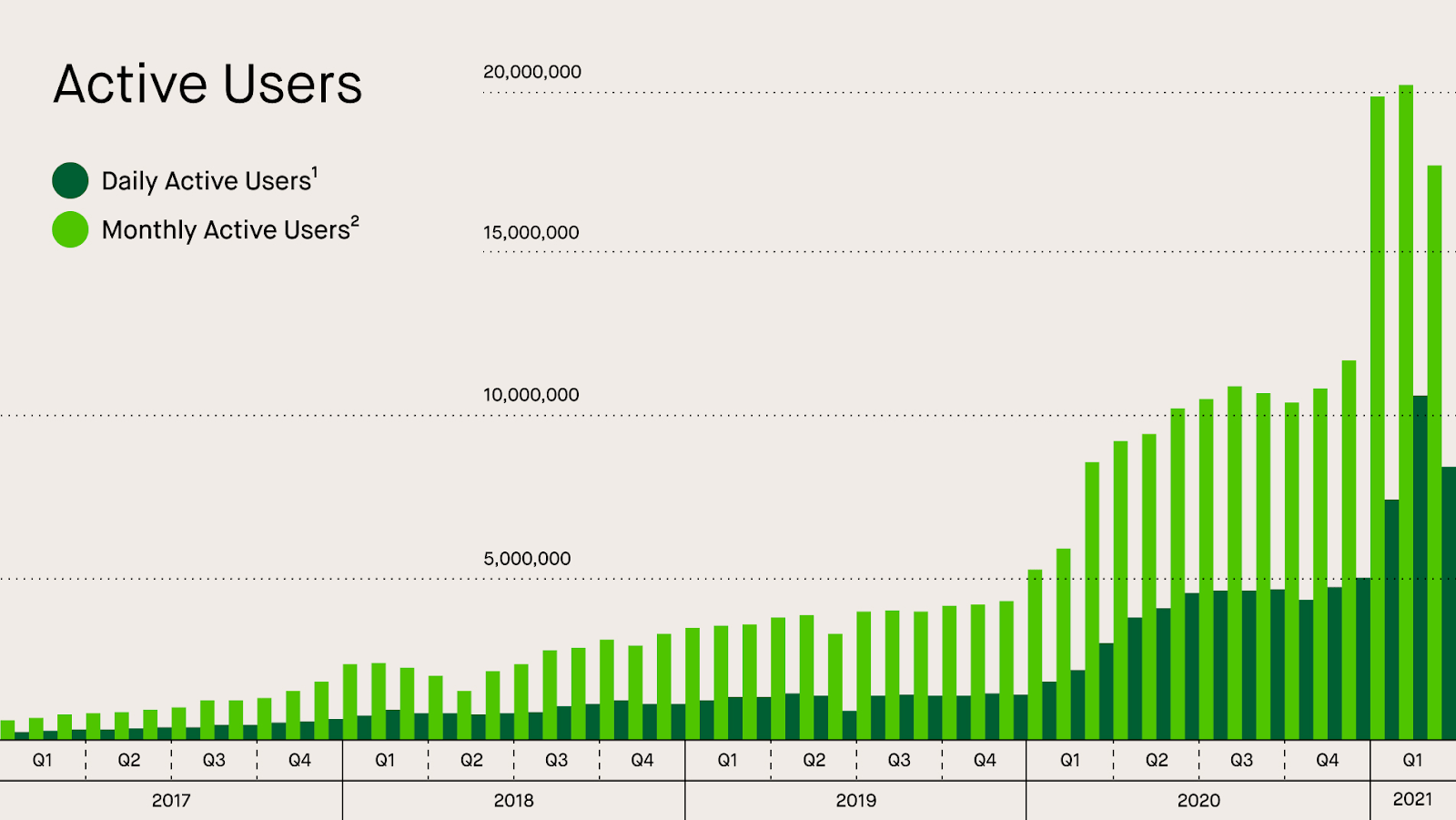 (Image:
CB Insights
)
As we can see from the chart above, Robinhood has enjoyed a prosperous period in the wake of the Covid-19 pandemic, with as many as 20 million monthly active users arriving on average in January and February 2021.
Although the platform has had a largely controversial start to 2021 following the fallout of the GameStop short squeeze in late January and the criticisms of Wall Street stalwarts Warren Buffett and Charlie Munger, Robinhood is still winning new fans in the nations it serves.
With such clear evidence of growth, Robinhood's move to offer such a large portion of its IPO to retail investors represents something of a risk. Will retail wake up to such an innovative move or could the platform miss reserving its offering to institutional investors?
Revolutionising Retail
In its S-1 filing, Robinhood took the bold step of reservice between 20% to 35% of its shares to be available to its customers through the company's new IPO Access feature. Getting in on a stock at the IPO stage is generally reserved for institutional investors, whilst their retail counterparts generally have to wait for the stock to begin trading to buy in.
This can present itself as an opportunity for retail investors to involve themselves in stocks at an earlier stage – however there's a potential downside. Buying shares at the IPO stage can be much riskier than investing in an established company. With this in mind, Robinhood users must conduct their due diligence before dipping their toes.
"Robinhood is following the market trend of today's most innovative assets, such as bitcoin, by giving retail investors more or all of the first bite at the apple ahead of institutional investors," said Rodrigo Vicuna, CFO of Prime Trust. "You no longer need to hit a certain level of financial eliteness in order to access portfolio-defining assets, and that is a meaningful win for retail investors."
Writing for The Verve, Elizabeth Lopatto heralded Robinhood's offering as "the first meme IPO," claiming that if the move works, we may see other companies opting to boost the proportion of their shares allocated to retail investors.
Today, many IPOs rarely allocate more than 1% to 3% of their shares to retail investors – meaning that if Robinhood ends its first day of trading higher than where it started, more companies could adopt a similar strategy. Given that Robinhood's IPO Access feature intends to make the initial public offerings of many companies available, it appears likely that Robinhood intends to be an investing trendsetter in this field once again.
How to Take Part in Robinhood's IPO
To become one of the retail investors buying into the 20% to 35% of Robinhood's pre-IPO shares, there are a few paths you can take.
The first and most straightforward way is to participate in the IPO through Robinhood's IPO Access feature. Robinhood has created IPO Access as a means of allowing investors to buy initial public offerings with no requirements for a minimum account balance and no obligation to buy before the final price of the offering is set.
However, because Robinhood only allows US applications, retail investors from the EU and other countries around the world won't be able to participate via the app itself – but there are alternatives available.
Fortunately, another platform that's acted to enable participation in Robinhood's IPO is Freedom24, which operates in a similar manner to the IPO Access feature.
However, Freedom24 serves users across Europe – creating the opportunity for Robinhood IPO participation where it's not possible via the app itself due to geographical restrictions.
This means that Robinhood's goal to democratize finance for all really can be enjoyed by all – whether they're based in the US or Europe.
Don't miss a thing!
Sign up for a daily update delivered to your inbox
Sponsored Financial Content