Silver Prices Forecast: XAG/USD Navigating Central Bank Chatter
Published

: Sep 19, 2023, 07:09 UTC
•
3
min read
Silver (XAG/USD) navigates a shifting landscape, influenced by central banks and the U.S. dollar's ebb.
Highlights
Silver's movement is deeply tied to U.S. dollar trends and central bank actions.
Federal Reserve's upcoming meeting creates suspense in the silver market.
Latest inflation metrics suggest a cooling off, adding layers of uncertainty.
Silver at the Crossroads: A Delicate Dance with Global Economics
Silver (XAG/USD) is hovering around a two-week high, closely watching the U.S. dollar's moves and what the big central banks are up to. With so much going on in the global economy, it's tough to pin down where silver's headed next, but it's definitely tied to big financial news and monetary policy changes.
Central Bank Decisions Loom
The market is abuzz, predominantly due to the upcoming Federal Reserve meeting. With a 99% expectation that the Fed will maintain current interest rates, as indicated by CME's FedWatch tool, there remains an atmosphere of suspense. Speculations of rate hikes later in the year persist, chiefly steered by the latest inflation data. Additionally, decisions from central banks in Britain and Japan further add complexity to silver's impending course.
Navigating the Inflationary Maze
A slew of recent inflation metrics, including the consumer and producer price indexes, suggests a potential tempering of inflationary pressures. These data points, especially when excluding fluctuating variables like food and energy, introduce a layer of uncertainty. Furthermore, the University of Michigan's report indicating a dip in inflation expectations adds to the growing cloud of unpredictability.
Currency Interplay
The U.S. dollar's slight descent has inadvertently thrust silver into the spotlight for global investors. A 0.3% dip against major currencies amplifies silver's appeal, especially as global economies grapple with inflation concerns and potential policy shifts. This currency dynamic, coupled with Fed Chair Powell's anticipated insights on inflation, holds the power to mold the metal's attractiveness in the immediate future.
Plotting Silver's Path
Amid signals of potential rate hikes by the Bank of England and the yet-undefined stance of the Bank of Japan, silver's journey is intricate. There's an undercurrent of anxiety around persistent inflation, buttressed by robust consumer spending and a stringent labor market landscape. These factors may propel central banks to either uphold or escalate their interest rate regimes, consequently affecting silver's prospects for a robust ascent.
Short-Term Outlook
In wrapping up, silver's immediate future is delicately poised between optimism and caution. It remains tethered to the forthcoming determinations of central banks and the overarching global economic narrative. Investors and stakeholders are keenly observing, ready to respond to the subtlest of cues that might dictate the metal's direction.
Technical Analysis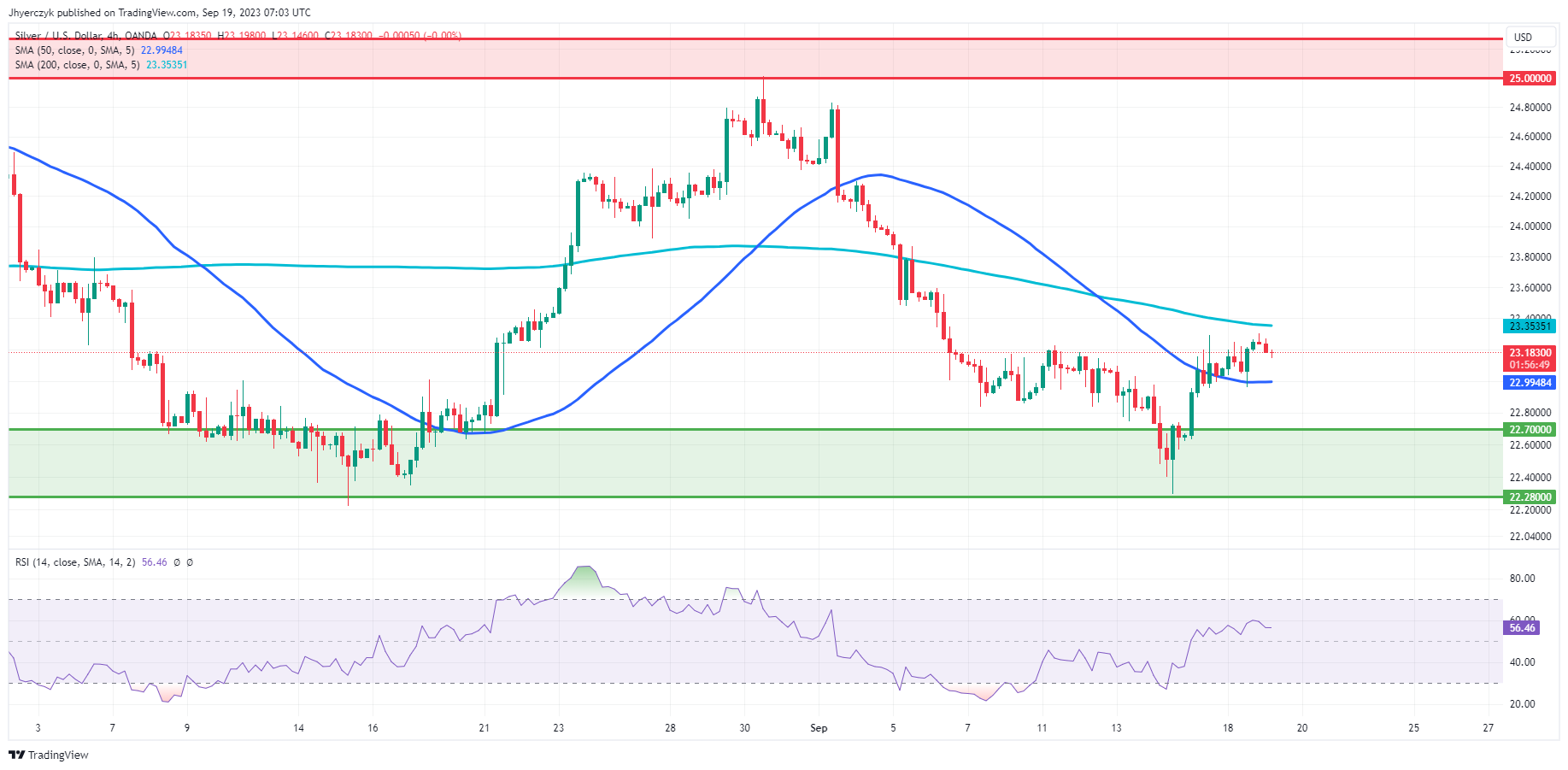 4-Hour Silver (XAG/USD)
Silver (XAG/USD) stands at a 4-hour price of 23.18, exactly aligning with its previous 4-hour mark. It trades slightly below its 200-4H moving average of 23.35 but above the 50-4H moving average of 22.99, suggesting a potential tussle between bullish and bearish sentiments. The 14-4H RSI registers at 56.46, indicating a mildly bullish momentum as it's above the neutral point.
Although the current price sits above the main support area of 22.70 to 22.28, it remains distanced from the primary resistance zone of 25.00 to 25.27. With these metrics, the short-term sentiment leans cautiously bullish, but challenges persist for a definitive uptrend.
Don't miss a thing!
Sign up for a daily update delivered to your inbox
Sponsored Financial Content