Silver Prices Forecast: XAG/USD Stumbles Amid Soaring Dollar and Treasury Yields
Published

: Sep 26, 2023, 07:13 UTC
•
2
min read
XAG/USD traders eye inflation data amid Fed's tilt to higher rates, while analysts cite U.S. rates and China's economy as silver's challenges.
Highlights
Silver prices drop with a strengthening U.S. dollar.
Potential U.S. government shutdown adds market tension.
U.S. rate hikes and China's economy impacting XAG/USD's outlook.
Silver and the Strong Dollar
Silver (XAG/USD) prices have taken a hit this Tuesday, with the U.S. dollar and Treasury yields on the rise. Traders are now keeping their eyes peeled for a crucial consumer inflation report, as it could give some indicators on what the Federal Reserve might do next regarding interest rates. Meanwhile, the market's hanging around its one-month range midpoint, but the noticeable low trading volume may be raising some eyebrows among buyers.
At 06:55, Silver (XAG/USD) is trading $22.86, down $0.69 or -2.92%. December Comex Silver futures are at $23.11, down $0.275 or -1.18%.
ANZ Analysts Weigh In
"Silver's in a tough spot right now," say ANZ analysts. "It's grappling with the looming rise in U.S. interest rates reducing its allure and a slowing Chinese economy dampening industrial demand."
SPDR Gold Trust's Impact
It seems demand for silver is also under pressure due to the latest from the SPDR Gold Trust, the world's leading gold-backed exchange-traded fund, which announced a 0.1% dip in its holdings on Monday—hitting its lowest since January 2020.
The Fed and Market Speculations
The Federal Reserve's signals of sticking to higher interest rates for a while have shaken up investor expectations and stirred the market. Everyone's now bracing for another potential rate hike in November or December, aligned with the Fed's recent statements and the remaining meetings this year.
Government Shutdown Concerns
Tensions are mounting over the possible U.S. government shutdown, set to kick in on October 1 if the ongoing federal budget talks hit a dead end. Investors are on the edge, closely watching various economic signs and the Fed's favored inflation gauge, along with upcoming housing sector data, to make sense of where the economy's heading.
Bearish Outlook for Silver
In the short run, unless there's some major economic shake-up and the current worries subside, the mood around silver is looking pretty bearish. Any new key economic data and resulting Federal Reserve actions will play a crucial role in shaping market attitudes and movements in the upcoming months.
Technical Analysis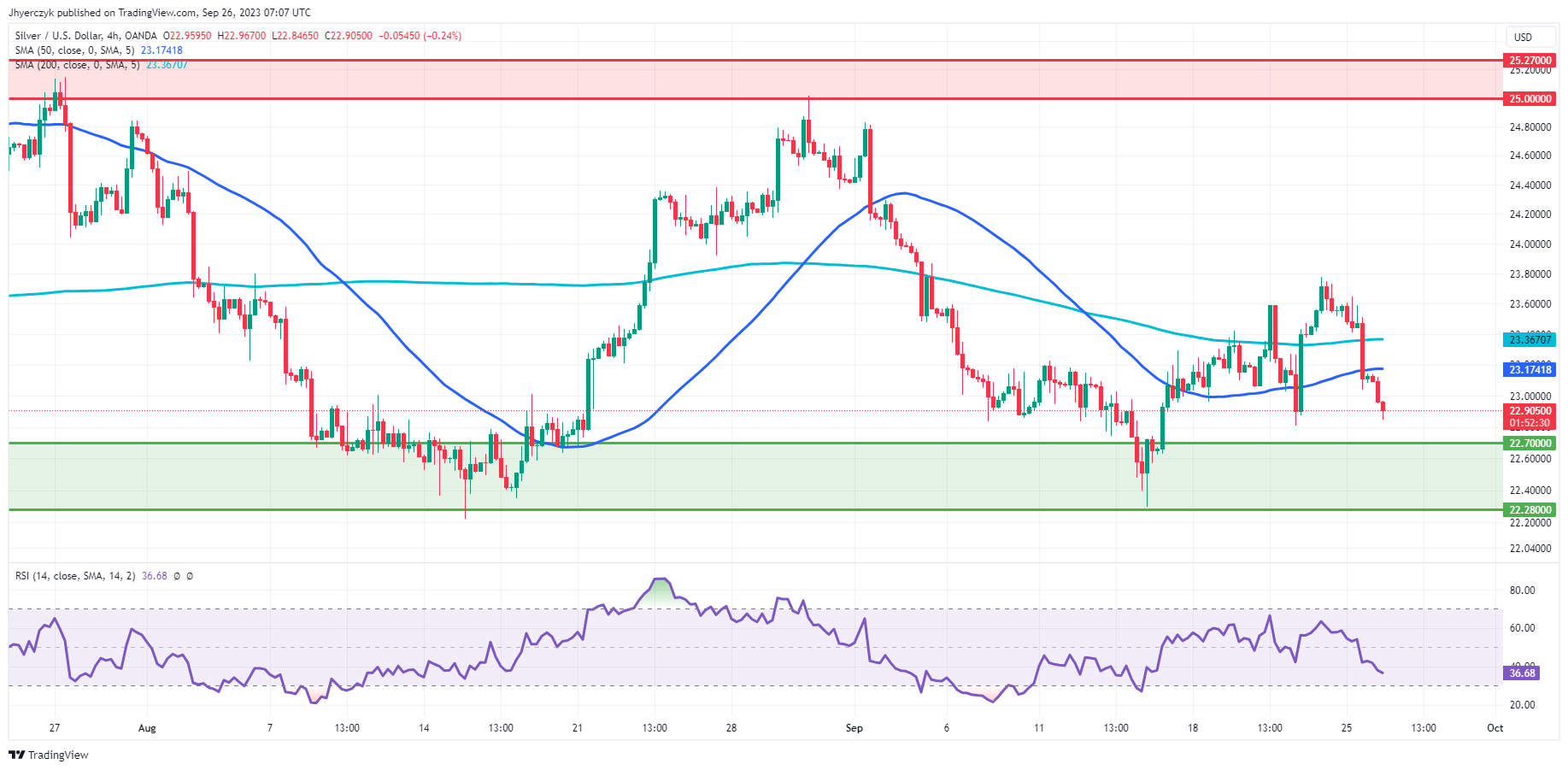 4-Hour Silver (XAG/USD)
Silver (XAG/USD) has seen a slight decline, moving from 22.96 to its current 4-hour price at 22.91. The metal is currently trading below both the 50 and 200-4H moving averages, indicating a bearish sentiment.
Specifically, it sits below the 23.17 (50-4H MA) and even further beneath the 23.71 (200-4H MA), making these areas resistance. The 14-4H RSI stands at 36.85, suggesting weakened momentum, but it's not yet in the oversold territory.
Main support is established between 22.70 and 22.28, while the major resistance looms at the 25.00 to 25.27 range. Given these factors, the short-term outlook for Silver appears bearish, with key levels and indicators reinforcing this sentiment.
Don't miss a thing!
Sign up for a daily update delivered to your inbox
Sponsored Financial Content