USD/CHF Price Forecast – USD/CHF Further Confirms Bullish Reversal off Bottom and Next Heads Towards 0.9865
Updated

: Feb 18, 2020, 23:13 UTC
•
2
min read
Stronger dollar helps USD/CHF pair advance to new trend highs, with signs of more upside to go.
A stronger U.S. dollar helped the USD/CHF pair advance by 0.0024 or 0.24% Tuesday, to close at 0.9832.
Uptrend Resumes Following Shallow Pullback
Yesterday's weakness in the USD/CHF pair didn't last long as support was found just above the 38.2% Fibonacci retracement at 0.9797, as seen on the enclosed 4-hour chart, before buyers stepped in more aggressively to propel the pair to new trend highs. That's a relatively shallow retracement and indicates underlying strength in the pair.
Bullish Reversal from Bottom has Higher Targets
The current advance is a continuation of an inverse head and shoulders breakout from last week with a minimum target at around 0.9923. Together with the 78.6% Fibonacci retracement at 0.9934, the two prices can be considered as a target zone.
Moreover, depending on when price reaches the target zone, if it is to do so, the downtrend line will be merging with the zone. The line can then be used as another indicator to watch for possible resistance. At the same time, a decisive advance above the 0.9934 price level, will be bullish.
Given the shallow breakout and relatively rapid continuation into new trend highs, indications are that the target could eventually be reached.
Dollar Strength Relentless
Strength in the dollar helps the USD/CHF. The U.S. dollar index reached a new trend high today as it accelerated to test prior monthly highs. It ended strong and is now testing the tops of the long-term uptrend from September/October of last year. There is no end in sight to upward momentum, indicating the prior highs could be exceeded in the near-term, which should help the USD/CHF pair.
Coronavirus Fears
The death toll from the virus outbreak rises to 2,000, with more than 72,000 people infected globally. Along with the rise in the death toll and infections, Apple reported that they will miss their revenue estimate for the first quarter ending in March due to the impact from the virus. Investors now fear the outbreak will hurt earnings of other major companies and are looking for safety.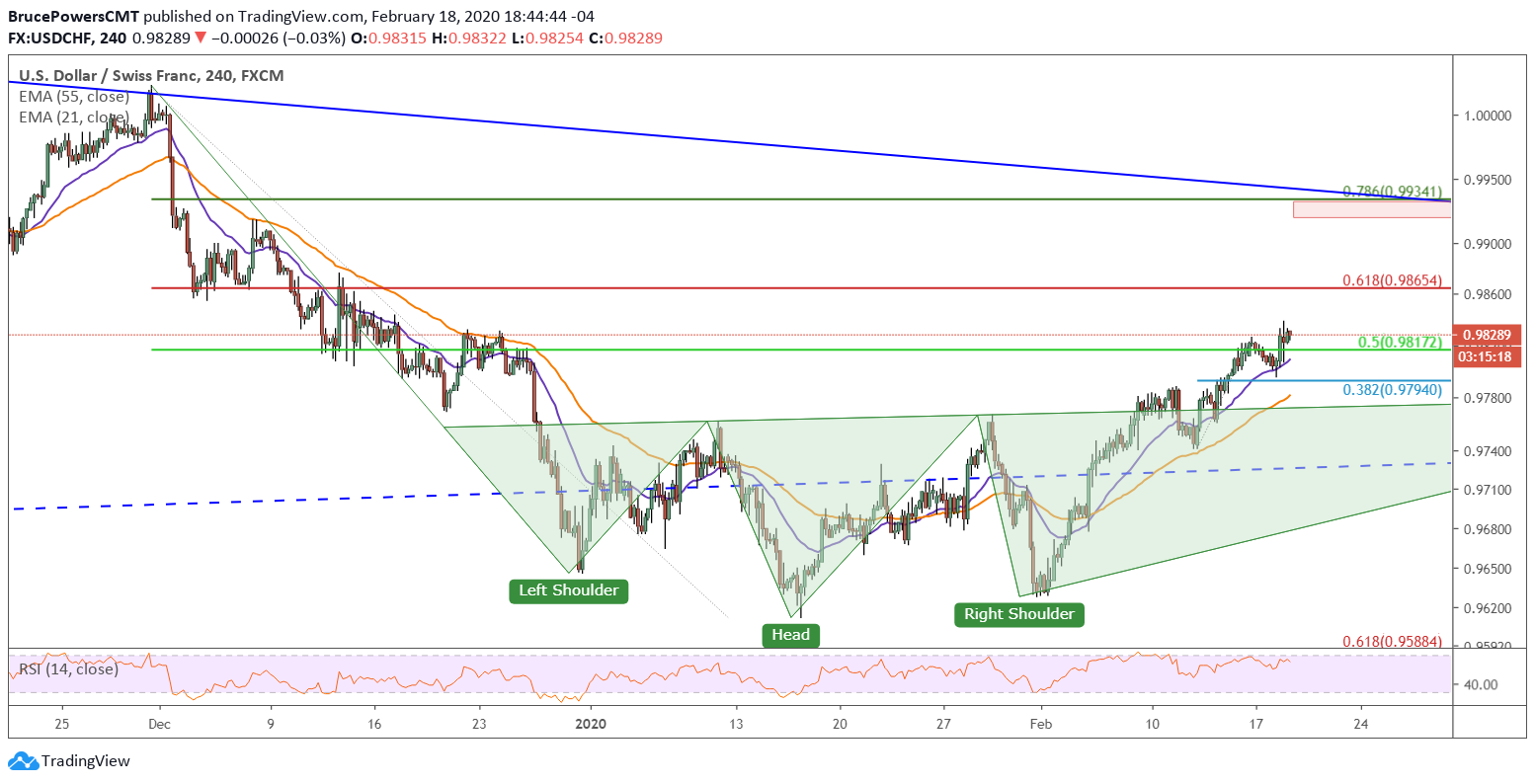 USD/CHF Breaks above 50% Retracement
Next, watch the reaction to price around the 61.8% Fibonacci retracement at 0.9869. Today, the 50% retracement was breached thereby increasing the likelihood the 61.8% level will be touched, at a minimum.
Also, notice the 21-period exponential moving average (ema) purple line on the enclosed 4-hour chart, and how it acted as support, roughly, during the most recent pullback. Therefore, it can be watched going forward to indicate dynamic support of the trend or for signs of more significant weakening during retracements, if price breaks below it.
Don't miss a thing!
Sign up for a daily update delivered to your inbox
Sponsored Financial Content