XRP Bears Eye Sub-$0.40 on SEC v Ripple Silence and US Debt Ceiling
Published

: May 12, 2023, 01:40 UTC
•
4
min read
It is a busy day ahead for XRP and the global financial markets. However, SEC v Ripple Court silence will leave US debt ceiling-related news in focus.
Key Insights:
On Thursday, XRP resumed the downward spiral, falling 2.19% to end the session at $0.42110.
US debt ceiling woes and SEC v Ripple silence left XRP on the back foot.
The technical indicators remain bearish, signaling a return to $0.40.
On Thursday, XRP fell by 2.19%. Reversing a 0.35% gain from Wednesday, XRP ended the day at $0.42110. XRP fell for the fifth time in six sessions.
Bearish throughout the session, XRP fell from an opening price of $0.43070 to a late afternoon low of $0.41193. XRP briefly fell through the First Major Support Level (S1) at $0.4173 before recovering to end the day at $0.4211.
US Debt Ceiling and a Predicted Delay in SEC v Ripple Verdict Weighed
It was a relatively busy Thursday session. US economic indicators and US politics took center stage.
Softer US wholesale inflation numbers and a larger-than-expected rise in US jobless claims delivered brief relief. While the stats likely raised the expectation of the Fed ending its monetary policy tightening cycle, a lack of progress in raising the US debt ceiling weighed on investor sentiment.
US Treasury Secretary Janet Yellen sounded the alarm bells, saying,
"A default would threaten the gains that we've worked so hard to make over the past few years in our pandemic recovery. And it would spark a global downturn that would set us back much further."
While the US debt ceiling-related news drew interest, there were no updates from the ongoing SEC v Ripple case to distract investors.
The Day Ahead
This afternoon, US economic indicators will influence, with Michigan Consumer Sentiment and Expectations numbers in focus. While the stats will draw interest, the market focus will likely remain on US debt ceiling-related talks. A lack of progress toward raising the debt ceiling would fuel US and global recessionary jitters.
However, while the US economic indicators, debt ceiling updates, and Fed chatter will influence, an SEC v Ripple Court ruling would have more impact.
Investors should continue to track the crypto news wires for Court rulings from the ongoing SEC v Ripple case. A lack of SEC v Ripple case updates will likely continue to test buyer appetite.
SEC activity and Binance and Coinbase (COIN)-related news will continue to provide direction. Binance and Coinbase remain under the US Government spotlight despite the ongoing debt ceiling issues and the banking sector crisis.
XRP Price Action
At the time of writing, XRP was up 0.14% to $0.42167. A mixed start to the day saw XRP fall to an early low of $0.41907 before rising to a high of $0.42210.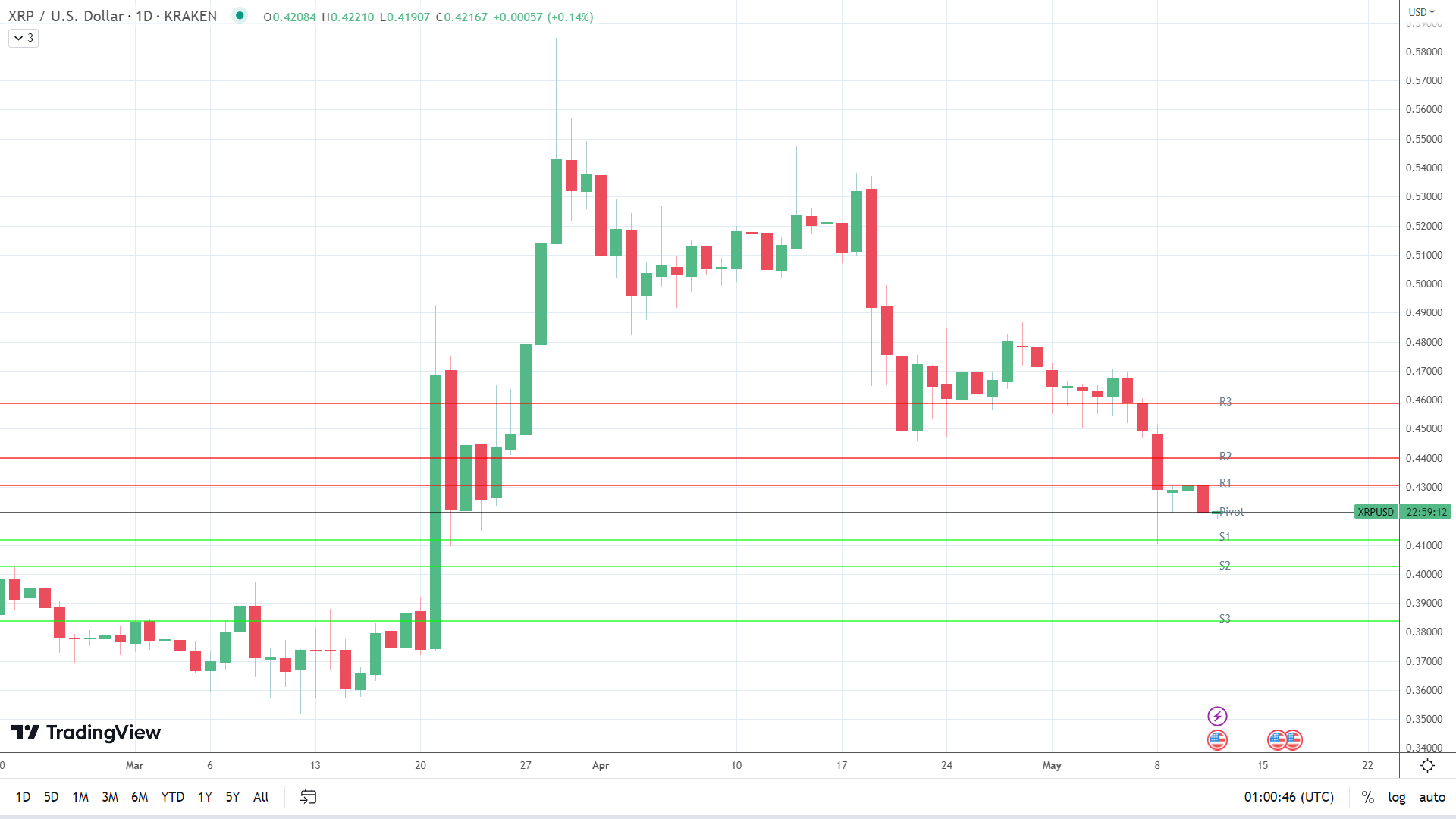 XRPUSD 120523 Daily Chart
Technical Indicators
Resistance & Support Levels
| | | | |
| --- | --- | --- | --- |
| R1 – $ | 0.4306 | S1 – $ | 0.4118 |
| R2 – $ | 0.4400 | S2 – $ | 0.4025 |
| R3 – $ | 0.4588 | S3 – $ | 0.3837 |
XRP needs to avoid the $0.4212 pivot to target the First Major Resistance Level (R1) at $0.4306 and the Thursday high of $0.4307. A return to $0.4250 would signal a bullish session. However, SEC v Ripple chatter and the US debt ceiling must support a breakout session.
In the case of an extended rally, XRP would likely test the Second Major Resistance Level (R2) at $0.4400. The Third Major Resistance Level (R3) sits at $0.4588.
A fall through the pivot would bring the First Major Support Level (S1) at $0.4118 into play. However, barring another crypto event or risk-off-fueled sell-off, XRP should avoid sub-$0.40. The Second Major Support Level (S2) at $0.4025 should limit the downside. The Third Major Support Level (S3) sits at $0.3837.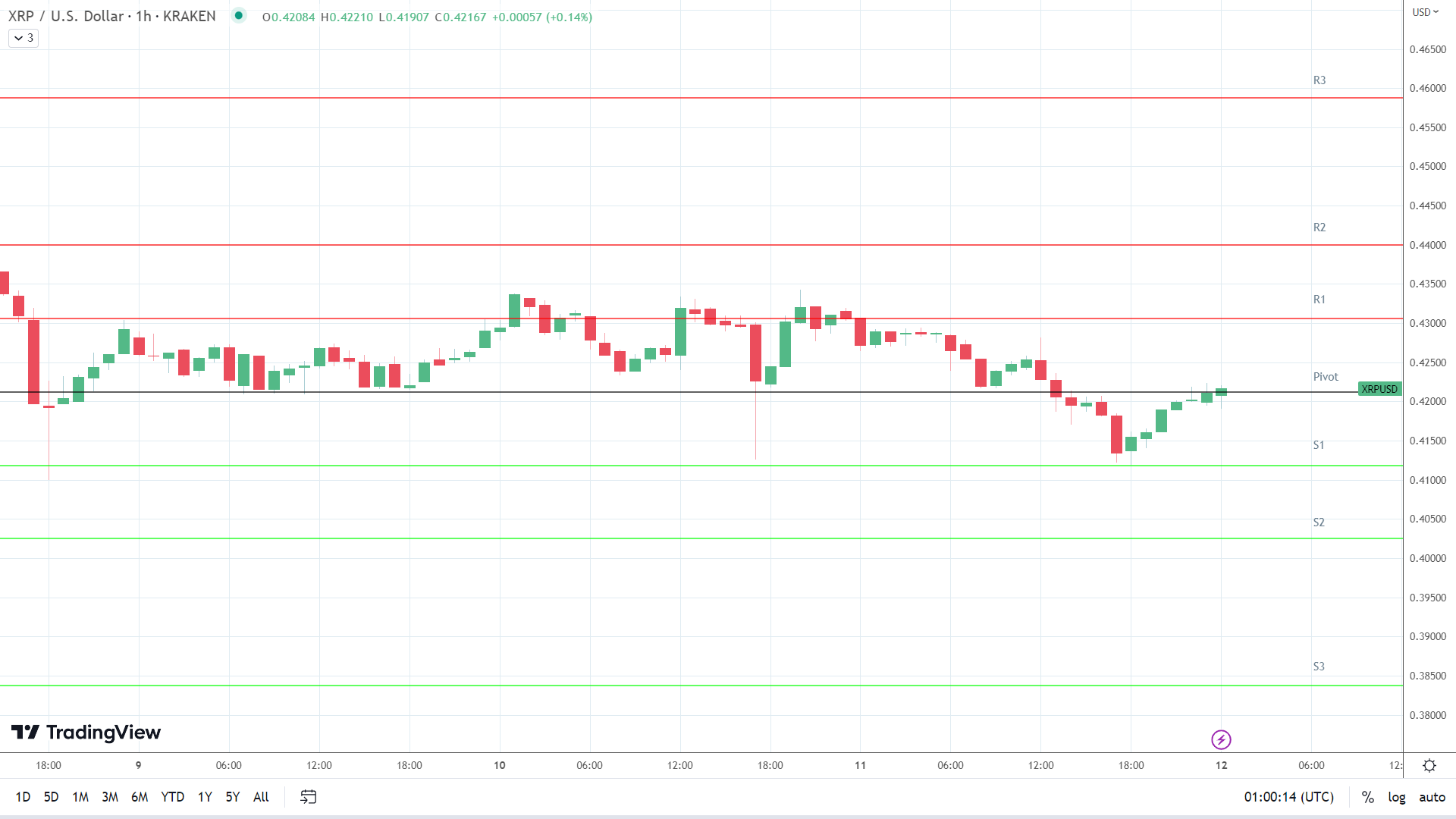 XRPUSD 120523 Hourly Chart
The EMAs and the 4-hourly candlestick chart (below) sent bearish signals.
At the time of writing, XRP sat below the 50-day EMA, currently at $0.43946. The 50-day EMA slid back from the 200-day EMA, with the 100-day EMA pulling back from the 200-day EMA. The EMAs delivered bearish signals.
A move through R1 ($0.4306) would give the bulls a run at the 50-day EMA ($0.43946) and R2 ($0.4400). However, failure to move through the 50-day EMA ($0.43946) would leave S1 ($0.4118) and sub-$0.41 Major Support Levels in view. A move through the 50-day EMA ($0.43946) would send a bullish signal.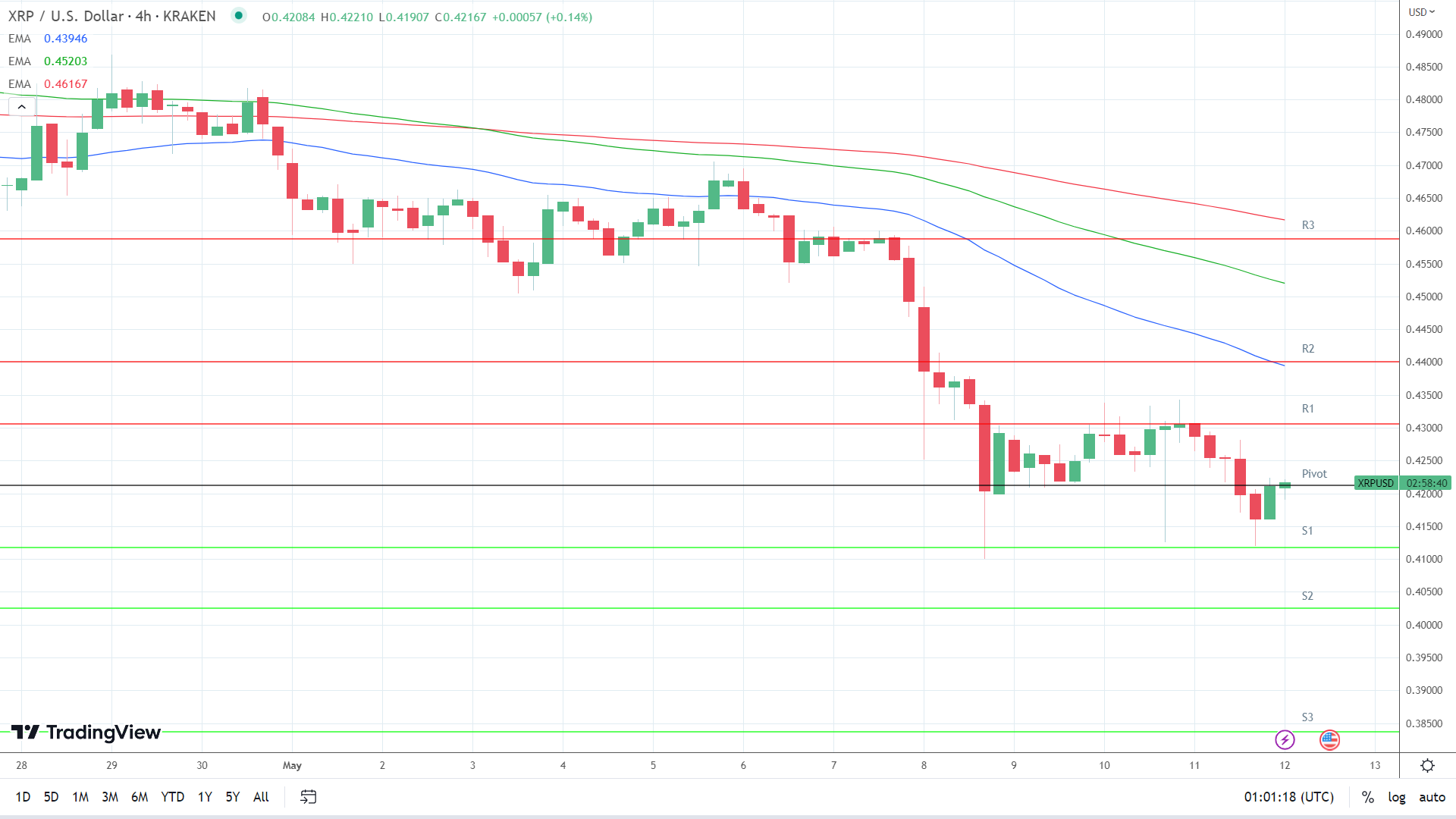 XRPUSD 120523 4 Hourly Chart
Don't miss a thing!
Sign up for a daily update delivered to your inbox
Sponsored Financial Content