Nasdaq 100, Dow Jones, S&P 500: Tesla's Underutilized Factories Hit Margins; Stock Down 4% After Earnings
Updated

: Apr 20, 2023, 05:55 UTC
•
3
min read
Shares in electric vehicle makers Tesla dropped 4% after the company reported first-quarter earnings after the bell.
Highlights
Tesla's Q1 revenue up 24% YoY
Net income down 24% YoY
Tesla Energy revenue surged 148% YoY
Overview
Tesla's shares dropped by 4% following the release of its Q1 earnings report, which showed adjusted earnings per share at 85 cents, in line with expectations, while the revenue of $23.33 billion surpassed the Refinitiv estimate of $23.21 billion. However, net income and GAAP earnings fell 24% and 23%, respectively, compared to the previous year.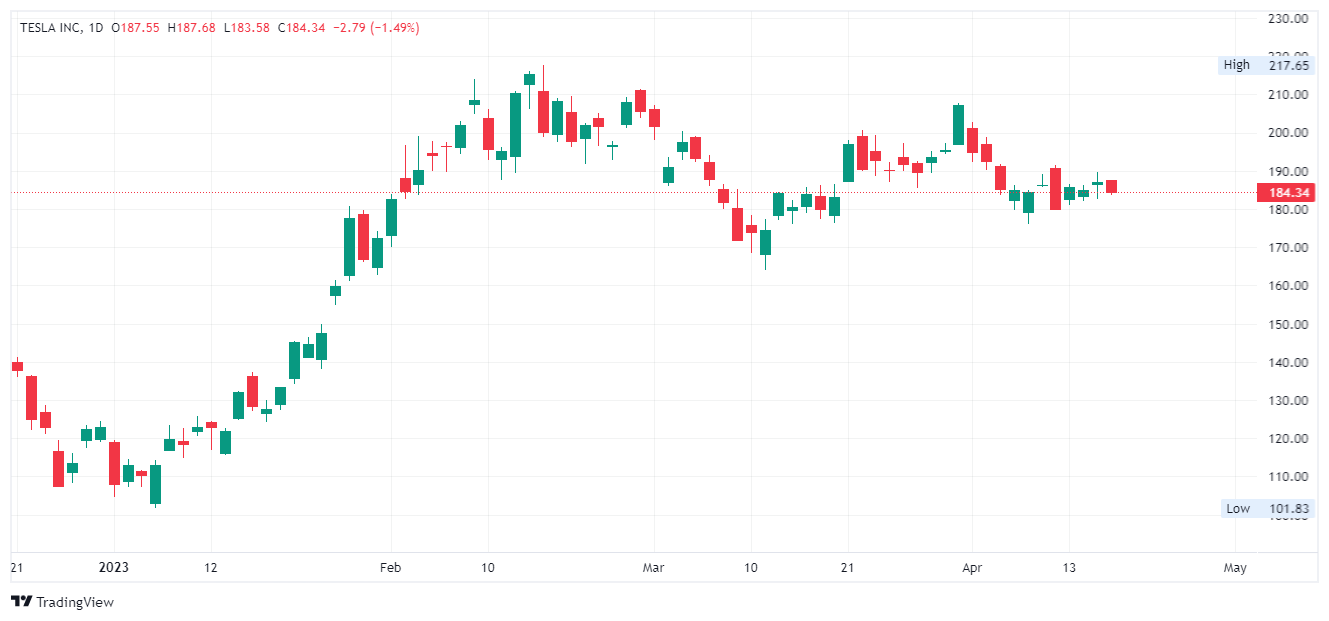 Daily Tesla Inc
Tesla IDs Reasons for Earnings Decline
In a shareholder deck, Tesla identified the underutilization of new factories, increased raw material, commodity, logistics, and warranty costs, as well as lower revenue from environmental credits, as factors contributing to the decline in earnings from the previous year.
Tesla Q1 Revenue Surges
In Q1, Tesla's automotive revenue, the company's core segment, rose to $19.96 billion, marking an 18% increase from the previous year. Total revenue saw a 24% uptick during the same period.
Meanwhile, Tesla Energy revenue surged to $1.53 billion, a 148% YoY increase, driven by the deployment of energy storage systems. The company noted a 360% surge in lithium-ion battery-based energy storage systems, including the Powerwall home backup battery and the Megapack utility-scale system, which help utilities store and utilize renewable energy from sources like solar and wind.
Tesla Slashes Vehicle Prices
Tesla reduced prices of its vehicles in Q4 2022 and Q1 2023, with further cuts introduced on Tuesday night. Despite this, the company is pursuing ambitious expansion plans and increasing capital expenditures. Currently, Tesla produces four EV models across two assembly plants in the US, one in Shanghai, and another outside of Berlin.
Shareholders Seek Tesla Updates
Shareholders had questions for Tesla management before earnings call. They asked about new model timing, energy division, and Cybertruck updates.
Tesla Delivers 422k Vehicles
Tesla revealed in early April that it delivered 422,875 vehicles in Q1, which is the closest approximation of disclosed sales figures. Production was slightly higher than deliveries during the same period at 440,808 vehicles.
Tesla Plans New Factories
One month before the earnings call, Musk announced Tesla's plans to construct a factory in Monterrey, Mexico, which is just a day's drive away from a new factory in Austin, Texas.
More recently, the company declared its intention to establish a factory in Shanghai for the production of Megapacks, large lithium-ion battery-based energy storage systems.
Tesla to Boost Expenditures
In late January, Tesla revealed increased capital expenditures. The company plans to spend $7 billion to $9 billion for 2024 and 2025.
Tesla Shares Rebound Strongly in 2023
After a bleak 2022 that saw a significant decline in tech stocks, including Tesla, losing around two-thirds of its value, the company's shares have rebounded this year. In 2023, the stock has surged by 48%.
Tesla to Livestream Earnings
For the first time, Tesla will livestream its Q1 earnings call via Twitter. CEO Elon Musk sold billions of dollars worth of Tesla holdings in 2022. The funds were used for a $44 billion buyout of a social media platform. Musk is now the CEO of the acquired company.
For a look at all of today's economic events, check out our economic calendar.
Don't miss a thing!
Sign up for a daily update delivered to your inbox
Sponsored Financial Content