Nvidia Surpasses Expectations with Impressive Q1 Earnings, Shares Soar 15%
Updated

: May 25, 2023, 04:28 UTC
•
2
min read
Nvidia surpasses Q1 revenue estimates, shares surge 15%, and optimistic Q2 forecast reflects growing AI chip demand.
Highlights
Q1 revenue exceeds estimates: $7.19B vs. $6.52B
Earnings per share surpass expectations: $1.09 vs. $0.92
Optimistic Q2 forecast: Expected revenue of $11B, reflecting strong demand for AI chips
Nvidia Exceeds Expectations, Shares Soar
Nvidia Corp reported first-quarter earnings for its fiscal 2024 on Wednesday, exceeding expectations and driving shares up 15% in extended trading. The company's strong performance was driven by various factors across its divisions.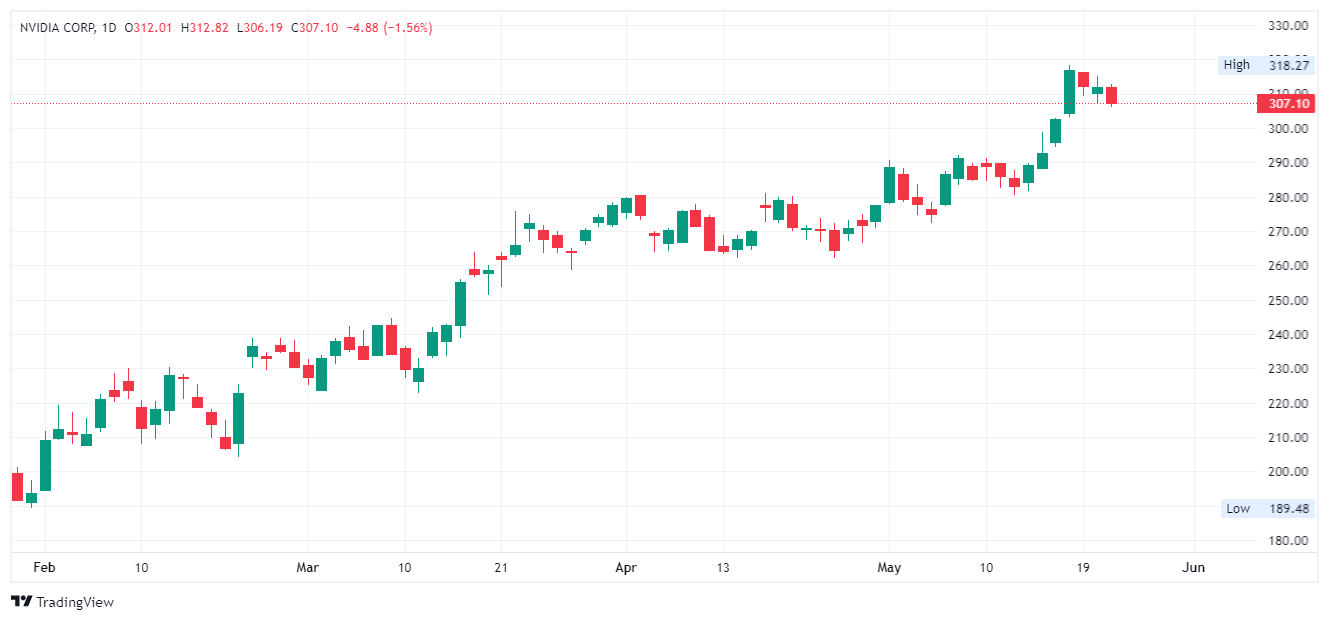 Daily NVIDIA Corp
Q1 Revenue Surpasses Expectations
Nvidia's revenue for the quarter ending in April reached $7.19 billion, surpassing the Refinitiv consensus estimate of $6.52 billion. The company also outperformed in terms of earnings per share, reporting $1.09 adjusted EPS compared to the expected $0.92.
Q1 Net Income Soars
The net income for the quarter was $2.04 billion. This is a reflection of a significant increase from $1.61 billion in the same period last year. This growth demonstrates Nvidia's ability to capitalize on market opportunities and deliver impressive financial results.
Gaming and Datacenter Divisions Thrive
In terms of revenue breakdown, Nvidia's gaming division experienced strong sales, reaching $2.24 billion versus the expected $1.98 billion. However, overall revenue for the category declined by 38% on an annual basis. On the other hand, the datacenter group reported $4.28 billion in sales, surpassing expectations of $3.9 billion and demonstrating a 14% annual increase.
AI Chip Dominance Soars
Nvidia's success stems from its leading position in the AI chip market, driving significant optimism and investor interest. In 2023 alone, Nvidia has witnessed a stock increase of over 113%.
Optimistic Q2 Revenue Forecast: $11B
Looking ahead, Nvidia provided an optimistic forecast for the second quarter, with expected revenue of around $11 billion, plus or minus 2%. This projection exceeds the Refinitiv estimate of $7.15 billion. The growing popularity of artificial intelligence has fueled the demand for Nvidia's chips. This demand is particularly prominent in big data centers. As a result, the company is positioned for continued growth and success.
Nvidia's Market Value Jumps
The strong financial performance and positive outlook have contributed to Nvidia's rise as the fifth most valuable U.S. company by market value. Nvidia's continued focus on AI technology and its ability to deliver impressive results have positioned the company well in the market. It is poised for further growth and success in the future.
Don't miss a thing!
Sign up for a daily update delivered to your inbox
Sponsored Financial Content