Bearish correction on Oil continues
Today, our attention is on the oil, which for the last few days is undergoing a bearish correction. From the tops in May, we already lost around 8 USD but we think that we can go even lower, at least that is what the technical analysis is telling us at the moment.
The sell signal on the WTI was created on Friday and is being confirmed today. Past few months, were absolutely great for the buyers of the Black Gold. The price was going higher, making new long-term highs. End of May brought us a correction time, which, thanks to the current sell signal, got extended for the next few days. Our negative approach is based mostly on the two factors. First one, is the breakout of the long-term up trendline (upper red, connecting higher lows since the August 2017) and the second one, is the breakout of the horizontal support on the 66.4 USD/bbl (green, relevant as S/R since January 2018). The most important thing here is that both lines got already tested as a resistance (on Friday). The outcome of that test was positive for the sellers.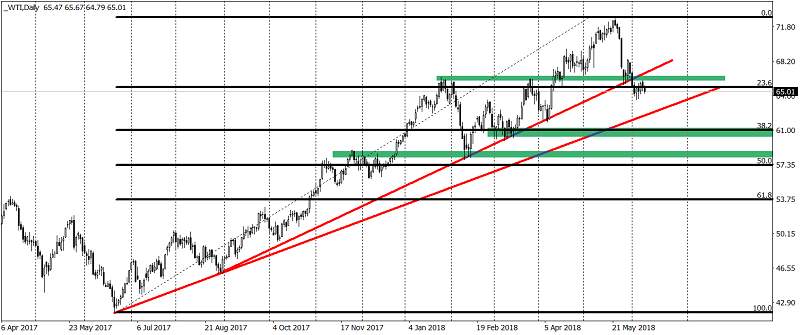 The first target for the current movement is on the 38,2% Fibo, so around the 61 USD/bbl. Chances that we will get there are very high. Sell signal will be denied, when the price will come back above the 66.4 USD/bbl but chances for that are now limited.
This article is written by Tomasz Wisniewski, a senior analyst at Alpari Research & Analysis