Bitcoin on The Verge of Exiting Crypto Winter
Published

: Mar 31, 2023, 00:05 UTC
•
3
min read
Remember the level of $28,858 marked the beginning of the current winter back in May of last year and therefore I feel confident it will also mark its end.
In our last article, we spoke about the possibility of a pivot from bearish to bullish and even an end to the crypto winter if Bitcoin was able to trade and hold above $26,000.
Importance of Trading Above Range and 200-Week Moving Average
The significance is more easily seen on a weekly chart because the most important factor in trading above what had been the range for months ($15k – $25k). However, the most significant technical achievement was moving back above the 200-week moving average. That technical indicator has been a very accurate signal of a bottom in the past such as in December 2018 and March 2020. In both instances pricing briefly dipped below the 200-week SMA, while the recent occurrence of pricing below this indicator lasted for 9 months.
Stronger Bullish Signal and Level to Breach
In our last article, we said that if BTC took out resistance at $26,000 it would signal a pivot to bullish and an exit from the sideways rangebound action that defined the last 9 months. The level we stand to breach currently would be a much stronger bullish signal than the breach of $26,000 although that was important in calling for a possible end of the current crypto winter, this level we currently stand to breach would be confirmation that indeed the snow has melted and the ice thawed and a fresh new bull run would bloom in Spring 2023.
Historical and Technical Significance of $28,858
The level I am referring to is $28,858 and holds multiple technical and historical significance. The first and most apparent reason this level of resistance represents a line in the sand with further downside below it and endless opportunities above it.
$28,858 was the last support level where pricing attempted to hold in May and June of 2022 right before the breakdown that occurred in mid-June in which BTC fell from roughly $30k to $18k in a two-week flash crash.
Fibonacci Retracement and Importance of $29k
On a long-term weekly chart, we can see how this level which I will call $29k for the sake of ease ties into the most important level in BTC over the past three years. Putting up the most important Fibonacci retracement which is still relevant today because we have not had a higher high or lower low, we can easily see why $29k is so critical and has been such a good indicator for bottoms, breakdowns, and now breakouts.
Our Fibonacci retracement starts at the lows of March 2020 at $3,500 up to the all-time high of $69,000 achieved in November 2021. I am sure that I am not alone in my amazement of Fibonacci's ratio and number sequence's ability to decipher the patterns in markets but also defines how growth occurs in every living thing, on a quantum level with the formation of molecules and atoms as well as a much grander scale encompassing the formation of entire galaxies. I believe I am not alone in believing that the most important number, ratio, or level in Fibonacci's great sequence is undoubtedly 61.8 (or 1.618).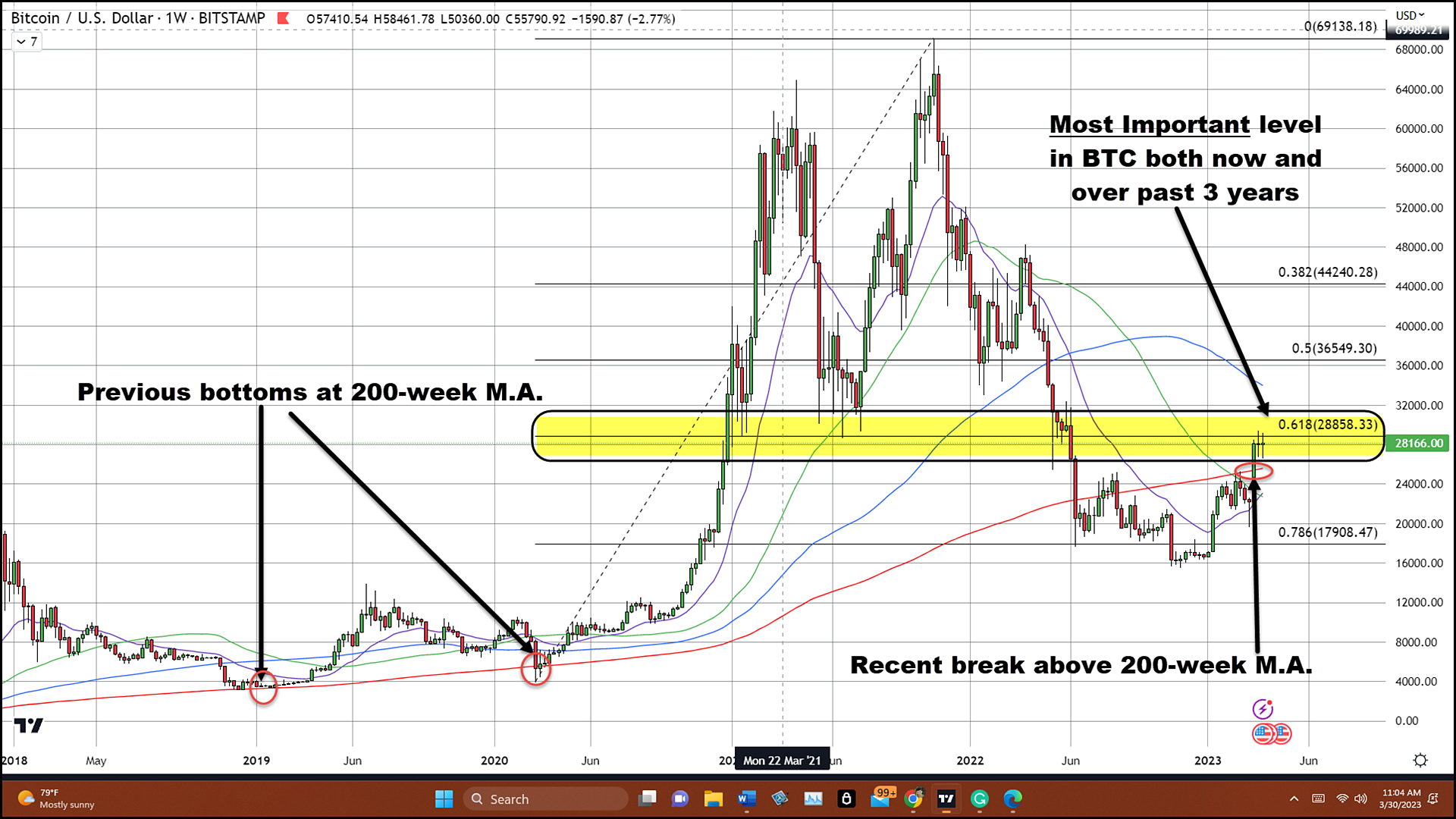 This is why the last level of resistance before I can undoubtedly claim that Winter is over and Spring is in the air is the long-term 61.8% Fibonacci retracement level using the long-term data set described above. This level was not only the last support area before crashing down below $20,000 since breaching $20k in November 2020 but also forecasted the lowest price point seen in between Bitcoin's two rallies to $60,000 and above.
Bottom Line
This is why I believe we are at a crossroads for Bitcoin price action. Remember the level of $28,858 marked the beginning of the current winter back in May of last year and therefore I feel confident it will also mark its end.
For anyone interested in our free service dedicated to trading Bitcoin with real actionable trade calls, simply click this link and sign up.
Don't miss a thing!
Sign up for a daily update delivered to your inbox
Sponsored Financial Content