Crypto Market Daily Highlights: ADA and MATIC Led the Top Ten Rebound
Published

: Feb 15, 2023, 00:42 UTC
•
4
min read
It was a bullish crypto session on Tuesday, with a Senate Committee Hearing on Capitol Hill and Silvergate Bank news providing some SEC relief.
Key Insights:
It was a bullish Tuesday session for the crypto top ten, with MATIC and ADA leading the recovery.
Silvergate Bank news and chatter from Capitol Hill delivered a bullish Tuesday session.
The crypto market cap jumped by $21.99 billion to end the day at $982.66 billion.
It was a bullish session for the crypto top ten on Tuesday. ADA and MATIC led the recovery. BTC wrapped up the day at $22,000 for the first time in six sessions.
US economic indicators tested investor sentiment in the afternoon session. In January, the US annual inflation rate softened from 6.5% to 6.4% versus a forecasted 6.2%. The hotter-than-expected headline number led the broader crypto market to a session low.
However, the crypto news wires delivered much-needed support. News of Citadel Securities support for Silvergate Bank delivered market support. According to an SEC filing on Tuesday, the hedge fund holds a 5.5% stake in the crypto-linked bank.
Earlier this month, news hit the wires of the US Justice Department launching an investigation into Silvergate Bank for its dealings with FTX and Alameda Research.
News from Capitol Hill likely contributed to the bullish session. On Tuesday, the Senate Banking Committee held a hearing, Crypto Crash: Why Financial System Safeguards are Needed for Digital Assets. Questions over Gary Gensler and the SEC's regulation by enforcement and lack of SEC guidance to crypto firms highlighted Gensler and the SEC's failings.
There were also calls for Gensler to testify sooner rather than later, with lawmakers noting Gensler's appearances on morning talk shows.
The Day Ahead
Investors should continue monitoring the crypto news wires for FTX, Genesis, and Silvergate Bank updates. However, SEC activity will remain the focal point.
In the afternoon session, the NASDAQ Composite Index will also influence as the markets respond to US retail sales figures for January. A third consecutive monthly decline in retail sales could reignite recession fears. This morning, the NASDAQ mini was down 18.5 points. On Tuesday, the NASDAQ Composite Index rose by 0.57%.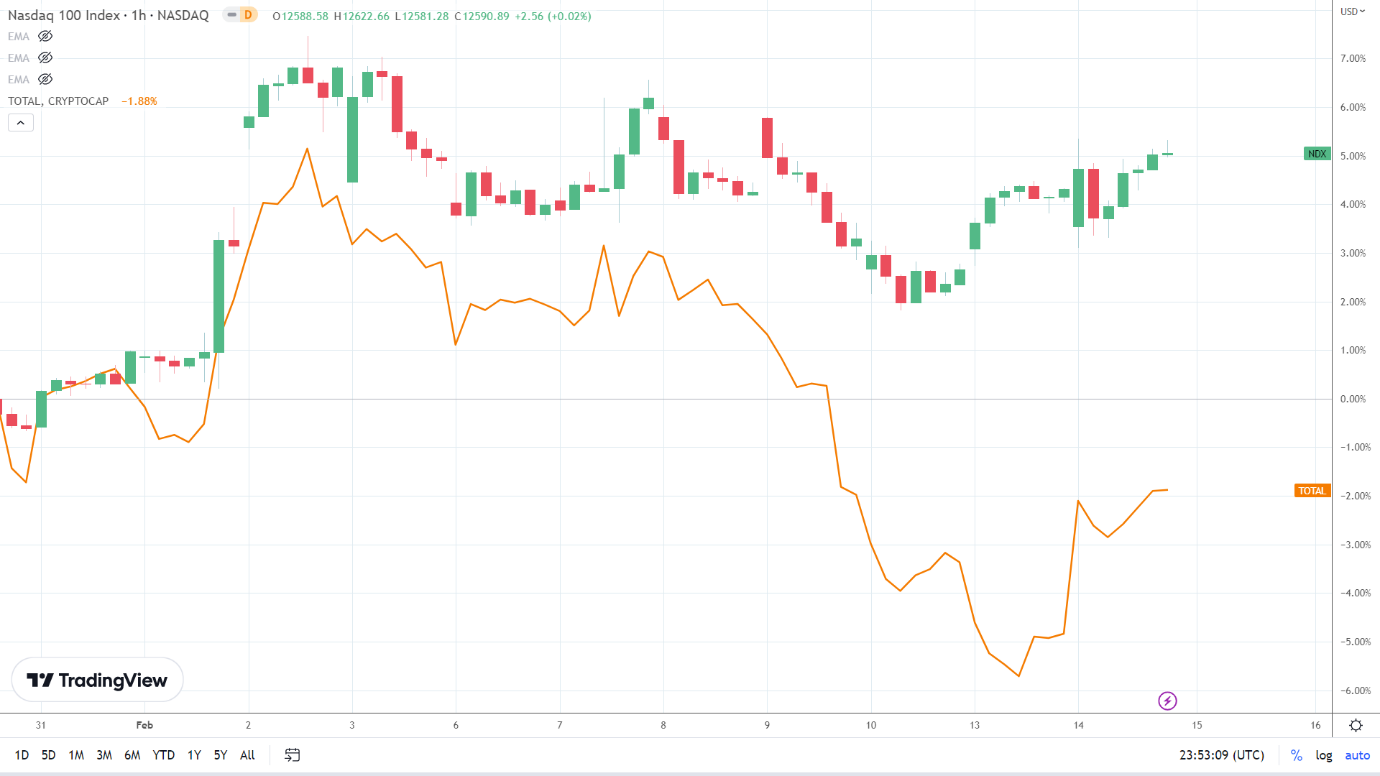 Total Market Cap – NASDAQ – 150223 Hourly Chart
Crypto Market Bounces Back as Dip Buyers Return
It was a choppy Tuesday session. After a range-bound morning, the crypto market fell to an early afternoon low of $949.74 billion. However, finding afternoon support, the crypto market cap surged to a late afternoon high of $990.23 billion before easing back.
Despite the late pullback, the crypto market cap ended the session at $982.66 billion, marking a $21.99 billion gain for the day.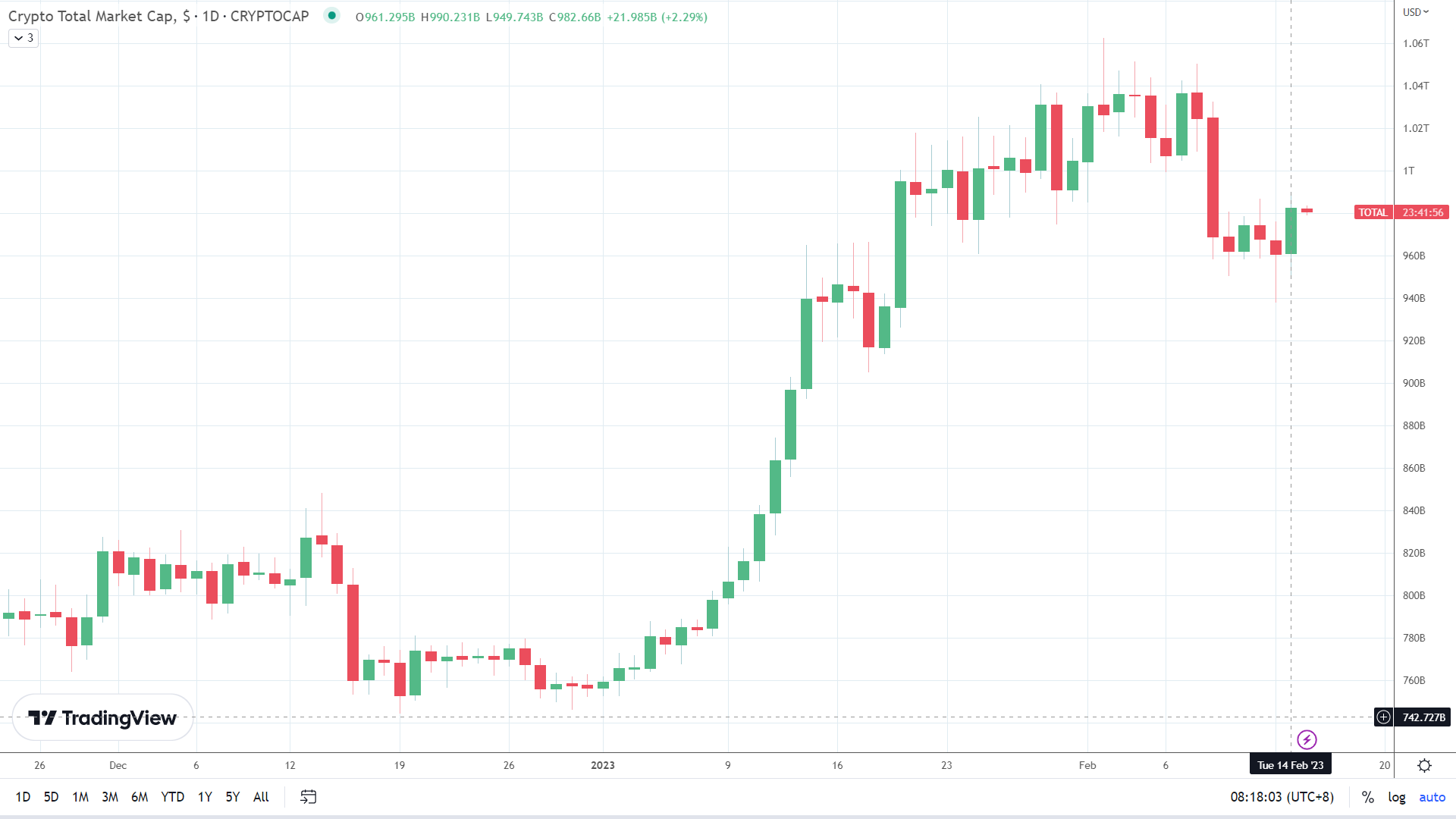 Total Market Cap 150223 Daily Chart
The Crypto Market Movers and Shakers from the Top Ten and Beyond
It was a bullish session for the crypto top ten.
ADA and MATIC rallied by 7.80% and 6.02%, respectively, to lead the way.
ETH (+3.34%) and XRP (+3.13%) also found strong support, while BNB (+0.61%), BTC (+1.95%), and DOGE (+1.71%) trailed the front-runners.
From the CoinMarketCap top 100, it was a mixed session.
SingularityNET (AGIX) surged by 21.59% to lead the way, with immutableX (IMX) and render token (RNDR) seeing gains of 14.73% and 14.68%, respectively.
However, binaryX (BNX) slid by 14.99%, with maker (MKR) and casper (CSPR) falling by 3.85% and 1.14%, respectively.
24-Hour Liquidations Ease Back on Crypto Market Rebound
Over 24 hours, crypto liquidations returned to below-normal levels. Short positions had a higher share of liquidations, accounting for 71.37% of total liquidations. At the time of writing, 24-hour liquidations stood at $79.35 million, down from $114.37 million on Tuesday morning.
Liquidated traders over the last 24 hours were also lower. At the time of writing, liquidated traders stood at 25,938 versus 50,475 on Tuesday morning. Crypto liquidations were higher over 12 while lower over four hours and one hour.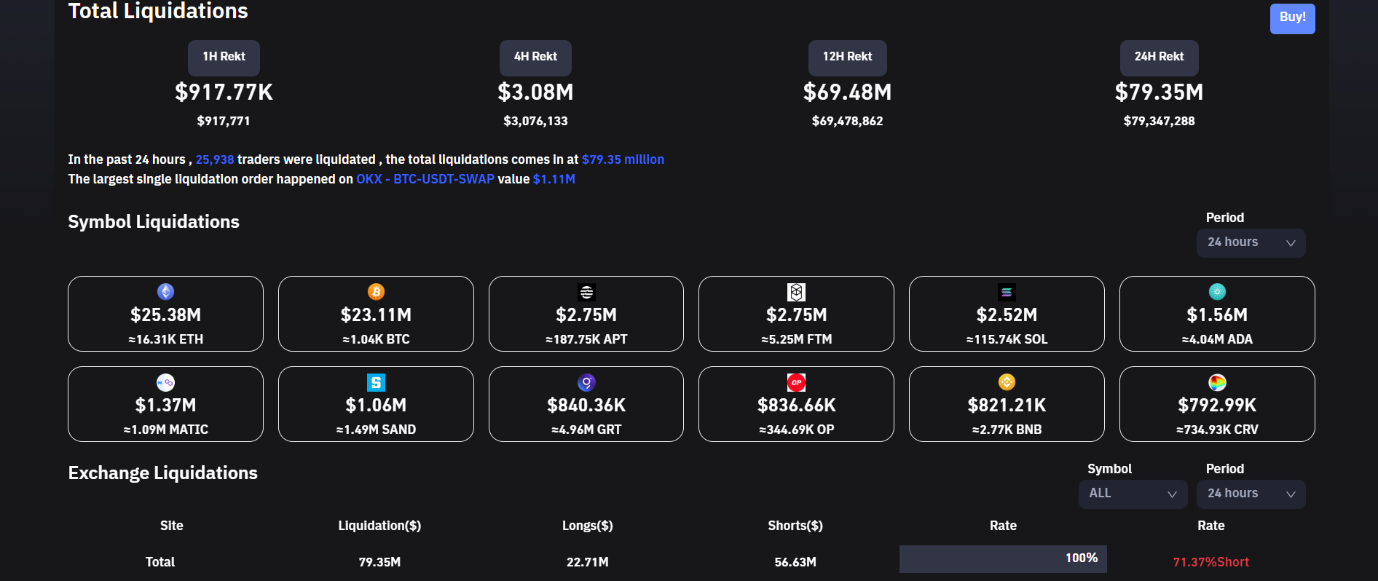 Total Crypto Liquidations 150223
According to Coinglass, 12-hour liquidations stood at $69.48 million versus $37.02 million on Tuesday. However, four-hour liquidations were down from $10.05 million to $3.08 million, with one-hour liquidations falling from $8.16 million to $0.918 million.
The chart below shows market conditions throughout the session.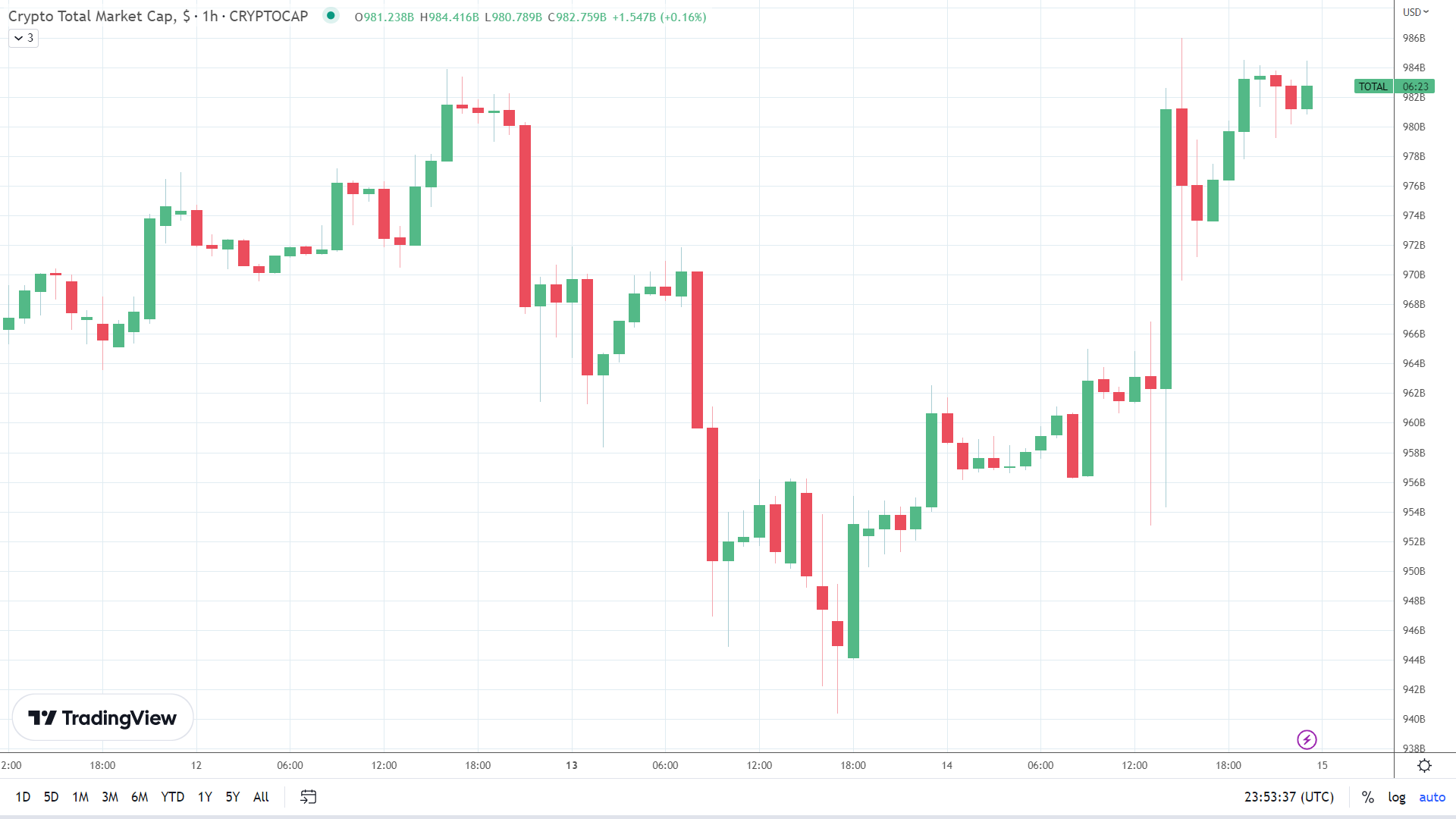 Total Market Cap 150223 Hourly Chart
Don't miss a thing!
Sign up for a daily update delivered to your inbox
Sponsored Financial Content