Crypto Market Daily Highlights: SEC Targets Paxos and Binance USD
Published

: Feb 14, 2023, 00:28 UTC
•
5
min read
It was a bearish Monday for the crypto market, which decoupled from the NASDAQ Composite Index as the SEC turned its attention to stablecoins.
Key Insights:
It was a bearish Monday session for the crypto top ten, with MATIC and BNB leading the way down.
Regulatory risk hit the crypto market as investors responded to the SEC move on Paxos and BUSD.
The crypto market cap fell by $7.38 billion to end the day at $960.67 billion.
It was a bearish session for the crypto top ten on Monday. BNB and MATIC led the way down. BTC ended the day at sub-$22,000 levels for the fifth consecutive session.
There were no US economic indicators to guide investors on Monday, leaving the crypto news wires to draw interest.
The news of the Securities and Exchange Commission shifting focus from staking to stablecoins spooked investors. On Monday, news hit the wires of the SEC preparing to sue Paxos for the issuance and listing of Binance USD (BUSD). The SEC cited that the firm violated investor protection laws.
Paxos released a statement in response to the Wells notice, saying,
"Paxos categorically disagrees with the SEC staff because BUSD is not a security under the federal securities laws. The SEC Wells notice pertains only to BUSD. To be clear, there are unequivocally no other allegations against Paxos. Paxos has always prioritized the safety of its customers' assets."
The statement went on to say,
"BUSD issued by Paxos is always backed 1:1 with US dollar-denominated reserves, fully segregated, and held in bankruptcy remote accounts. We will engage with the SEC staff on this issue and are prepared to vigorously litigate if necessary."
Reaction to SEC Move Against Paxos and BUSD
Binance CEO CZ had this to say,
"IF BUSD is ruled as a security by the courts, it will have profound impacts on how the crypto industry will develop (or not develop) in the jurisdictions where it is ruled as such."
In a series of tweets, CZ concluded,
"Given the ongoing regulatory uncertainty in certain markets, we will be reviewing other projects in those jurisdictions to ensure our users are insulated from undue harm."
CZ also shared a Miles Deutscher Tweet, agreeing with Miles, who made several points regarding stablecoins and the SEC labeling them as a security. Miles said,
"But how on earth is a STABLECOIN considered a security, when it clearly doesn't meet the Howey Test criteria? No one has ever had the expectation of profit when buying BUSD."
The latest SEC move follows the news of Kraken settling with the SEC, agreeing to shut down its crypto-staking services.
Regulatory uncertainty will continue to weigh on investor sentiment, with the SEC now targeting crypto staking and stablecoins.
The Day Ahead
Investors should continue monitoring the crypto news wires for FTX, Genesis, and Silvergate Bank updates. However, SEC activity will remain the focal point.
In the afternoon session, the NASDAQ Composite Index will also influence as the markets respond to the US CPI Report. A pickup in US inflationary pressure would be crypto price negative. This morning, the NASDAQ mini was down by two points. On Monday, the NASDAQ Composite Index rose by 1.48%.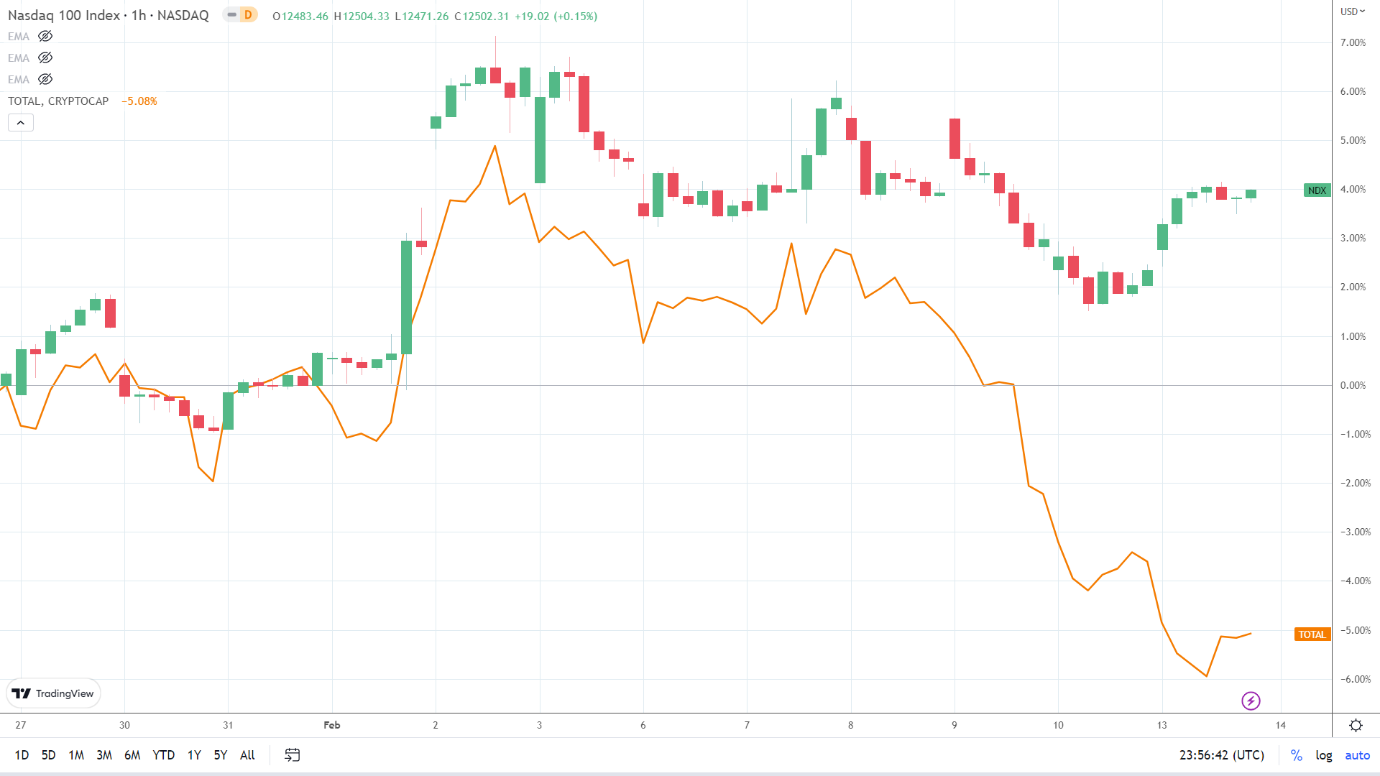 Total Market Cap – NASDAQ – 140223 Hourly Chart
Crypto Market Sees Red on SEC Activity
It was a bearish Monday session. A mixed start to the day saw the market cap rise to an early high of $975.98 billion before hitting reverse. In response to the BUSD news, the crypto market cap slid to a late afternoon low of $937.85 billion.
However, finding late support, the crypto market cap ended the day at $960.67 billion, marking a $7.38 billion loss for the day.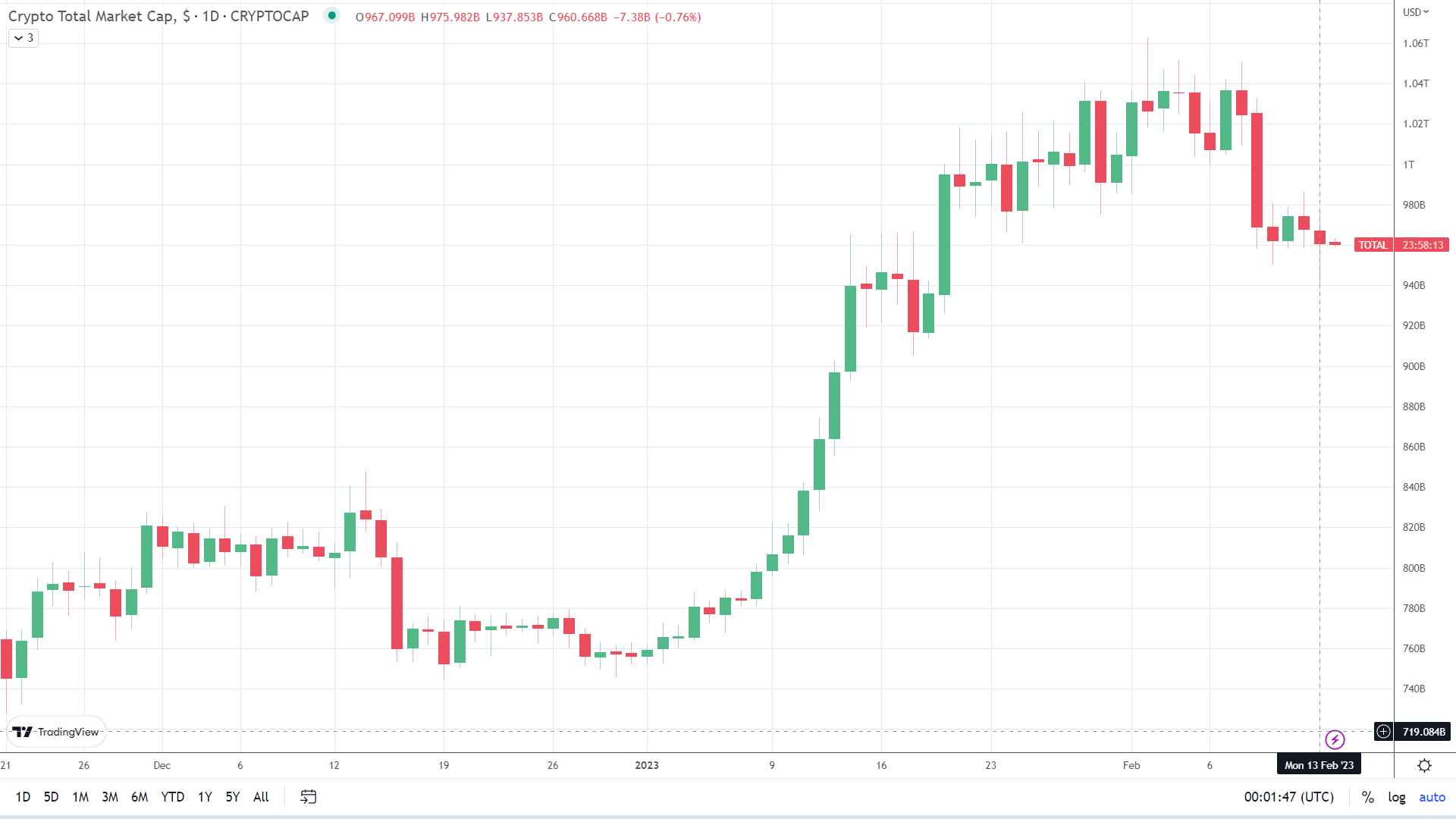 Total Market Cap 140223 Daily Chart
The Crypto Market Movers and Shakers from the Top Ten and Beyond
It was a bearish session for the crypto top ten.
BNB and MATIC slid by 5.82% and 4.25%, respectively, to lead the way down.
ADA (-1.37%), BTC (-0.11%), DOGE (-0.12%), ETH (-0.59%), and XRP (-1.14%) also saw red.
From the CoinMarketCap top 100, it was a mixed session.
BinaryX (BNX) rallied by 18.73% to lead the way for a second session, with curve DAO token (CRV) and maker (MKR) seeing gains of 13.69% and 12.29%, respectively.
However, rocket pool (RPL) slid by 11.01%, with mina (MINA) and singularityNET (AGIX) seeing losses of 7.60% and 5.86%, respectively.
24-Hour Liquidations Jump on SEC Move Against Stablecoins
Over 24 hours, crypto liquidations returned to normal levels. Long positions had a higher share of liquidations, accounting for 75.62% of total liquidations. At the time of writing, 24-hour liquidations stood at $114.37 million versus $56.17 million on Monday morning.
Liquidated traders over the last 24 hours were also higher. At the time of writing, liquidated traders stood at 50,475 versus 27,327 on Monday morning. Crypto liquidations were lower over 12 and four hours while higher over one hour.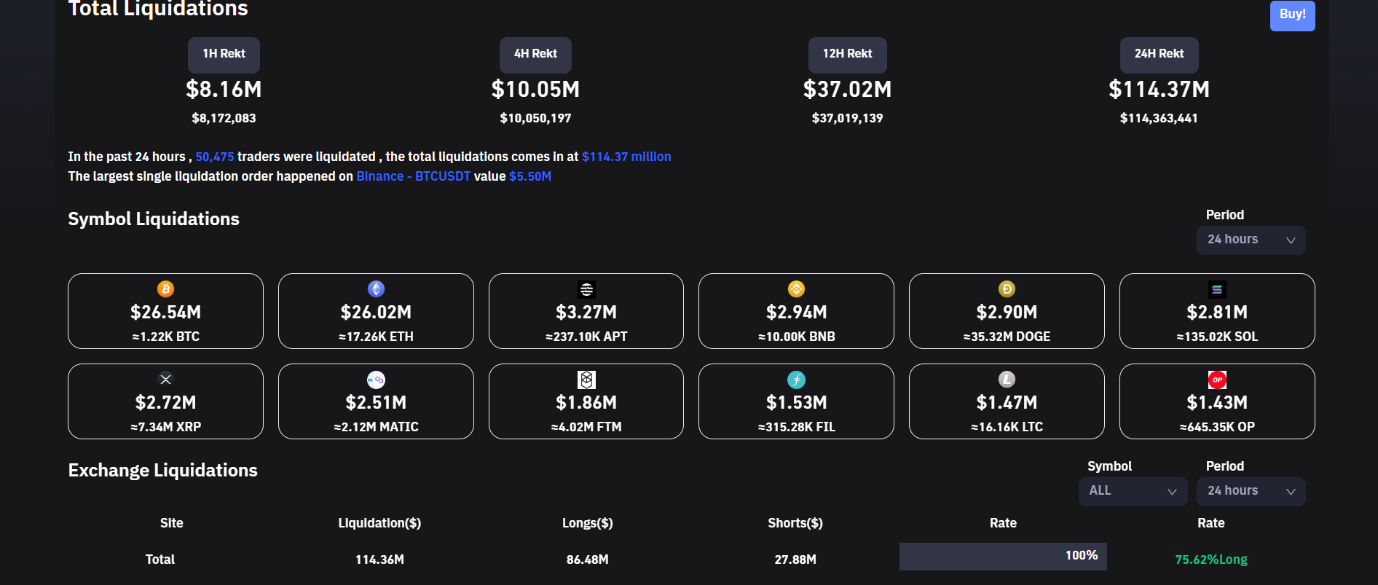 Total Crypto Liquidations 140223
According to Coinglass, 12-hour liquidations stood at $37.02 million versus $46.91 million on Monday, with four-hour liquidations down from $33.42 million to $10.05 million. However, one-hour liquidations increased from $0.490 million to $8.16 million.
A late crypto market recovery led to a spike in one-hour liquidations. The chart below shows market conditions throughout the session.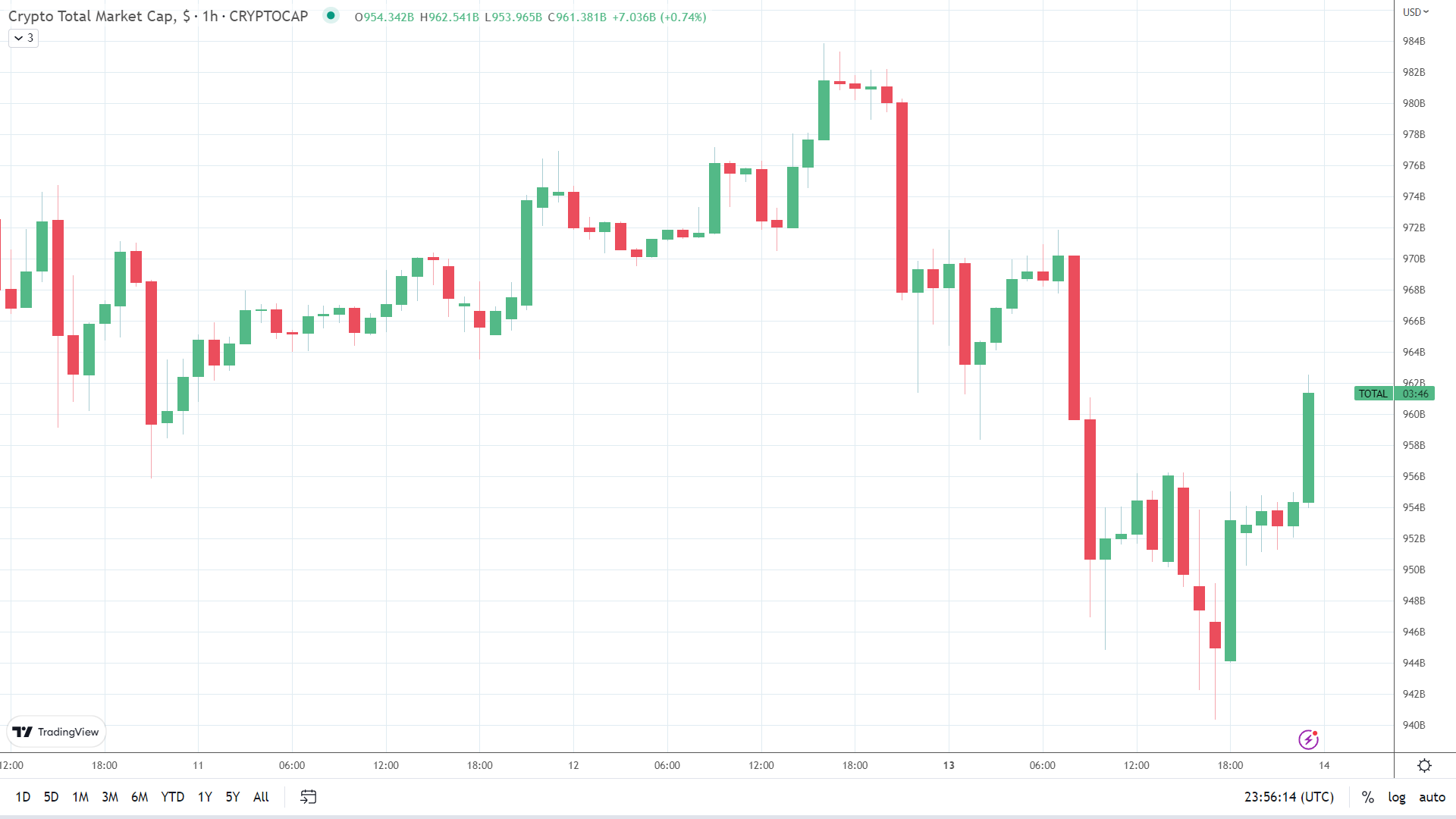 Total Market Cap 140223 Hourly Chart
Don't miss a thing!
Sign up for a daily update delivered to your inbox
Sponsored Financial Content