ETH Bulls to Retarget $2,000 on Slide in Withdrawals and Elevated Inflows
Published

: May 5, 2023, 03:17 UTC
•
5
min read
ETH was in recovery mode this morning. Bullish staking stats and a withdrawal profile delivered early support. The US Jobs Report will influence later.
Key Insights:
On Thursday, ETH joined the broader crypto market in the red, falling by 1.47% to end the day at $1,878.
US economic indicators, recessionary fears, and a spike in principal withdrawals left ETH in the red.
However, the technical indicators remained bullish, signaling a return to $2,000.
Ethereum (ETH) fell by 1.47% on Thursday. Partially reversing a 1.82% gain from Wednesday, ETH ended the day at $1,878. Despite the bearish session, ETH avoided sub-$1,850 for the first time in four sessions.
After a range-bound start to the day, ETH rose to a late-morning high of $1,919. Falling short of the First Major Resistance Level (R1) at $1,934, ETH fell to a late afternoon low of $1,868. However, steering clear of the First Major Support Level (S1) at $1,861, ETH revisited the $1,880 handle before easing back.
US Economic Indicators Sound the US Recessionary Bells
US economic indicators weighed on buyer appetite during the afternoon. The latest round of US labor market indicators revealed more cracks in the US economy as the impact of the Fed's interest rate hikes became evident.
Initial jobless claims increased from 229k to 242k, with nonfarm productivity sliding by 2.7% in Q1. However, unit labor costs surged by 6.3%. Economists forecast nonfarm productivity to fall by 1.8% and unit labor costs to increase by 5.5%.
Significantly, the latest economic indicators wiped out bets of a June interest rate hike. According to the CME FedWatch Tool, the probability of a 25-basis point June interest rate hike fell from 16.3% to 0% over 24 hours. In contrast, the bets on a 25-basis point interest rate cut increased from 6.6% to 9.2%.
However, political wrangling on Capitol Hill over the debt ceiling and the banking sector crisis remained tailwinds, limiting the downside on Thursday.
ETH Staking and Withdrawal Turned Bullish
Staking statistics and the withdrawal profile delivered mixed signals.
According to CryptoQuant, staking fell from 193,184 ETH on Wednesday to 109,792 on Thursday. Inflows above 100,000 are bullish price signals.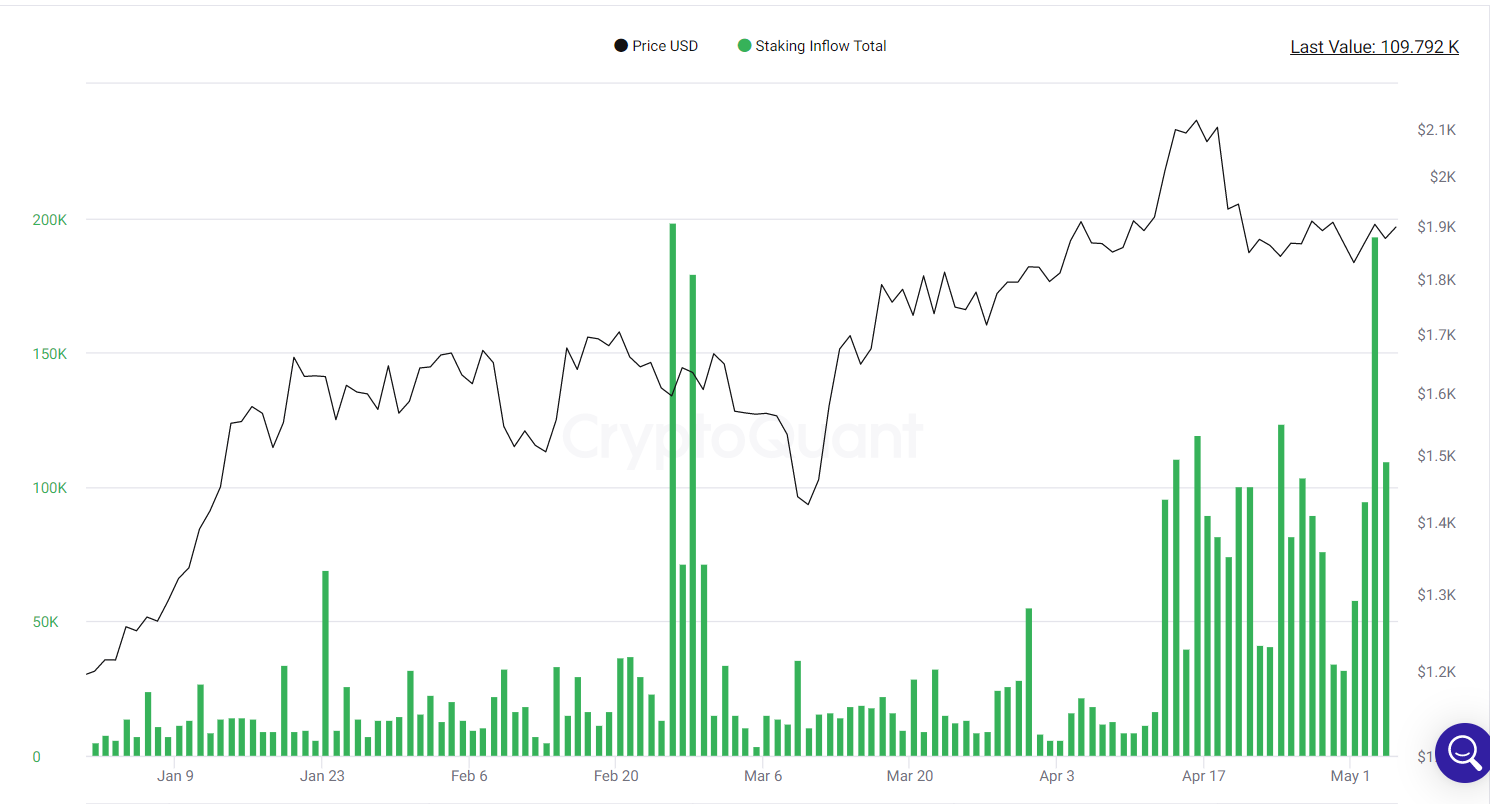 ETH Staking Inflows 050523
The total value-staked continued to climb northwards, supported by the pickup in staking inflows.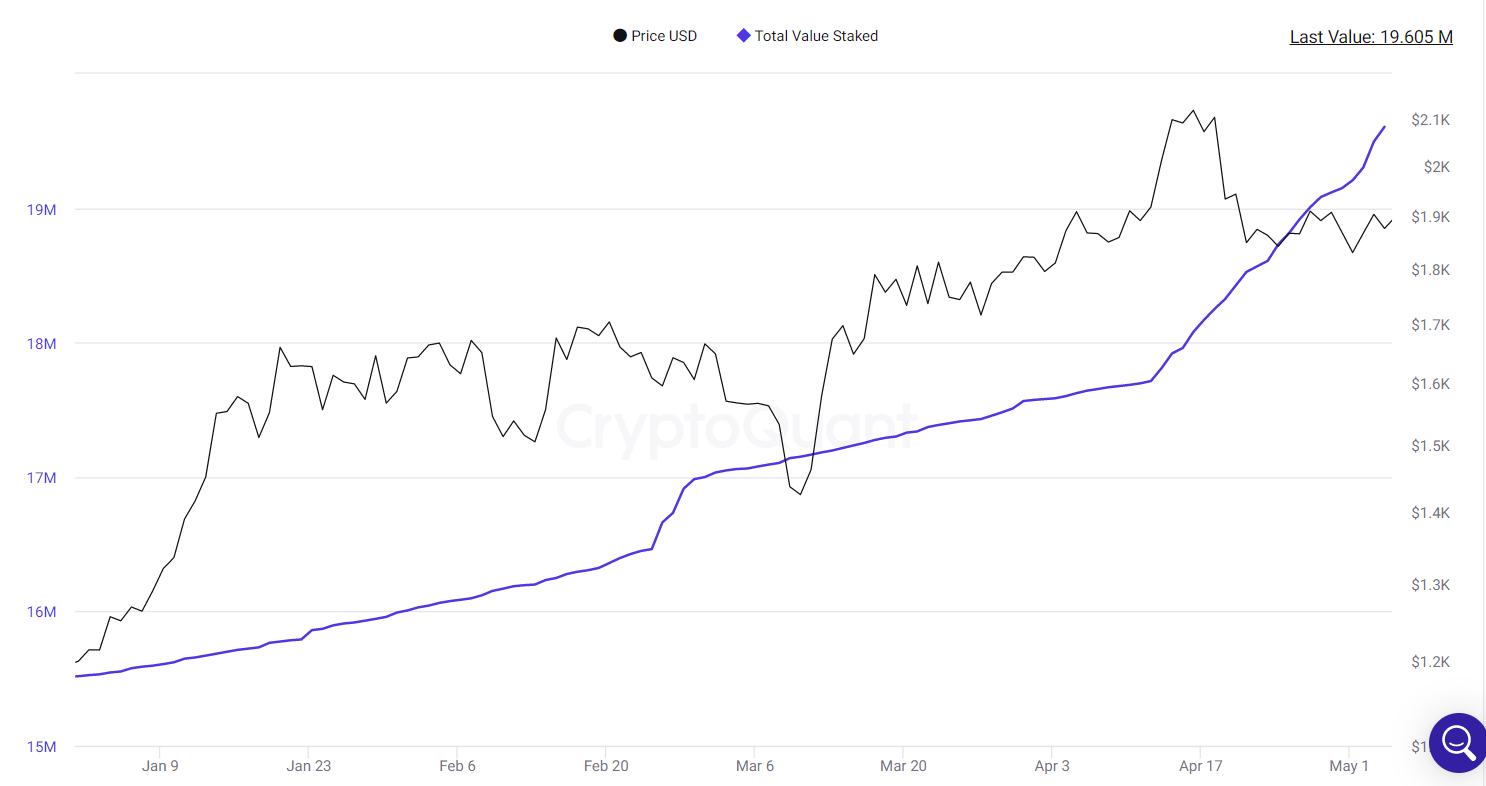 Total Value Staked 050523
Overnight, the withdrawal profile turned more bearish, with a spike in principal withdrawals. However, a projection of modest principal withdrawals are bullish price indicators.
The staking inflows delivered a positive net staking balance. On Thursday, the net ETH staking balance stood at a surplus of 54,370 ETH, equivalent to $101.58 million. Deposits totaled 197,820 ETH versus withdrawals of 143,450 ETH.
According to TokenUnlocks, total pending withdrawals stood at 0.332 million ETH, equivalent to approximately $0.630 billion.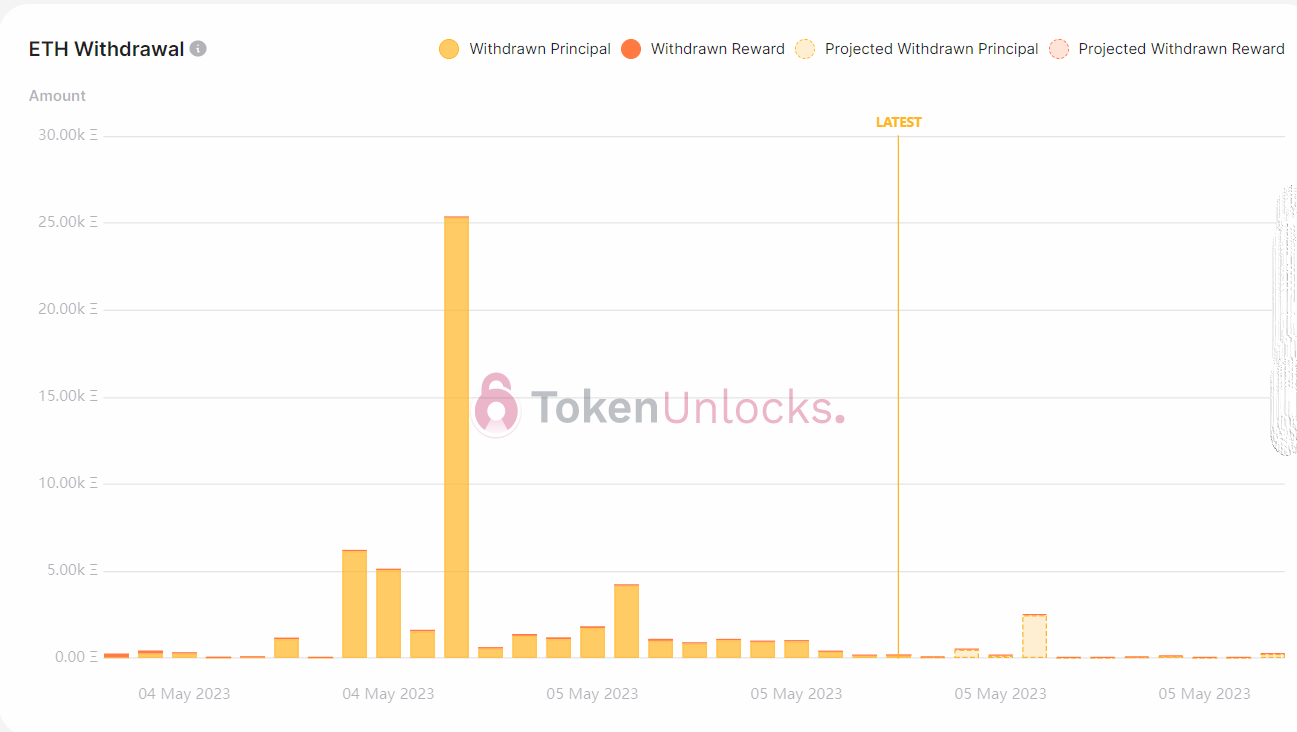 ETH Withdrawal Profile – 050523
The Day Ahead
ETH staking statistics and the withdrawal profile actuals and projections will continue to guide investors. Withdrawal projections are bullish for the session, with projections for principal withdrawals falling below normal levels.
However, US economic indicators, banking sector-related news, and Fed chatter will influence.
This afternoon, the US Jobs Report will give investors a better view of the US economy. A pickup in wage growth and a sizeable increase in nonfarm payrolls would refuel bets on a Fed interest rate hike in June.
However, the US debt ceiling and banking sector-related news will also move the dial.
Away from the US economic calendar and Capitol Hill, investors should continue to monitor the crypto news wires.
A Court ruling on the SEC v Ripple case would influence. However, a lack of SEC v Ripple updates would leave Binance and Coinbase (COIN)-related news to move the dial.
Ethereum Price Action
At the time of writing, ETH was up 1.12% to $1,899. A bullish start to the day saw ETH rise from an early low of $1,876 to a high of $1,910. ETH briefly broke through the First Major Resistance Level (R1) at $1,908.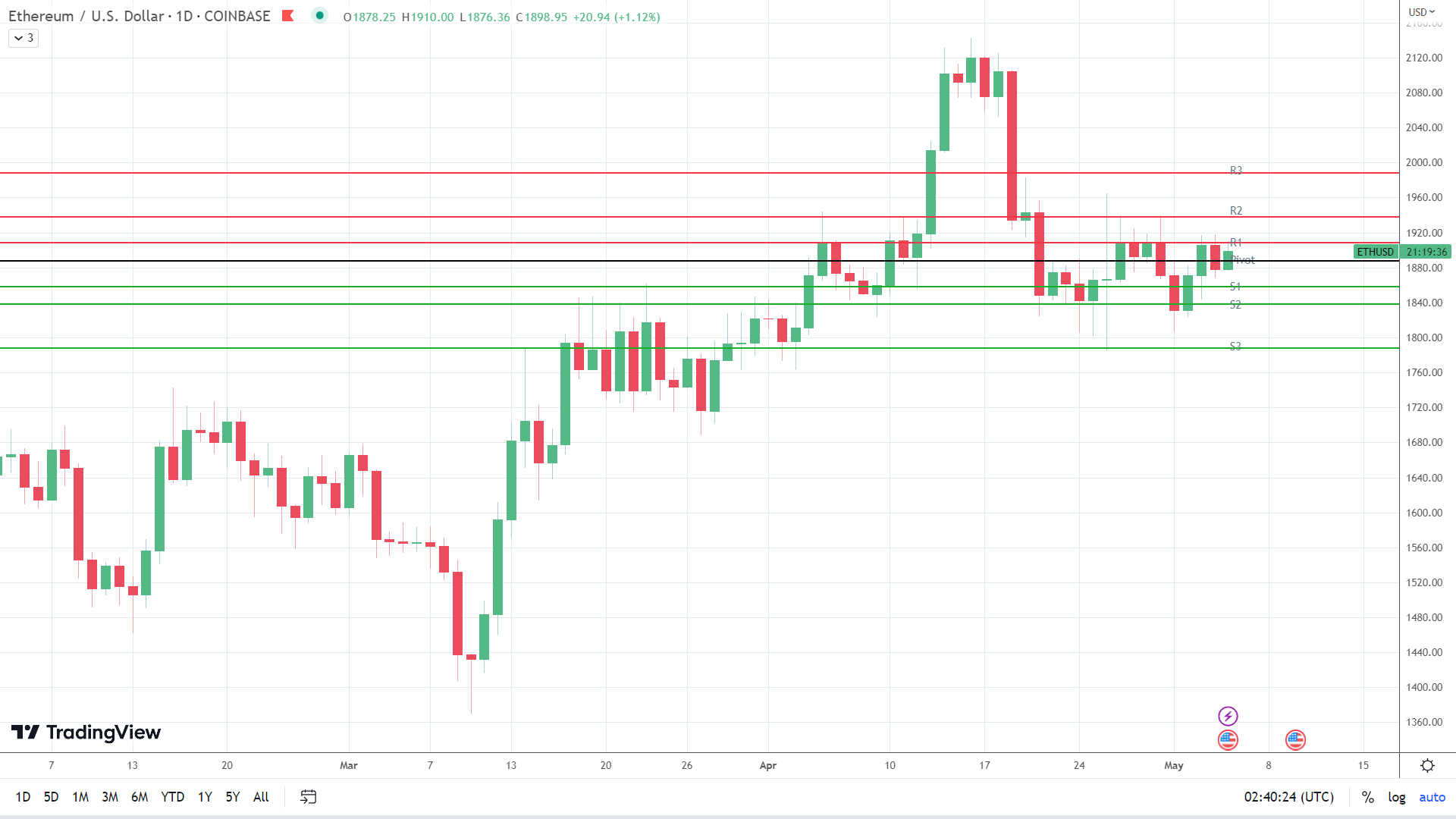 ETHUSD 050523 Daily Chart
ETH Technical Indicators
Resistance & Support Levels
| | | | |
| --- | --- | --- | --- |
| R1 – $ | 1,908 | S1 – $ | 1,858 |
| R2 – $ | 1,938 | S2 – $ | 1,838 |
| R3 – $ | 1,988 | S3 – $ | 1,788 |
ETH needs to avoid the $1,888 pivot to retarget the First Major Resistance Level (R1) at $1,908 and the Thursday high of $1,918. A return to $1,900 would signal a breakout session. However, ETH staking statistics, banking sector-related news, and the US economic indicators must support a breakout.
In the event of an extended rally, the bulls would likely test the Second Major Resistance Level (R2) at $1,938 and resistance at $1,950. The Third Major Resistance Level (R3) sits at $1,988.
A fall through the pivot would bring the First Major Support Level (S1) at $1,858 into play. However, barring a crypto market sell-off, ETH should avoid sub-$1,800. The Second Major Support Level (S2) at $1,838 should limit the downside. The Third Major Support Level (S3) sits at $1,788.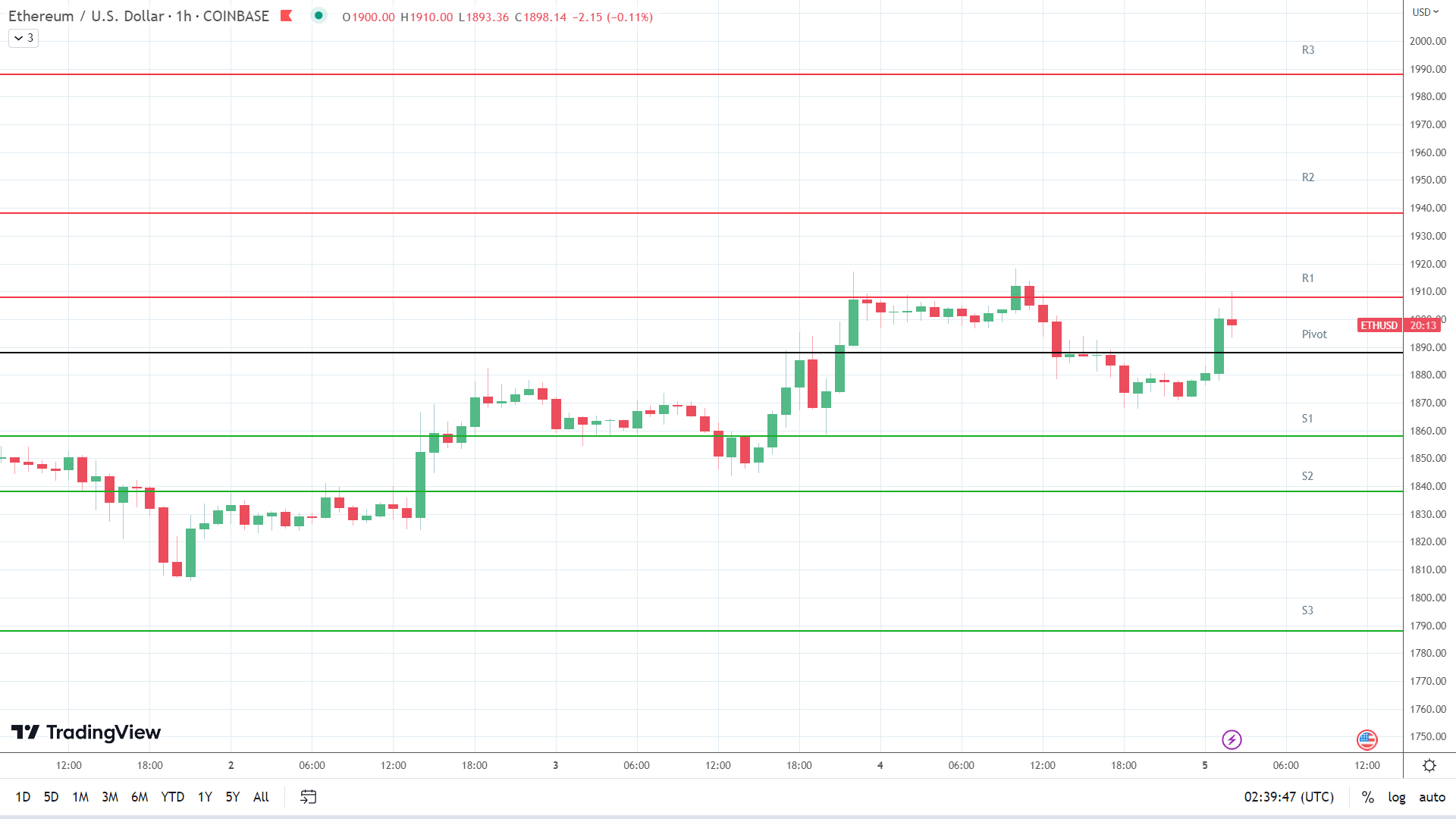 ETHUSD 050523 Hourly Chart
Looking at the EMAs and the 4-hourly candlestick chart (below), it was a bullish signal. Ethereum sat above the 100-day EMA, currently at $1,892. The 50-day EMA pulled away from the 200-day EMA, with the 100-day EMA widening from the 200-day EMA, delivering bullish signals.
A hold above the 100-day EMA ($1,892) would support a breakout from R1 ($1,908) to target R2 ($1,938) and $1,950. However, a fall through the EMAs would bring S1 ($1,858) into view. A fall through the 50-day EMA would send a bearish signal.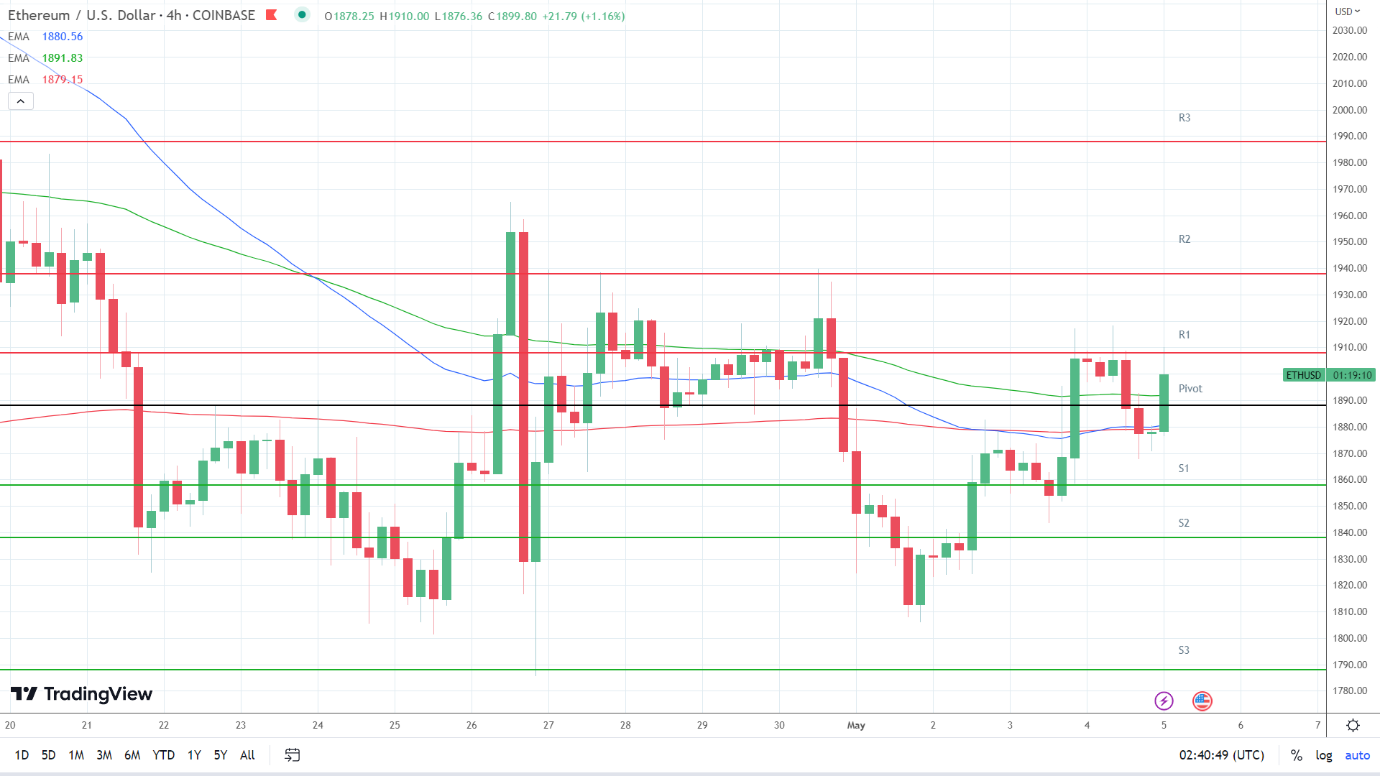 ETHUSD 050523 4 Hourly Chart
Don't miss a thing!
Sign up for a daily update delivered to your inbox
Sponsored Financial Content