EUR/USD Daily Forecast – Euro Rally Loses Steam
EUR/USD was lifted higher by a more dovish than expected testimony from Fed Chair Powell this week. However, a strong inflation reading has put the breaks on the upward momentum.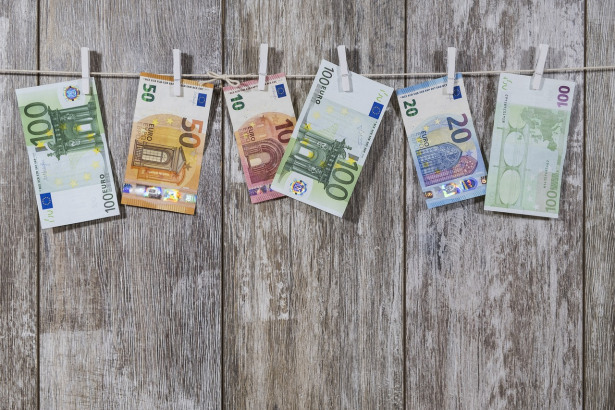 Upside Surprise in Yesterday's US Inflation Reading
Consumer prices were reported to rise greater than expected in June. Yesterday's report showed a 0.1% gain in month over month CPI and a 0.3% rise in Core CPI. Both figures beat expectations by a tick.
Considering that the catalyst for a weaker dollar this week is largely related to monetary policy easing expectations, the rise in inflation might hinder the EUR/USD rally.
Earlier this week, Powell indicated three key items that would cause the Fed to start an easing cycle. Among them, muted inflation was cited as one of them. He also discussed headwinds from trade tensions with China and slowing growth in the global economy.
The trade-weighted dollar index (DXY) fell about three-quarters of a percent from recent highs on the back of Powell's words. The index bounced higher on the CPI data yesterday, however, and managed to close they relatively unchanged.
Technical Analysis
DXY was not the only instrument to close with a doji yesterday. EUR/USD posted a similar pattern which suggests some exhaustion. This seems to line up well with the view that yesterday's CPI data might hinder the upside in the pair, at least in the short-term.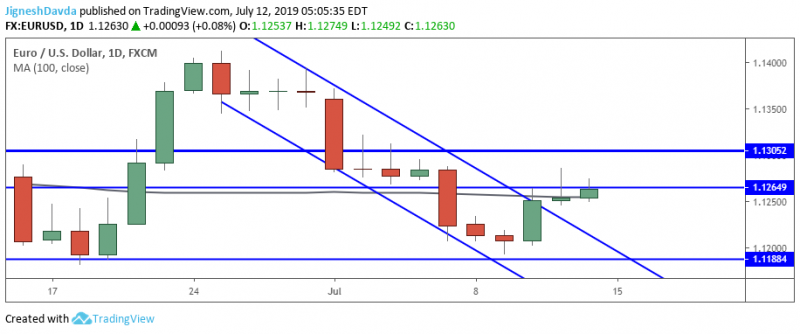 On a daily chart, the doji pattern in EUR/USD accompanied a close below the 100-period moving average. The failed break above the indicator does not bode well for bulls. The exchange rate is currently trading above it, but resistance at 1.1265 seems to be holding the upside thus far.
I think the pair will need to make a sustained break above 1.1280 to reassert the upside here. This would somewhat negate the implications of yesterday's exhaustion candle. On the other hand, if the pair closes once again below the 100-day moving average, we could be setting up for weakness early next week.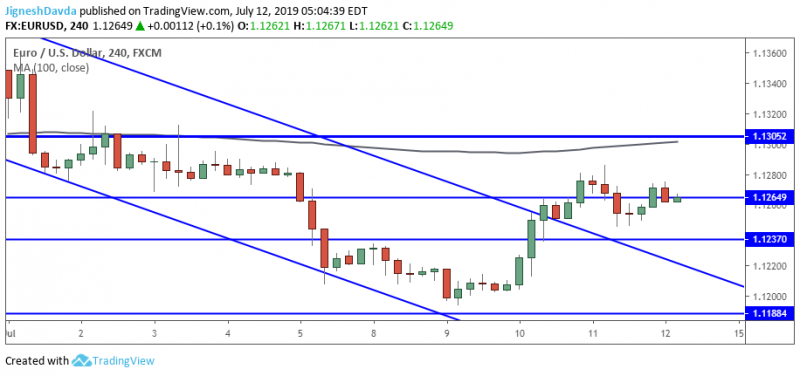 On a 4-hour chart, I see some strong resistance at 1.1305, but as already mentioned, the pair might struggle to continue the recovery here. I think 1.1265 is the line in the sand. While below it, we could pull back to a horizontal level marked off at 1.1237.
Bottom Line
The recovery in EUR/USD seems to be fading, there are technical and fundamental drivers here that suggest the pair might struggle to continue higher.
On a daily chart, today's close relative to the 100-day moving average will be important for price action early next week.