UK Inflation Softens to 6.7% Creating Uncertainty About a BoE Rate Hike
Published

: Sep 20, 2023, 06:30 UTC
•
2
min read
The UK annual inflation rate fell short of forecasts. An unexpected softening in inflationary pressure will raise question marks over a BoE rate hike.
Highlights
UK annual inflation rate unexpectedly softens to 6.7%.
The GBP/USD tumbles as investors shift bets on further Bank of England rate hikes ahead of the Thursday BoE interest rate decision.
Investor focus now turns to the Fed interest rate decision and the heavily anticipated FOMC economic projections and press conference.
UK Inflation Report
The UK inflation report for August was in the spotlight this morning. A pickup in UK inflationary pressure would force the Bank of England (BoE) to keep rates higher at the expense of the UK economy.
However, the UK annual inflation rate softened from 6.8% to 6.7% in August. Economists forecast an inflation rate of 7.0%. Consumer prices increased by 0.3% in August versus a 0.4% decline in July. Economists forecast a 0.7% jump in consumer prices.
According to the Office for National Statistics,
The Consumer Price Index including owner occupiers' housing costs (CPIH) increased by 6.3% year-over-year, softer than 6.4% in July.
Food prices had the largest downward contribution to the annual inflation rate.
However, an uptrend in motor fuel prices had the largest contribution to the annual rate.
Notably, the core annual inflation rate (excluding energy, food, alcohol, and tobacco) softened from 6.9% to 6.2% in August.
The annual Core CPIH (excl. energy, food, alcohol, and tobacco) eased from 6.4% to 5.9%.
There was more interest than usual in the numbers. With the UK heading for a recession, softer inflation rates could ease pressure on the BoE to push rates higher and tip the UK economy into a deeper recession.
GBP to USD Reaction to the UK Inflation Report
Before the UK inflation report, the GBP to USD pair rose to a pre-stat high of $1.23970 before falling to a low of $1.23821.
However, in response to the UK inflation report, the GBP to USD pair tumbled from $1.23856 to a low of $1.23332.
This morning, the GBP to USD was down 0.32% to $1.23514.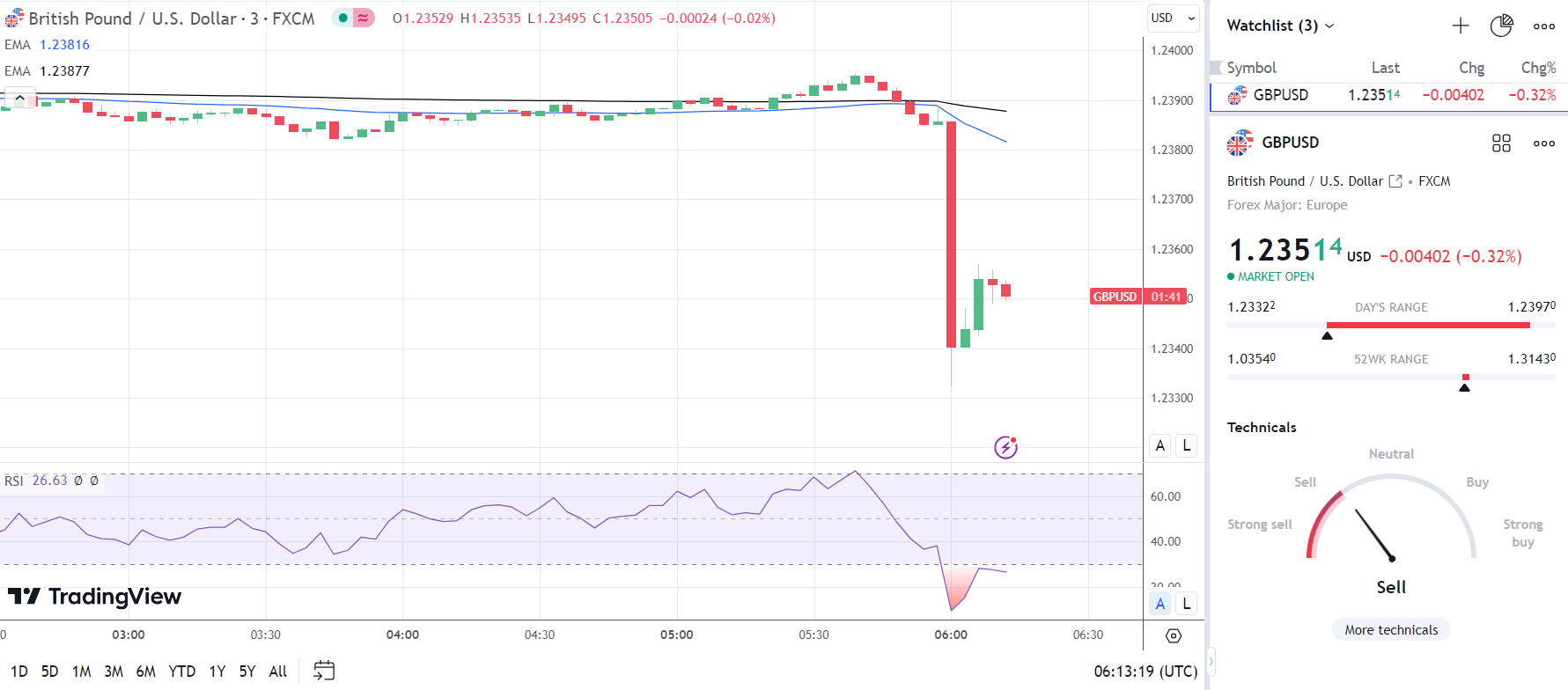 200923 GBPUSD 3 Minute Chart
Next Up
The US Federal Reserve will be in the spotlight later today. With the markets betting on the Fed to hit the pause button, the focus will be on the FOMC economic projections and press conference.
Upbeat revisions to GDP, inflation, and unemployment would fuel bets on a November rate hike. Considering the latest UK inflation numbers, a hawkish Fed pause would weigh more heavily on the GBP to USD pair.
Don't miss a thing!
Sign up for a daily update delivered to your inbox
Sponsored Financial Content