Brokers
OANDA Review 2017
CFTC, DFSA, IIROC, MAS, NFA, FSA
OANDA Review
OANDA is one of the early pioneers of online forex brokers, established in the mid 1990s. The company is said to be founded by Dr Michael Stumm and Dr. Richard Olsen. When the online trading platform FXTrade was launched in 2001, it was the first fully automated forex trading platform. Since then, OANDA have grown by leaps and bounds to handle more than a million queries a day. It is estimated that about 20% of the global spot forex trades goes through OANDA's servers.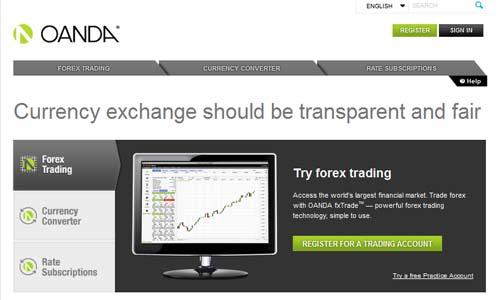 Trading Platforms
Serving the needs of traders at OANDA are two basic types trading platforms, the OANDA's MetaTrader4 (MT4) trading platform and the FXTrade WebTrader. The MT4 trading platform is highly regarded by the online trading community for its advanced features and sophistication trading tools. As for FXTrade WebTrader, it requires JAVA to run. Because it is web based, traders can access the platform from anywhere in the world as long as they have an internet connection.
Both these versions of trading platform are also available as mobile versions for mobile devices. For tech savvy traders, they can use the OANDA FXTrade API libraries to build their own automated trading system to accommodate trading actions such as:
Access To Current And Historical Market Data
Access To Historical Trading Transactions
Risk-Free Testing
Stop-Loss, Take-Profit Or Entry Orders
Trade Requests

Account Types
OANDA does not distinguish between different types of traders. As such, there is only one standard type of trading account at OANDA. The good news is they also don't have a minimum deposit requirement as well. Trades of any sizes are permitted without any minimum lot size requirement.
Commission & Spreads
Like most online forex brokers, OANDA doesn't charge any commission for their trading services. Instead what traders pay is a spread based on real-time market values. Depending on the currency traded, spreads starts from as low as 1.1 pips. Spreads for indices are even lower, starting from as low as 0.5 pips.
Traders are cautioned that during times of high volatility, the spreads tend to widened.
Customer Support
Customer support at OANDA is available 5 days a week from Sunday (1pm EST) to Friday (6pm EST). The customer service representative can contacted by means of live chat, email fax or telephone. For the benefit of their clients, OANDA maintain an office in the following locations:
Bayfront, Singapore
Chicago, USA
London, UK
Tokyo, Japan
Toronto,  Canada
Reliability
To maintain the integrity and reliability of their operations, OANDA ensure that it meets all the required regulatory requirements for an online forex broker. For example, the company is registered with the Futures Commission Merchant (FCM), Commodity Futures Trading Commission (CFTC) and the National Futures Association (NFA ID #0325821).
As for the protection of client's funds, OANDA only deal with Tier 1 banks like Deutsche Bank, J.P. Morgan Chase, Royal Bank of Canada and the Royal Bank of Scotland.
Pros
Innovative Trading Practices
No Discrimination Between Traders
Open And Transparent Pricing
Powerful And Simple To Use Forex Trading Platforms
Quality Execution
Quality Support
Reputable Broker
Tight Spreads
Cons
EAs Are Not Supported On Their MT4 Platform
Spreads Tend To Widen During The Releases Of News
The Charting Package Supplied Can Be Improved
They Are a Market Maker
Conclusion
With features such as real time pricing, automated trading capability and no minimum deposit requirement and trade sizes, it is easy to see why OANDA is popular among many traders. The fact that OANDA is a regulated and long established broker is an added bonus for traders.