Ethereum 2.0: What Is It and Why Is It So Important?
Updated

: Oct 12, 2021, 08:51 UTC
•
6
min read
Ethereum 2.0 comprises a trio of upgrades that will bolster scalability, security and sustainability.
Ethereum began as a spark in the eye of co-founder Vitalik Buterin's back in 2013. That's when he released the whitepaper for the project, though the Ethereum network wouldn't see the light of day until 2015.
In between, there was the Ether sale in 2014, which is when early buyers could scoop up some of the now second-biggest cryptocurrency using bitcoin. Back then, Ether fueled the Ethereum network as a payment method for transactions on the network, and years later it stills serves that purpose.
PoW to PoS
Ethereum was launched using the proof-of-work (PoW) consensus protocol, similar to Bitcoin. The PoW data essentially does two things:
Allows computer nodes, which secure and guard the platform, to agree on the validity of the information published on the Ethereum network
Thwarts any economic attack on the network
The PoW algorithm, however, is not perfect, and the flaws — including slow transaction times and hefty gas fees — became too big to ignore. The emergence of the Ethereum-based CryptoKitties game is a good example. The game, which introduced an early version of non-fungible tokens (NFTs), became so popular that it clogged the Ethereum network, delaying transactions and causing fees to skyrocket.
The rise of decentralized finance, or DeFi, is yet another use case that has underscored the importance of an efficient network. While the DeFi market has seen its total-value-locked (TVL) balloon since catching on like wildfire in 2020, its growth has been stifled in some ways. Some developers have opted for other blockchains, while institutions have largely remained on the sidelines until the kinks are worked out. With greater scalability and more stable fees, Ethereum would likely disrupt traditional finance even more.
This is where Ethereum 2.0 comes in. In order for developers to avoid shooting themselves in the foot with their own innovation, they are building Ethereum 2.0. This is a massive upgrade of the existing network to one that is more scalable and could hasten the adoption of the blockchain among the mainstream.
Chief among the changes is a switch in the consensus protocol from PoW to proof-of-stake (PoS). Staking will lead to greater participation in securing the Ethereum network, which in turn will create a more decentralized blockchain.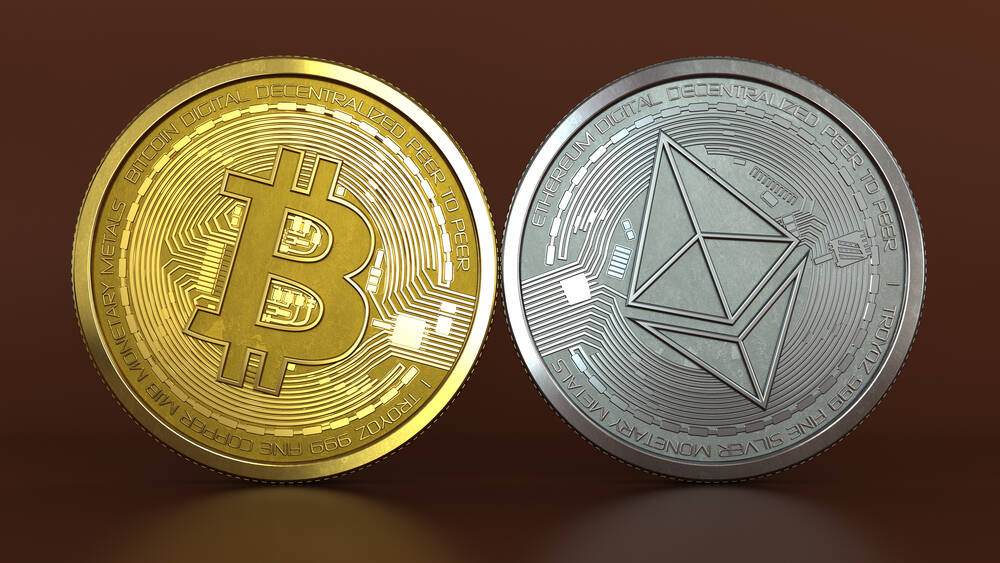 3d illustration of bitcoin and Ethereum coins
What Are the Problems With the Original Ethereum Protocol?
The version of Ethereum that was introduced in 2015 was groundbreaking, but unprecedented demand for the network exposed some issues. These problems can be boiled down into three key areas:
A clogged network: The blockchain became too crowded, which is not ideal when trying to attain global adoption. To maintain security, each and every computer node must verify transactions on the blockchain, which slows transaction times down.
Insufficient disk space: As the Ethereum network grew more popular, it became increasingly difficult to run software known as nodes. The trick is to come up with a way to increase Ethereum's size and power without compromising decentralization.
High energy consumption: Ethereum's power use to maintain the PoW consensus algorithm for network security is not sustainable for the long term.
The Ethereum team sought out to solve these issues while keeping the most important feature of the network intact: decentralization. Eth2 is the solution to achieving greater scalability and security without becoming a centralized network, though it is far from an easy task.
What Is Ethereum 2.0?
Now that we've established how far Ethereum has come, let's take a look at where it is headed. Ethereum 2.0, which is synonymous with Eth2 and Serenity, is a major upgrade of the blockchain network. While it was not the first upgrade, it is the one that is designed to catapult Ethereum to total-value-locked (TVL) balloon
It is a massive undertaking among the developers that will not happen overnight. Instead, Ethereum 2.0 is unfolding in a series of steps, the first of which occurred in the year 2020 with Phase 0, otherwise known as the Beacon Chain.
The Beacon Chain is an implementation of PoS that runs alongside the PoW network and is being battle-tested first. In August 2021, Ethereum completed a hard fork dubbed London, which introduced greater stability to gas fees on the Ethereum network and presented a deflationary model to the protocol's monetary policy. With every phase comes new functionality and enhanced performance that will ultimately lead to the destination of Ethereum 2.0, a PoS network.
What Are the Benefits of Ethereum 2.0?
Ethereum 2.0 will deliver a host of key benefits that are likely to attract even more developers to the network. The three key improvements include:
Greater scalability: Ethereum must be able to support thousands of transactions per second (TPS) for applications built on the network with greater speed and cheaper fees. The one-two punch of sharding and a PoS algorithm is expected to create greater scale thanks to the addition of more nodes, resulting in higher TPS without using more electricity.
Greater security: Ethereum must be as secure as possible to thwart attacks so that users including institutions will feel comfortable using it. The aforementioned Beacon Chain is designed to help with network security.
Greater sustainability: A lesser carbon footprint has become a major theme in the cryptocurrency industry. The PoW consensus algorithm consumes a great deal of energy. Ethereum 2.0 will be better for the environment as there will be no more mining involved. According to Ethereum Co-Founder Vitalik Buterin, whose vision for Ethereum is outlined in the below graphic, Ethereum's energy consumption will be diminished "by a factor of more than 1,000" with PoS.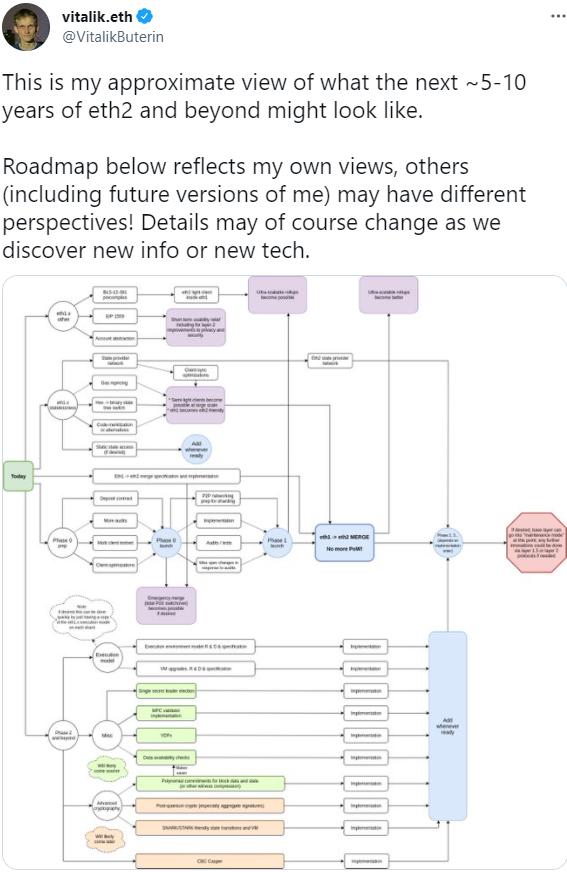 What's Taking So Long?
Ethereum 2.0 comprises three separate upgrades, each of which is a monumental task in its own right.
Beacon Chain: Launched in 2020, this technology introduced staking to the network and paved the way for future upgrades. While the Beacon Chain is in testing mode, it is live and will eventually be the cornerstone of Eth2.
Merge: The Ethereum merge is expected for either late 2021 or sometime in 2022. This is where the Beacon Chain will be combined with Ethereum's mainnet and it will make staking on the Ethereum blockchain a reality while marking an end to mining.
Shard Chains: This represents the splitting of the Ethereum network, which will occur in phases will result in a greater capacity for processing transactions and storing data. Sharding chains are planned for 2022.
Ethereum is one of the biggest cryptocurrencies, second only to bitcoin. The transition to Eth2 is a major series of events that solve the issues plaguing the network and could potentially lead to wide-scale adoption of the blockchain while potentially strengthening the Ether price in the interim.
Don't miss a thing!
Sign up for a daily update delivered to your inbox
Sponsored Financial Content