NASDAQ 100, Dow Jones, S&P 500 News: Wall Street Rises Amid Treasury Yields Retreat, Ford Advances
Updated

: Sep 22, 2023, 17:11 UTC
•
2
min read
Today's Wall Street revival, spurred by U.S. Treasury yield pullbacks, underscores the cautionary narratives of the Nasdaq Composite and S&P 500.
Highlights
Wall Street sees resurgence, growth stocks rise.
Ford advances; U.S. business activity remains stagnant.
Concerns grow over potential 2023 rate hike.
Wall Street's Rebound Amid Yield Retreat
Wall Street experienced a welcome resurgence on Friday, primarily triggered by the U.S. Treasury yields taking a step back from their highest stance in 16 years. Growth stocks like Apple, Amazon, Nvidia, and Tesla notably capitalized on this, registering growth between 1.4% to 2.1%. Despite this, there remains a lingering air of caution. The benchmark S&P 500's trajectory, potentially its worst week since March, combined with the Nasdaq's since August, has market-watchers on edge. This caution is further intensified by the U.S. central bank's recent hawkish pause, kindling concerns over another possible interest rate increase in 2023.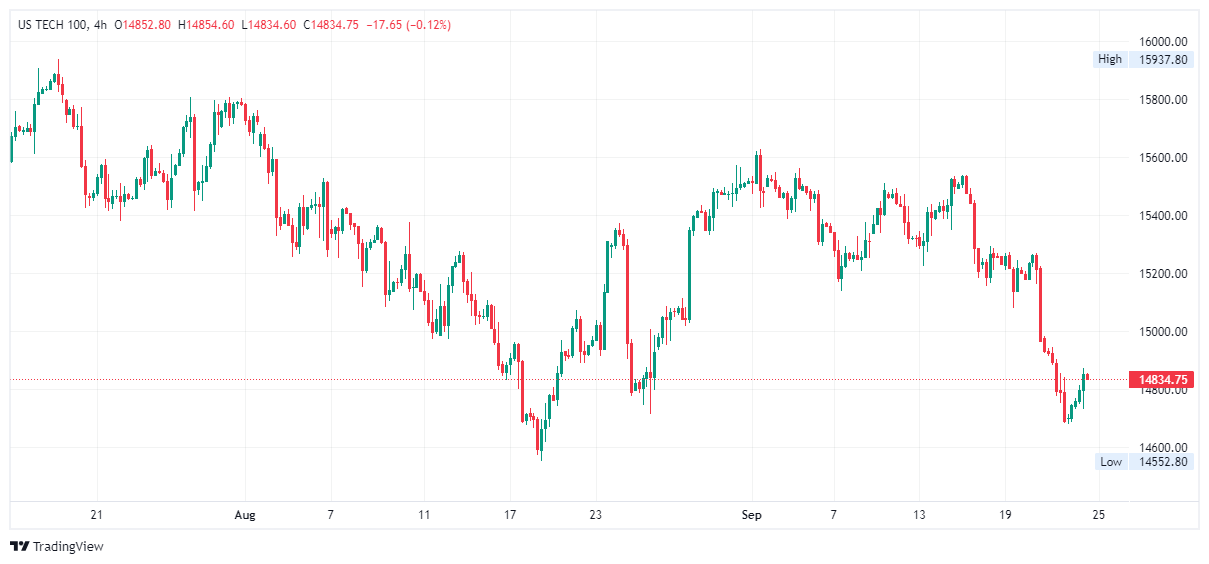 4-Hour Nasdaq Composite
Auto Stocks: Ford's Gain and GM's Challenge
In the automobile sector, Ford experienced a 2.5% surge, reaching a one-week high. This comes on the back of positive advancements in its labor discussions with the United Auto Workers (UAW) union. However, it wasn't all good news in the auto world. General Motors faced the UAW's decision to extend its strikes, leading to a slight dip in its share value.
Economic Data and Central Bank Insights
Recent data illustrates that U.S. business activity remained largely static in September, with the dominant services sector maintaining the slowest momentum since February. As policymakers from the U.S. central bank geared up for their addresses, some clear voices, like Fed Boston President Susan Collins and Fed Governor Michelle Bowman, have already emphasized the necessity for more rate hikes to combat the existing high inflation. Betting odds from traders, as captured by CME's FedWatch tool, show a 73% and 58% chance for the benchmark rate to remain untouched in November and December, respectively.
Gainers and Decliners in the Stock Arena
Communication services and energy stocks came out as the leading gainers in the S&P 500 sector index, while utilities faced the most significant setback. In the international realm, U.S.-listed shares of prominent Chinese firms, betting on an economic growth rebound, observed notable rises. Alibaba, for instance, saw a 4.7% surge, propelled by news of its logistics subsidiary, Cainiao, eyeing a Hong Kong IPO in the coming week.
Short-Term Forecast
With the backdrop of Wall Street's rebound, the market showcases a cautiously optimistic sentiment. The slight recovery observed, however, does not entirely eclipse concerns over potential rate hikes and policy shifts. Investors should remain alert to these dynamics, with a short-term forecast leaning more towards a bearish sentiment.
Don't miss a thing!
Sign up for a daily update delivered to your inbox
Sponsored Financial Content