Natural Gas Fundamental Forecast – December 12, 2016
Updated

: Dec 12, 2016, 10:43 UTC
•
2
min read
There was some talk over the week-end that a change in the weather pattern over the next 7 to 10 days may bring some temporary relief to those areas being affected by extremely cold temperatures. This is creating a buzz in the market as traders discuss the possibility of a
There was some talk over the week-end that a change in the weather pattern over the next 7 to 10 days may bring some temporary relief to those areas being affected by extremely cold temperatures. This is creating a buzz in the market as traders discuss the possibility of a flat to lower opening.
In other words, the market knew the extreme cold was coming and may have fully-priced in its effects on demand. Now traders are asking "what have you done for me lately."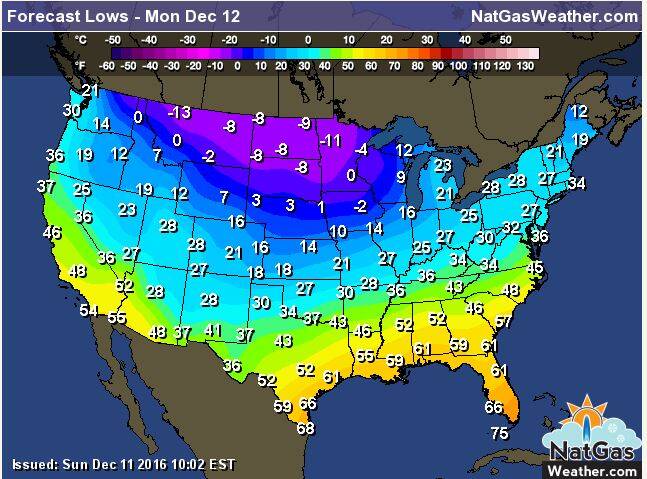 Forecast Lows – Monday, December 12, 2016
The new forecast for December 12 to 18 from natgasweather.com says, "A weather system will track into the eastern U.S. with rain and snow the next few days."
"More importantly a potent Arctic blast is beginning to advance across the north-central U.S. and will spread over the Midwest and Northeast Wednesday through Friday with temperatures dropping 15-30 degrees Fahrenheit below normal as lows again drop into the single digits to below zero."
"A brief milder break will follow late next week-end over the East before another weather system and associated cold blasts races across the far North."
"Overall natural gas demand will ease back to near normal the next few days before becoming much stronger than normal Wednesday through Saturday."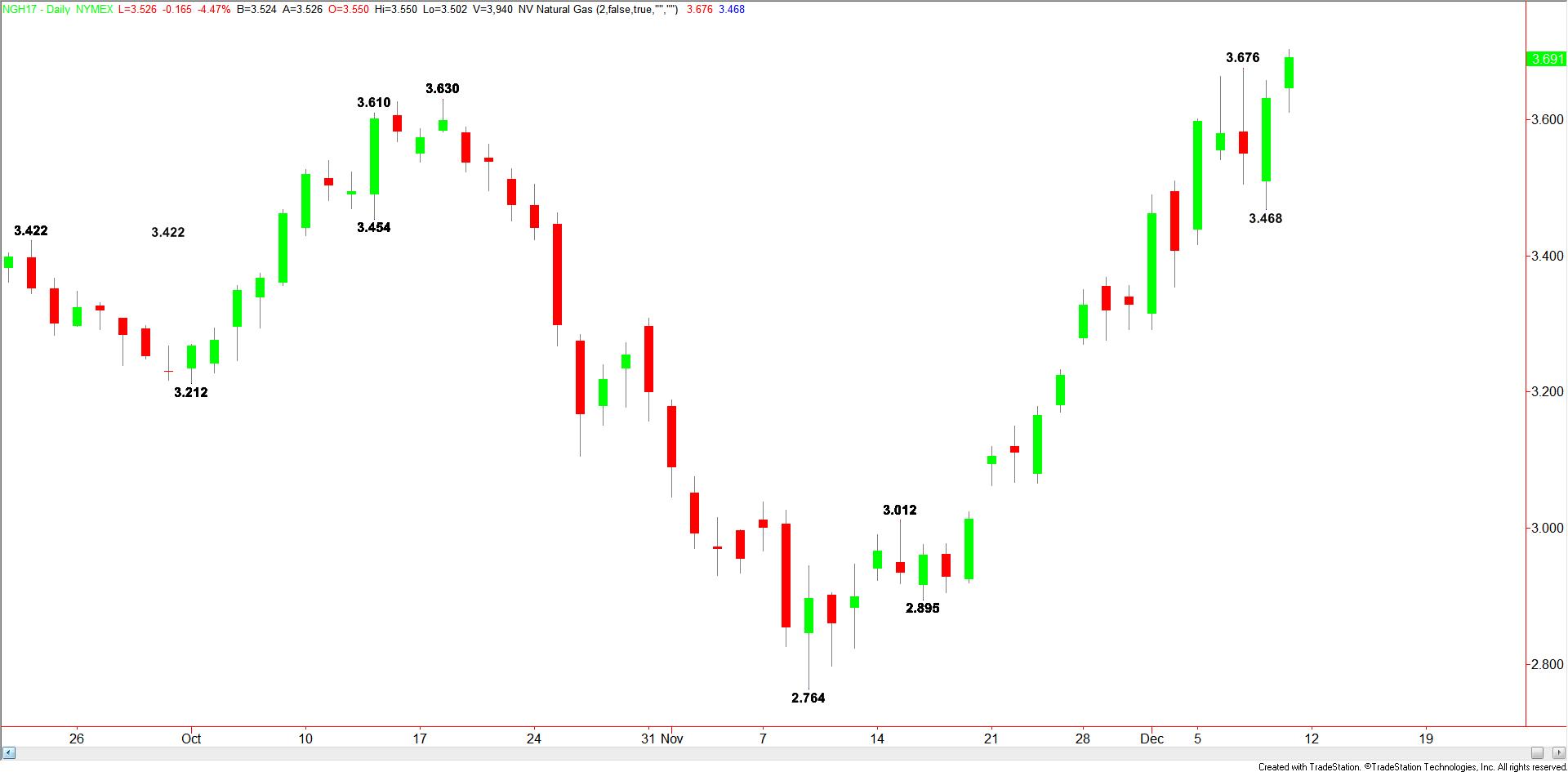 Daily March Natural Gas
Forecast
Although the main trend is up on the natural gas daily and weekly charts, the natural gas market is having trouble attracting buyers at current price levels because of the relatively higher prices. This may mean that we need to see a short-term correction in order to shake out some of the weaker speculative buyers before prices move higher.
Furthermore, traders may be disappointed with the developing weather pattern for next week. Remember that traders are looking at least a week ahead.
On the March Natural Gas daily chart, we could get a steep break on a trade through $3.468. This move will change the main trend to down.
On the upside, the resistance zone is $3.685 to $3.902.
Based on the short-term range of $2.764 to $3.703, if the selling is strong enough over the near-term, we could see a break back to $3.233 to $3.123.
March Natural Gas has reached a critical point on the chart and needs a new cold temperature forecast to keep the upside momentum going.
We're going to take a neutral stance today as long as prices remain inside the $3.468 to $3.703 range. We'll turn bullish if $3.703 can be taken out with conviction and short-term bearish if sellers take out $3.468 on better-than-average volume.
Don't miss a thing!
Sign up for a daily update delivered to your inbox
Sponsored Financial Content