Natural Gas Prices Forecast: Futures Surge as Exports Soar, Bucking Weather Trends
Published

: Sep 19, 2023, 12:58 UTC
•
2
min read
Weather factors and diminishing September gas output influence today's NatGas futures trajectory.
Highlights
Amplified gas inflows to LNG export plants drive prices higher.
Texas's Freeport LNG plant's full-service resumption is pivotal.
Milder weather forecasts fail to deter bullish gas price trends.
A Promising Uptrend
U.S. natural gas futures, after witnessing a robust 3% surge on Monday, continue to trend upwards. This ascent correlates with the amplified gas inflow to the nation's LNG export facilities, particularly after Texas's Freeport LNG plant resumed its near full-service operations recently.
Countering Predictions
Despite milder weather forecasts suggesting a reduced gas demand in the forthcoming two weeks, the prices persistently climb. Speculators, in response to the 1% price escalation last week, intensified their net long futures and options holdings on the New York Mercantile and Intercontinental Exchanges. This move has led the positions to peak since late August, as indicated by the U.S. Commodity Futures Trading Commission.
Gas Output and Weather Factors
LSEG's financial analytics point towards a slight dip in September's average gas production in the lower 48 U.S. states, averaging at 102.2 billion cubic feet per day (bcfd), a slight decline from August's record of 102.3 bcfd. On the weather front, up until September 24, conditions in the lower 48 states are projected to align with seasonal norms. However, from September 25 to October 3, warmer temperatures averaging 72°F, compared to the typical 70°F for that period, are anticipated.
Export and Demand Outlook
The U.S.'s seven prime LNG export plants observed an average gas flow of 12.8 bcfd this September, a rise from August's 12.3 bcfd. This is in contrast to April's all-time high of 14.0 bcfd. Data reveals that daily LNG feedgas peaked at a 16-week high of 13.5 bcfd on Sunday, primarily driven by the uptick at Freeport. On the export front, the imminent week-long maintenance shutdown of Berkshire Hathaway Energy's Cove Point LNG export facility in Maryland, scheduled around September 21-29, is noteworthy. This annual shutdown in autumn had previously occurred in October 2022.
Short-Term Forecast
Considering the upcoming weather patterns, the increasing exports, and the anticipated demand trajectory, the market sentiment for U.S. natural gas remains bullish in the short term.
Technical Analysis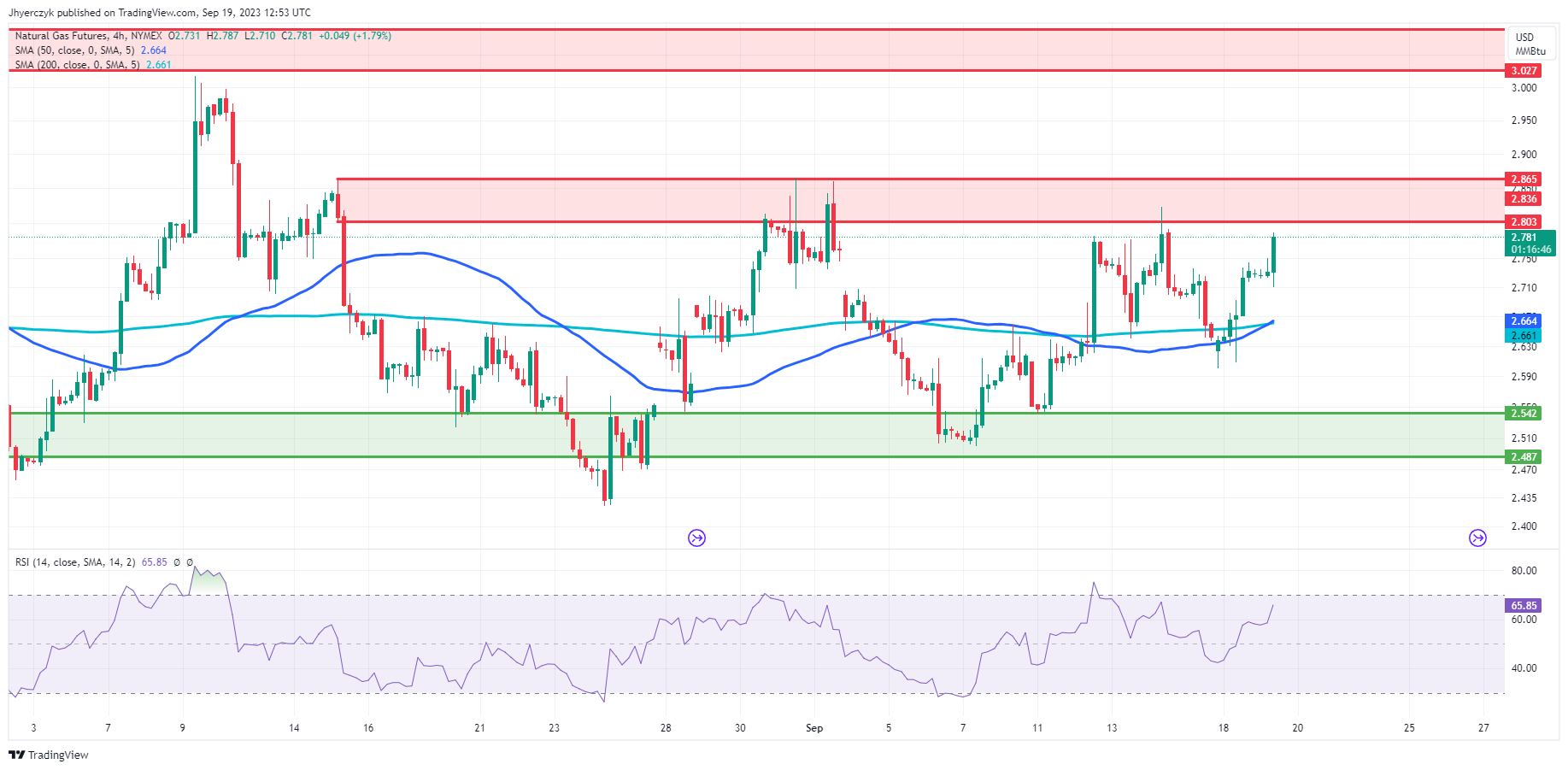 4-Hour Natural Gas
The current 4-hour price of 2.785 is above both the 200-4H moving average (2.661) and the 50-4H moving average (2.664), indicating an upward momentum. The 14-4H RSI reading stands at 66.57, which, although below the overbought threshold of 70, signifies strengthening momentum.
The commodity's price has surged from the previous 4-hour level of 2.732, and it's approaching the main resistance area between 2.803 to 2.865. Given the absence of minor support and resistance levels, and the price trajectory, the market sentiment for Natural Gas in the short-term appears bullish.
Don't miss a thing!
Sign up for a daily update delivered to your inbox
Sponsored Financial Content