Five Things to Know Crypto This Week: Gensler Grilling, Crypto ETFs, and Big Brother
Updated

: Sep 30, 2023, 22:32 UTC
•
3
min read
In a high-tension week, SEC Chair Gary Gensler faced harsh questioning on Capitol Hill while Coinbase CEO Brian Armstrong rallied for crypto-friendly legislation amidst ongoing legal battles.
Key Insights:
SEC Chair Gary Gensler grilled by Financial Services Committee.
Central Bank Digital Currencies face intensified lawmaker concerns.
SEC postpones BTC-Spot ETF reviews; ETH-Futures ETFs approved.
SEC Chair Gary Gensler Received a Capitol Hill Grilling
On Wednesday, Securities and Exchange Commission (SEC) Chair Gary Gensler appeared before the Financial Services Committee. A two-pronged attack from Committee Chairman Patrick McHenry and Rep. Richie Torres left the SEC Chair quoting from the SEC playbook.
Republican Ritchie Torres prompted the SEC Chair for cases where the Court ruled the existence of an investment contract without a contract. Rep. Torres attempted to simplify the questioning by offering a Pokeman analogy.
SEC Chair Gensler acknowledged that purchasing a Pokeman card did not qualify as a securities transaction. However, Gensler said he would need more details when purchasing a tokenized Pokeman card via a blockchain on a digital exchange.
The Financial Services Chairman warmed up the SEC Chair to an eventful hearing. Rep. Patrick McHenry warned the SEC Chair that the SEC is not above the law and stated he did not want to make history by being the first Committee Chairman to issue a subpoena to the SEC.
Coinbase CEO Brian Armstrong Returned to Capitol Hill
On Wednesday, 40 crypto founders joined Coinbase (COIN) CEO Brian Armstrong on Capitol Hill. Armstrong has ramped up support to compel US lawmakers to deliver crypto legislation that supports innovation while protecting investors.
Significantly, Coinbase launched the #StandWithCrypto campaign, supporting 52 million American crypto holders. Coinbase distributed coffee cups on Capitol Hill as part of the crypto awareness campaign, calling for US lawmakers and the crypto community to "Wake Up."
Coinbase is in a legal battle with the SEC. Investors await a court ruling on the Coinbase motion to dismiss. The SEC alleges Coinbase operates as an unregistered securities exchange, broker, and clearing agent.
Coinbase's (COIN) share price rose by 5.81% in the week ending September 29, partially reversing a 13.62% slide from the previous week.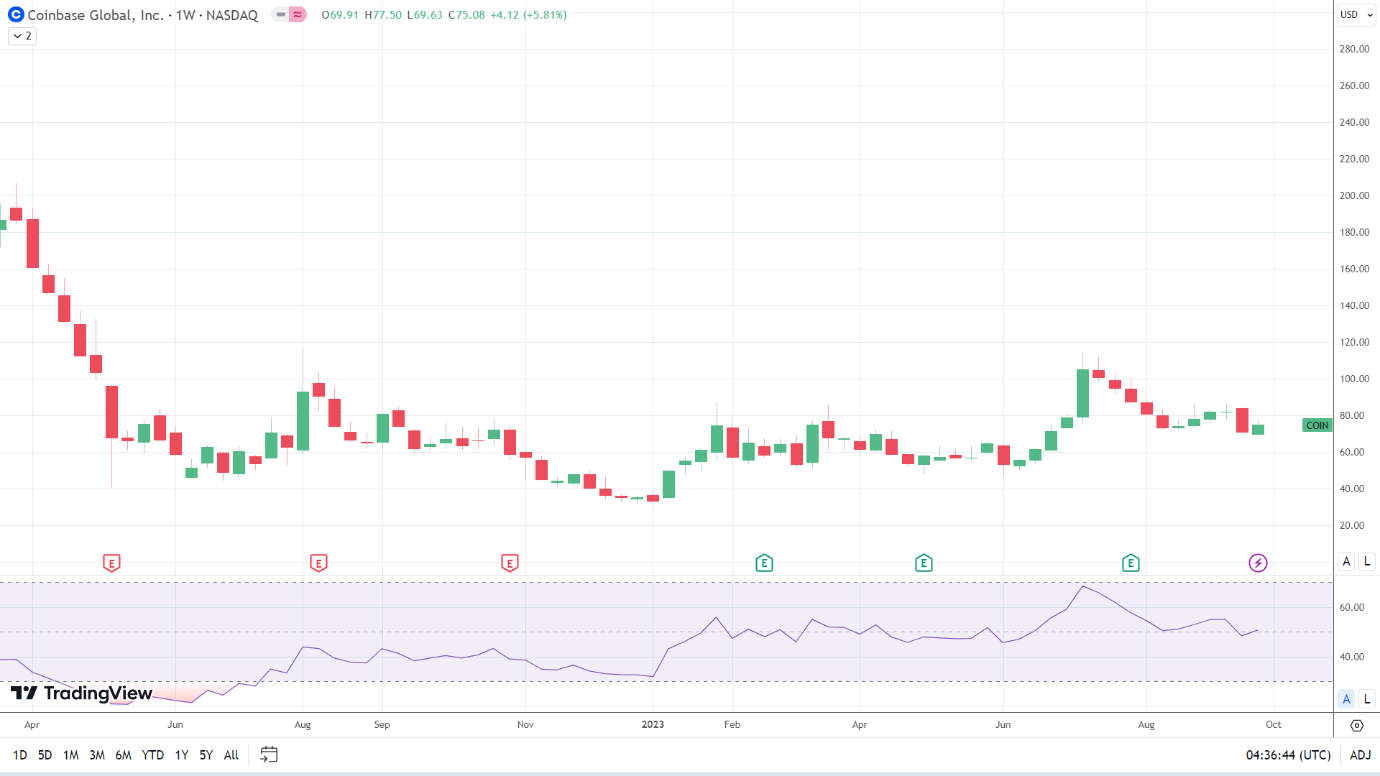 Coinbase 230923 Weekly Chart
SEC Delayed BTC-Spot ETF Reviews Ahead of a Possible US Government Shutdown
This week, the SEC postponed the review of crypto-spot ETFs, dashing hopes of a BTC-spot ETF in 2023.
On Thursday, the SEC announced a deferral to Blackrock's (BLK) iShares Bitcoin Trust ETF Review. The SEC delayed Bitwise, Invesco, and Valkyrie application reviews for spot ETFs.
While hastily issuing the delay notices for crypto-spot ETFs, the SEC approved several ETH-Futures ETFs.
BTC and ETH had contrasting Friday sessions. BTC slipped by 0.44%, while ETH gained 0.90%.
MicroStrategy Increased BTC Holdings to 158,245 BTC
On Monday, the news hit the wires of MicroStrategy (MSTR) acquiring 5,445 BTC to take the total tally to 158,245 BTC.
The NASDAQ-listed BTC holder raised $147.3 million through a Share Sale agreement to acquire the crypto at an average BTC price of $27,053.
MicroStrategy's (MSTR) stock price rose by 1.69% in the week ending September 29, partially reversing a 5.27% fall from the previous week.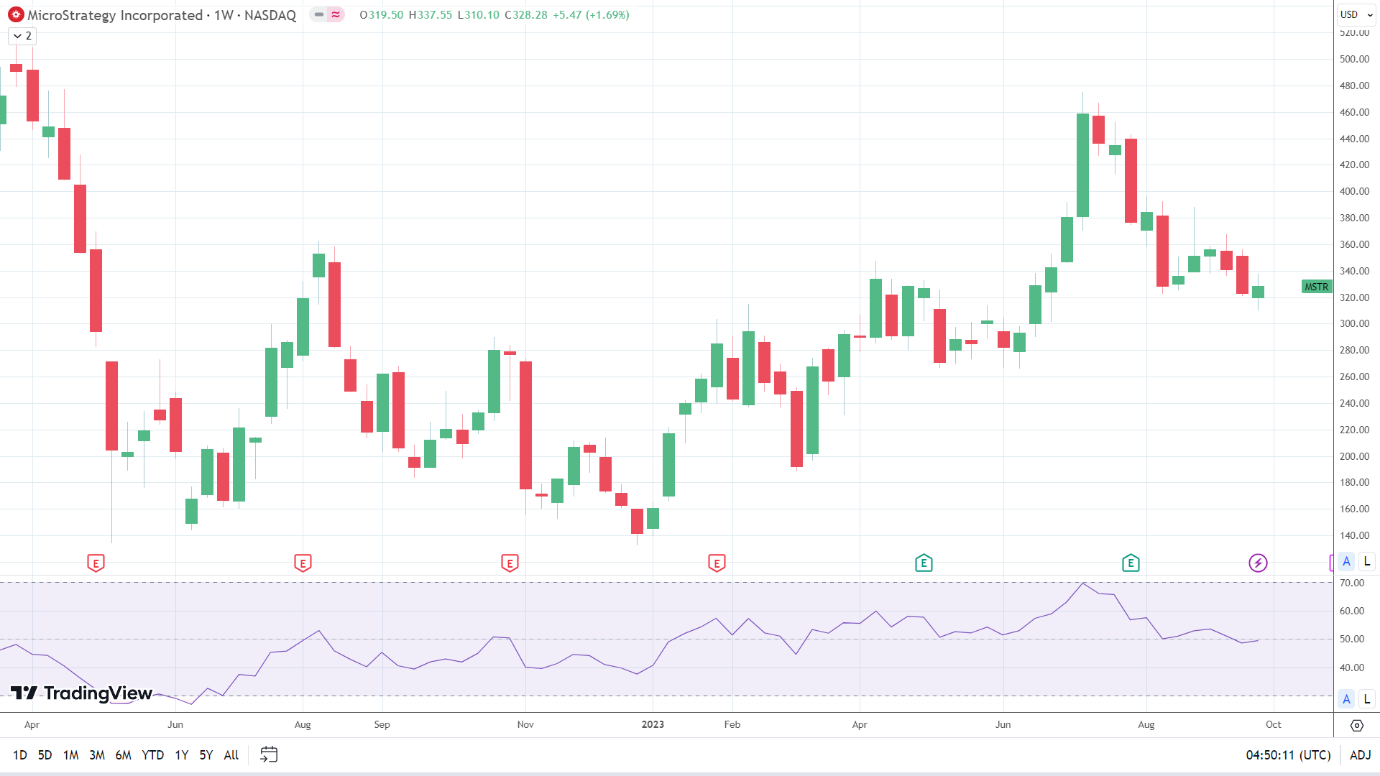 MicroStrategy 230923 Weekly Chart
Central Bank Digital Currencies and Big Brother
Central Bank Digital Currencies (CBDC) were in the spotlight this week. ECB President Christine Lagarde defended the EU CBDC Project to the Economic and Monetary Affairs Committee of the European Parliament.
While stating the pilot CBDC project may take another two years, the ECB President also said that digital money will not be completely anonymous, as in the case of a banknote.
Lawmaker concerns over CBDCs have intensified in recent weeks. This month, US Republican Tom Emmer raised concerns about CBDCs, saying,
"If not open, permissionless, and private – like cash – a CBDC is nothing more than a CCP-style surveillance tool that can be weaponized to oppress the American way of life. We're not going to let that happen – not on House Republicans' watch."
Last week, the US Financial Services Committee passed the CBDC Anti-Surveillance State Act to the Full House on Capitol Hill. The act requires US Congressional authorization to issue CBDCs.
Don't miss a thing!
Sign up for a daily update delivered to your inbox
Sponsored Financial Content