Five Things to Know in Crypto This Week: Elon Musk, the SEC, and Franklin Templeton
Updated

: Sep 16, 2023, 00:39 UTC
•
3
min read
As BTC mining hits the 50% clean energy mark, the crypto world watches for Elon Musk and Tesla's next move.
Key Insights:
The SEC's ongoing cases against Ripple and Coinbase dominate crypto discussions and forecasts.
Bitcoin mining achieves a significant milestone: 50% clean energy use, spotlighting environmental debates.
FTX's decision to offload part of its $3.4 billion crypto stockpile alarms investors, impacting crypto prices.
The SEC Cases Against Ripple and Coinbase Hold Crypto Center Stage
Crypto experts, community members, investors, and the SEC await two pivotal court rulings.
While the SEC is not contesting Judge Torres's ruling on XRP and programmatic sales, a ruling for the SEC's motion for interlocutory appeal could create more confusion than clarity on crypto classifications as commodities and securities.
However, the Coinbase (COIN) motion to dismiss (MTD) will likely have material implications for the US digital asset landscape. CryptoLaw founder and Amicus Curiae attorney John E. Deaton suggests that a dismissal could force the SEC into settling the SEC v Ripple case.
Rulings from presiding judges Torres and Failla could arrive at any moment, leaving the crypto market on tenterhooks.
Coinbase extended its winning streak to 4 weeks, albeit with a modest 0.07% rise to end the week at $82.15.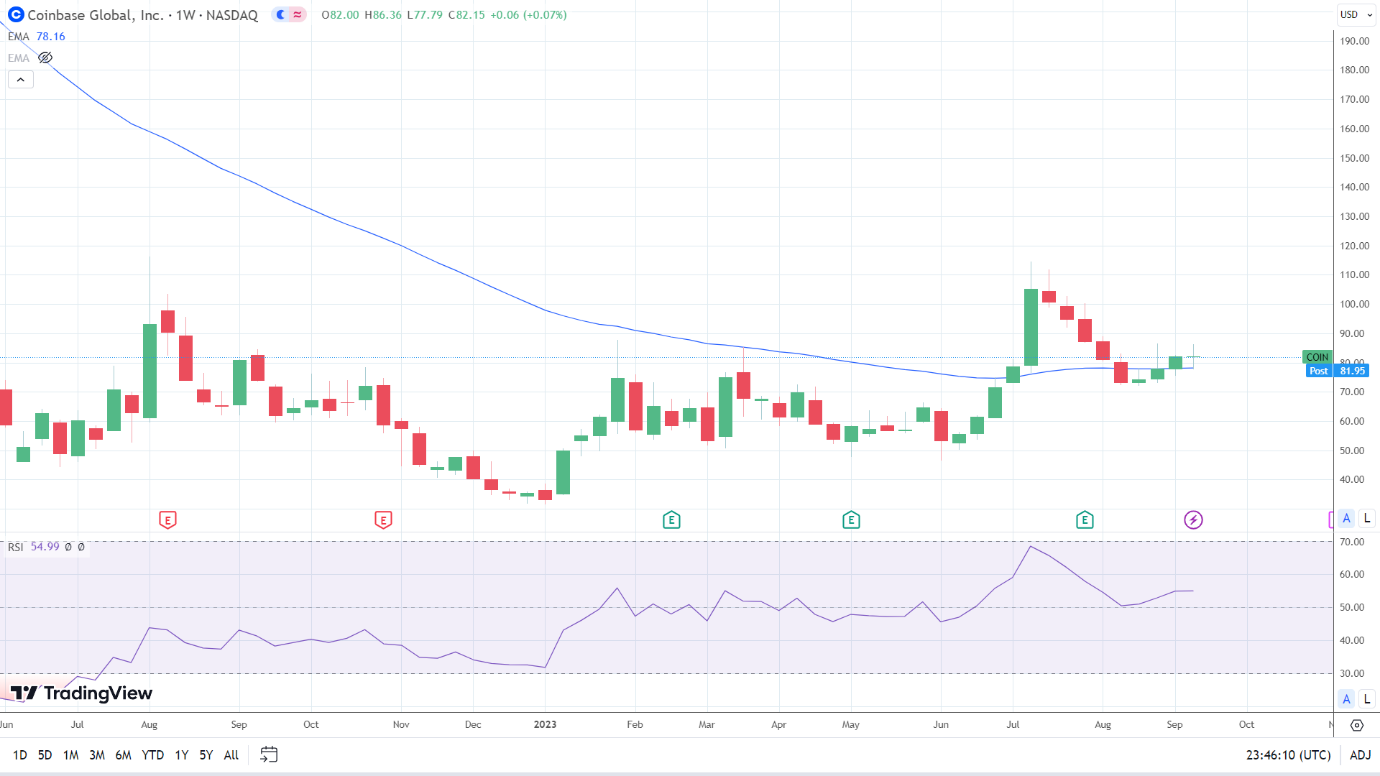 Coinbase 160923 Weekly Chart
Franklin Templeton Joined the BTC-Spot ETF Race
US fund manager giant, Franklin Templeton, joined the race to launch the first BTC-Spot ETF on Tuesday. With over $1.4 trillion in assets under management, Franklin Templeton has named Bank of New York Mellon (BK) as the custodian for cash holdings and Coinbase (COIN) as the custodian for BTC holdings.
Franklin Templeton joined other heavyweight fund managers, including Blackrock (BLK), Fidelity, and Invesco (IVZ), who applied for BTC-spot ETFs. Blackrock has over $9 trillion in assets under management, with Fidelity and Invesco having AUMs of $4.5 trillion and $1.5 trillion, respectively.
BTC Mining, Clean Energy, and Elon Musk
BTC mining and the environment have caused intense scrutiny in recent years. US President Joe Biden's net zero emission aspirations by 2050 have likely fueled the anti-crypto mining campaigns on Capitol Hill.
This week, news hit the wires of Bitcoin mining breaking through the 50% clean energy threshold. The announcement was significant for BTC and the broader crypto market community. Firstly, the increased use of clean energy should ease the anti-crypto rhetoric from Capitol Hill. Secondly, Tesla (TSLA) may resume accepting BTC for payment.
In 2021, Elon Musk stated that Tesla would resume accepting BTC as payment once Bitcoin miners reached the 50% clean energy threshold.
Investors responded favorably to the Franklin Templeton and mining threshold news. For the current week, BTC is up 3.35% to $26,748.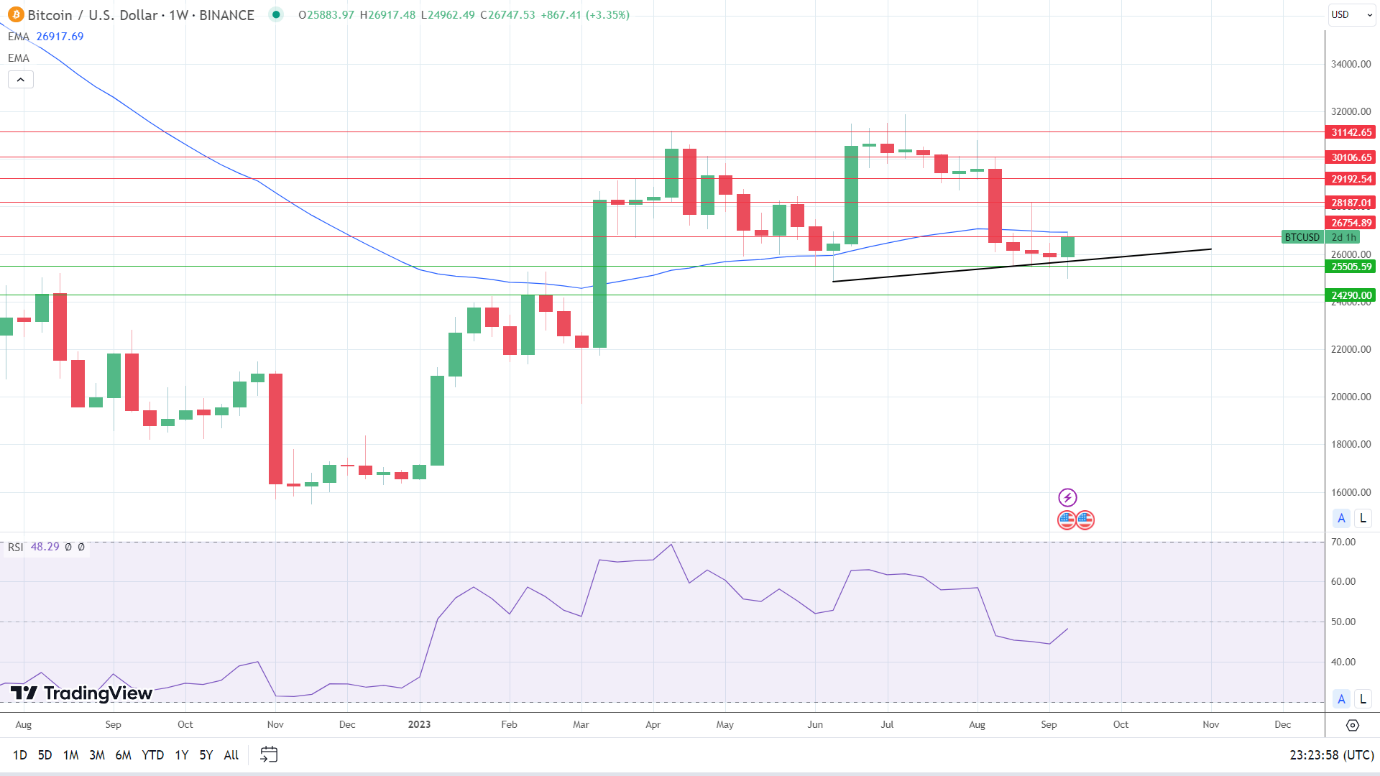 BTCUSD 160923 Weekly Chart
FTX Asset Sale Spooked Investors
FTX continued to influence the broader crypto market on Monday. News emerged about FTX's $3.4 billion crypto stockpile and their plans to offload $200 million.
According to the figures as of January 17, FTX holdings included $685 million in Solana (SOL), $268 million in bitcoin (BTC), and $90 million in ethereum (ETH).
BTC slid by 2.54% on Monday as investors responded to the threat of a BTC dump on the market.
The FTX saga continues to grab the news headlines, with the courts revoking Sam Bankman-Fried's bail.
Stoner Cats, the SEC, and More Dissent in the Ranks
On Wednesday, the SEC filed charges against Stoner Cats 2 LLC for allegedly offering unregistered crypto asset securities in the form of non-fungible tokens (NFTs). According to the SEC charges, Stoner Cats 2 LLC purportedly raised $8 million to fund Stoner Cats, an animated web series.
SEC Commissioners Heter Peirce and Mark Uyeda dissented from the latest attack on the digital asset space. Ripple Chief Legal Officer Stuart Alderoty called the SEC move a PR stunt.
Don't miss a thing!
Sign up for a daily update delivered to your inbox
Sponsored Financial Content