Salesforce Surpasses Earnings Expectations, Raises Guidance
Updated

: May 31, 2023, 20:45 UTC
•
2
min read
Salesforce beats earnings and revenue estimates, but stock price falters on higher capital costs.
Highlights
Salesforce exceeds earnings and revenue expectations.
Stock price drops despite positive performance due to higher capital costs.
Company introduces AI technology and raises guidance for the full year.
Salesforce Beats Expectations, Stock Drops
Salesforce, a prominent player in the stock market, released its earnings report, exceeding expectations in both earnings and revenue. This positive performance prompted the company to raise its full-year guidance. However, during the extended trading hours, the stock price of Salesforce experienced a drop. The decline was attributed to higher capital costs reported by the company, which surpassed what analysts had predicted.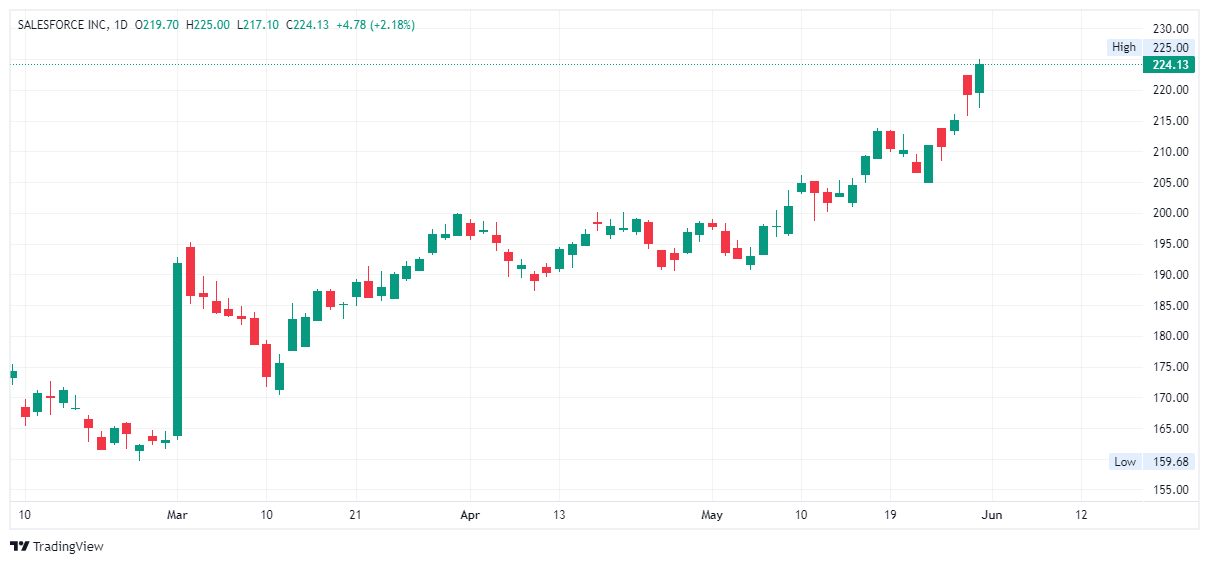 Daily Salesforce
Salesforce Revenue Surges
Breaking down the numbers, Salesforce achieved adjusted earnings per share of $1.69, surpassing the anticipated $1.61 per share according to Refinitiv. In terms of revenue, the company generated $8.25 billion, slightly surpassing the expected $8.18 billion. Additionally, Salesforce's capital expenditures for the quarter totaled $243 million, a 36% increase compared to the previous period and exceeding the consensus estimate of $205 million among analysts polled by StreetAccount.
Higher Costs Concern Investors
Although Salesforce reported an impressive 11% increase in revenue for the quarter ending on April 30, investors became concerned about the higher costs incurred by the company. Looking ahead, Salesforce provided its projections for the fiscal second quarter, anticipating adjusted earnings per share of $1.89 to $1.90 and revenue ranging from $8.51 billion to $8.53 billion. This outlook was higher than analysts' expectations, who had predicted adjusted earnings per share of $1.70 and revenue of $8.49 billion.
Salesforce Raises 2024 Earnings Forecast
Salesforce also revised its earnings forecast for the 2024 fiscal year, now anticipating adjusted earnings per share of $7.41 to $7.43 on revenue between $34.5 billion and $34.7 billion. This updated forecast surpassed the previous projection of $7.12 to $7.14 per share in adjusted earnings. Analysts surveyed by Refinitiv had been expecting adjusted earnings of $7.14 per share and revenue of $34.65 billion.
CEO Praises Margin, Introduces Einstein GPT
CEO Marc Benioff expressed satisfaction with the company's operating margin, stating that it significantly exceeded their target for the quarter. Introducing Einstein GPT, Salesforce's new AI technology designed to boost productivity for sales, marketing, and customer service. This technology gained attention following the success of OpenAI's ChatGPT.
Elliott Investment Management, a stakeholder in Salesforce, decides against pursuing director nominations. Prior to the extended trading session, Salesforce shares had experienced a 67% increase since the beginning of the year, outperforming the S&P 500 index, which had only risen by 9% during the same period.
To discuss the company's results with analysts, executives from Salesforce scheduled a conference call starting at 5 p.m. ET.
Don't miss a thing!
Sign up for a daily update delivered to your inbox
Sponsored Financial Content