Tarantino's First Pulp Fiction NFT Fetches $1.1m at Auction
Published

: Jan 26, 2022, 00:05 UTC
•
2
min read
Following the sale of Tarantino's 1st of 7 NFTs for $1.1m, the 2nd NFT auction closes in less than 3-hours.
Earlier this month, the highly anticipated auction of Quentin Tarantino's Pulp Fiction NFT collection got under way. The auction is running from 17th January to 31st January.
The 7 NFTs include never-seen-before footage, otherwise known as uncut scenes, only available to the buyers. Called "TARANTINO NFTs", the auction is held on the Secret Network (SCRT) blockchain.
The Tarantino NFTs collection are based on Ethereum (ETH) blockchain. Users must, therefore, have ETH or ETC-20 compatible stablecoins to successfully purchase one, some, or all of the NFTs.
Late last year, Miramax had filed a lawsuit against Tarantino for breach of contract, copyright infringement, trademark infringement, and unfair competition. The lawsuit had raised doubts over whether this month's auction could proceed.
Earlier this month, however, news hit the wires of Tarantino and Secret going ahead with the auction.
First of Seven Fetches $1.1m
Despite the Miramax studio lawsuit, the first of the seven Pulp Fiction NFTs up for auction sold for $1.1m this week. There were reportedly 200 confirmed bids.
Secret announced on Twitter "And the winner of the ORIGINAL 'ROYALE WITH CHEESE' SCREENPLAY NFT IS @AnonsNFT, who bid $1.1m!".
Secret also announced that the 2nd NFT auction for 'Pumpkin and Honey Bunny' is now live @ tarantinonfts.com". At the time of writing, just 3 hours were left for Pulp Fiction fans to enter their bids for the 2nd NFT of the set.
The other 5 NFTs are called "Foot Massage", "Check Out the Big Brain on Brett", Captain Koons Monologue – The Gold Watch", "Bring out the Gimp", and "Last Scene: Coffee Shop – Ezekiel 25:17".
Secret Price Action
Bouncing back from a 4.03% fall on Monday and a new January low $4.5445, Secret rallied by 13.87% on Tuesday, to end the day at $6.2408.
Near-term, a breakout from the 50-day EMA at $6.38 levels would bring January's high $10.0617 into play. A move back through to $10.00 levels would then give Secret a run at November's ATH $10.9994
At the time of writing, Secret was up by 0.26% to $6.2573.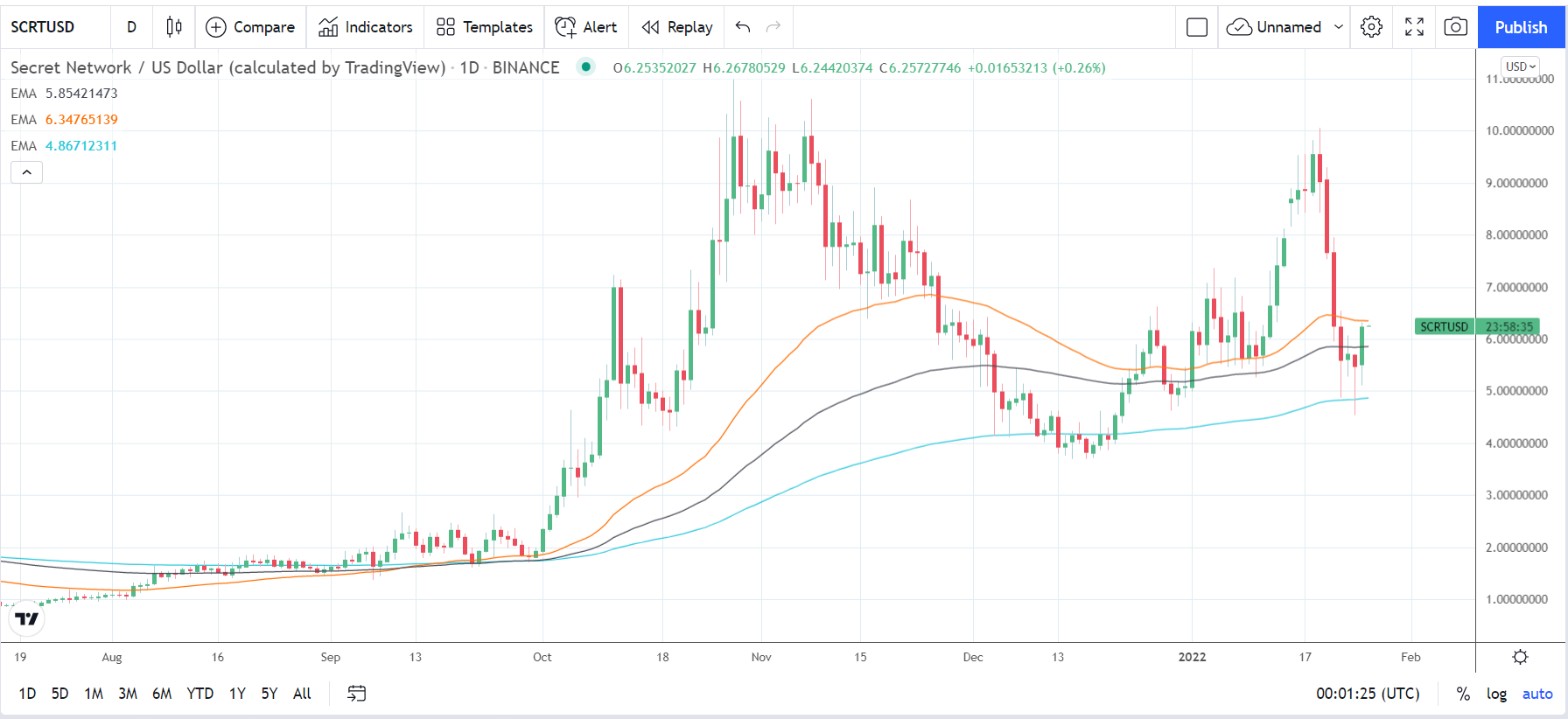 Don't miss a thing!
Sign up for a daily update delivered to your inbox
Sponsored Financial Content