Why Africa is Experiencing Record New Traders -Latest Statistics Revealed
Published

: Dec 28, 2020, 09:16 UTC
•
3
min read
Johannesburg –  2020 has been a challenging year in all aspects in Africa, especially on the economic front but a 100% plus growth for some regulated brokers will definitely grab the global forex trading community's attention.
Forex trading has, despite sweeping global challenges, increased and strengthened for a variety of reasons.
Due to lockdowns on a global front as a result of the Covid-19 pandemic and subsequent attempts to curb the spread, a lot more people were confined to their homes to work remotely whereas others were left without employment, seeking alternative ways to secure an income.
Improved telecommunication across the continent and increased access to the Internet all over Africa brought in massive numbers of new forex traders who signed up to trade on the established electronic trading platforms.
Other reasons include the high liquidity that the forex market offers in addition to lowered transactional costs, making it possible for anyone to trade forex, especially through mobile trading.
Newly released statistics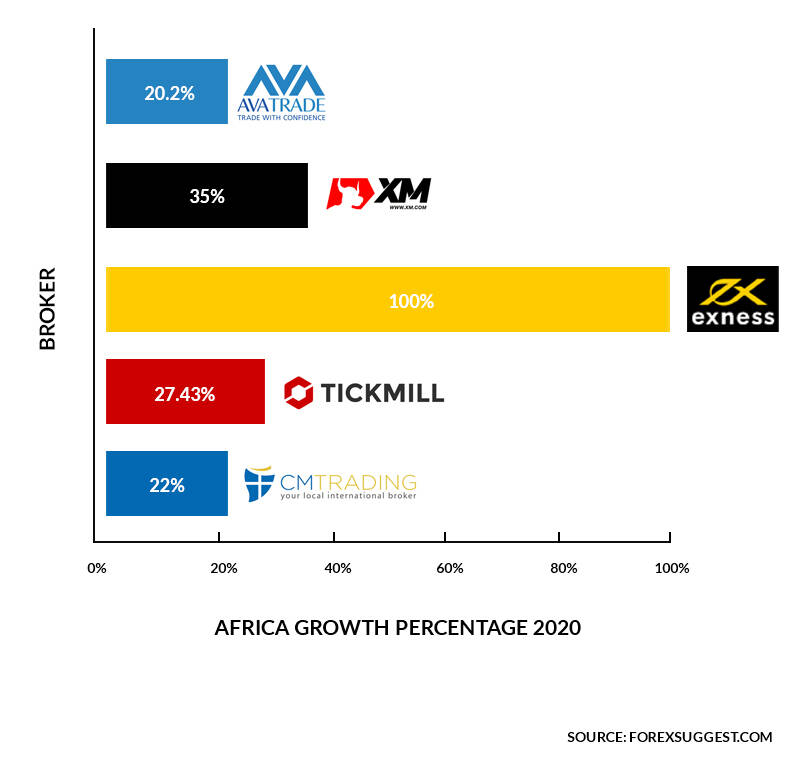 Africa's economy as a whole is growing substantially and quickly, despite many challenges the continent faces. Africa remains one of the most lucrative destinations for foreign investment and there are many international companies that have established themselves across the continent, says Louis Schoeman from Forexsuggest.com – a global forex analysis platform based in Africa who conducted the survey.
Many notable forex brokers have already witnessed a trading market ripe and ready to be penetrated and featuring near-endless possibilities for traders ranging from beginners, intermediaries, and expert traders.
There are numerous major forex brokers that have obtained the necessary regulation from a top-tier authority to offer their services to African forex traders.
The following regulated brokers supplied us with their percentage growth for 2020
1. "We saw substantial growth of around 100% in trade volume and significantly more than this in our number of active clients in the African Region" – Paul Margarites, Sub-Saharan Director of Exness
2. "On average, we grew 35% in the African market for 2020" – Christodoulos Avraamides, Head of Affiliates, African Division at XM.com
3. "Across all South Africa and all channels, the percentage growth in NACS from 2019 to 2020 was 18.3%. In all of Africa's continent, it's 20.2%" – Elena Lautinka, Head of Africa Affiliates at Avatrade
4. "We saw a steady increase of around 22% on clients" – Ayrin Nifanov, Head of African Growth at CM Trading
5. "Tickmill saw a 27.43% increase in Africa alone" – Christoforos Panagiotou Africa Regional Manager of Tickmill
Conclusion: The median growth of all brokers surveyed in Africa was 21,25%
Retail forex trading in Africa may only represent a small segment of the global currency markets – approximately 5.5 percent – but the continent is showing substantial growth, especially in South Africa which accounts for the greatest forex trading volume in Africa.
In February, March, and April 2020, the South African Rand as well as other African currencies experienced weakened price levels against emerging and developed market currencies. However, during July, African currencies showed increased strength followed by weakened conditions again during August.
A record number of Financial Services Conduct Authority (FSCA) licenses were applied for by European and Asian Forex Brokers in 2020.
Despite volatile trading conditions, October and November proved to be substantially fruitful months for African currencies and the positions held in the global forex market.
The main driver of growth in South Africa and Nigeria appears to be that other jurisdictions, such as Europe, have tightened regulations.
This makes Africa and various Asian countries an attractive proposition for regulated retail brokers, particularly those originating from Europe.
Don't miss a thing!
Sign up for a daily update delivered to your inbox
Sponsored Financial Content