Kohl's Surprises with Profitable Quarter, Stock Soars 12%
Updated

: May 24, 2023, 18:23 UTC
•
3
min read
Kohl's stock skyrockets 12% in the pre-market session as the struggling retailer delivers an unexpected profit amidst turnaround efforts.
Highlights
Kohl's stock jumps 12% on surprise profitable quarter.
Company reaffirms outlook, expects decline in net sales.
Kohl's reduces inventory, introduces Sephora shops, and improves store productivity.
Overview
Kohl's stock experienced a significant increase in value on Wednesday morning after the struggling retailer surprised investors with a profitable quarter amidst its efforts to turn the business around. The company's shares rose by over 12% in premarket trading.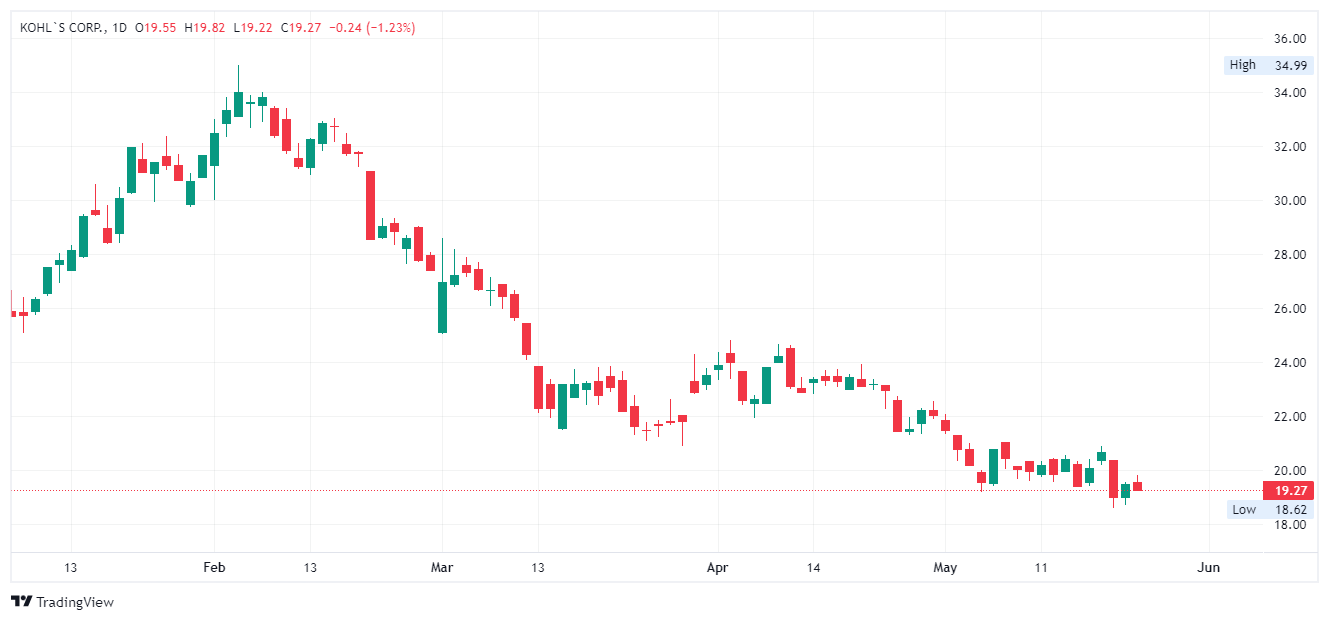 Daily Kohl`s Corp.
Kohl's Projects Decline, Maintains Outlook
Kohl's reaffirmed its outlook for the full year, projecting a decline in net sales ranging from 2% to 4%, which includes the impact of having one additional week of sales this year. Excluding one-time charges, the company expects earnings per share to range from $2.10 to $2.70.
Kohl's Exceeds Expectations, Reports Profits
Here's how Kohl's performed in the quarter ending April 29 compared to Wall Street expectations: Earnings per share: Kohl's earned 13 cents per share, surpassing the anticipated loss of 42 cents per share. Revenue: The company generated $3.36 billion in revenue, slightly higher than the expected $3.34 billion.
Kohl's Q1 Sales Decline, Meets Expectations
During the first fiscal quarter, Kohl's net sales dropped to $3.36 billion from $3.47 billion in the same period last year. Comparable sales declined by 4.3%, which was in line with Wall Street's forecast of a 4.5% drop, as reported by StreetAccount. Kohl's reported a net income of $14 million, or 13 cents per share, compared to $14 million, or 11 cents per share, in the previous year's quarter.
Kohl's Bounces Back with Surprising Profit
This surprising quarterly profit comes after several quarters of disappointing sales and a declining stock price for Kohl's. Activist investors Ancora Holdings and Macellum Capital had targeted the company, leading to the removal of former CEO Michelle Gass and changes within the board. Kohl's had also explored a potential sale to Franchise Group, the owner of Vitamin Shoppe, but ultimately abandoned the idea.
Since then, the company has appointed Tom Kingsbury, the former CEO of Burlington Stores, as its new CEO, while Michelle Gass transitioned to become the CEO of Levi Strauss.
Kohl's Battles Challenges Amidst Inflation
In recent months, Kohl's has faced challenges in its efforts to revitalize the business and attract customers. Many middle-income shoppers are feeling the pinch of inflation and reducing discretionary spending, including on clothing. This contributed to significant losses during Kohl's holiday quarter and a weak outlook, which the company reiterated.
Kohl's Shows Progress in Q1
Despite these obstacles, CEO Tom Kingsbury highlighted the progress made by Kohl's in the first fiscal quarter. The company has reduced excess inventory, introduced Sephora shops to attract customers, and improved store productivity.
Inventory levels have significantly decreased compared to the previous year, with Kohl's inventory at $3.5 billion at the end of the quarter, reflecting a 6% year-over-year drop. Investors closely monitor inventory levels, as excessive merchandise can lead to higher markdowns and lower profits.
Kohl's Stock Slumps, Facing Yearly Decline
On Tuesday, Kohl's stock closed at $19.27, less than half of its 52-week high of $47.63. So far this year, the company's stock has experienced a decline of nearly 23%, while the S&P 500 has risen approximately 8%, and the retail-focused XRT has fallen nearly 2%.
Don't miss a thing!
Sign up for a daily update delivered to your inbox
Sponsored Financial Content