ETH to Target $1,900 on Surge in Staking Inflows and Debt Ceiling News
Published

: May 27, 2023, 04:04 UTC
•
4
min read
ETH was on the move this morning, with a spike in staking inflows delivering early support. Progress toward avoiding US default was also positive.
Key Insights:
On Friday, ETH gained 1.22% to end the day at $1,828.
Further progress toward avoiding a US default and the NASDAQ Composite Index provided support.
The technical indicators turned bullish, signaling a run at $1,850.
Ethereum (ETH) rose by 1.22% on Friday. Following a 0.33% gain on Thursday, ETH ended the day at $1,828. Despite the bullish session, ETH fell short of the $1,850 handle for the second consecutive session.
A bearish start to the day saw ETH fall to an early morning low of $1,797 before making a move. Steering clear of the First Major Support Level (S1) at $1,771, ETH rose to an early afternoon high of $1,839. ETH briefly broke through the First Major Resistance Level (R1) at $1,830 before easing back to end the day at $1,828.
Staking Inflows and US Debt Ceiling News Delivered Support
According to CryptoQuant, staking inflows jumped from 58,624 ETH on Thursday to 161,248 ETH on Friday, supporting the bullish session.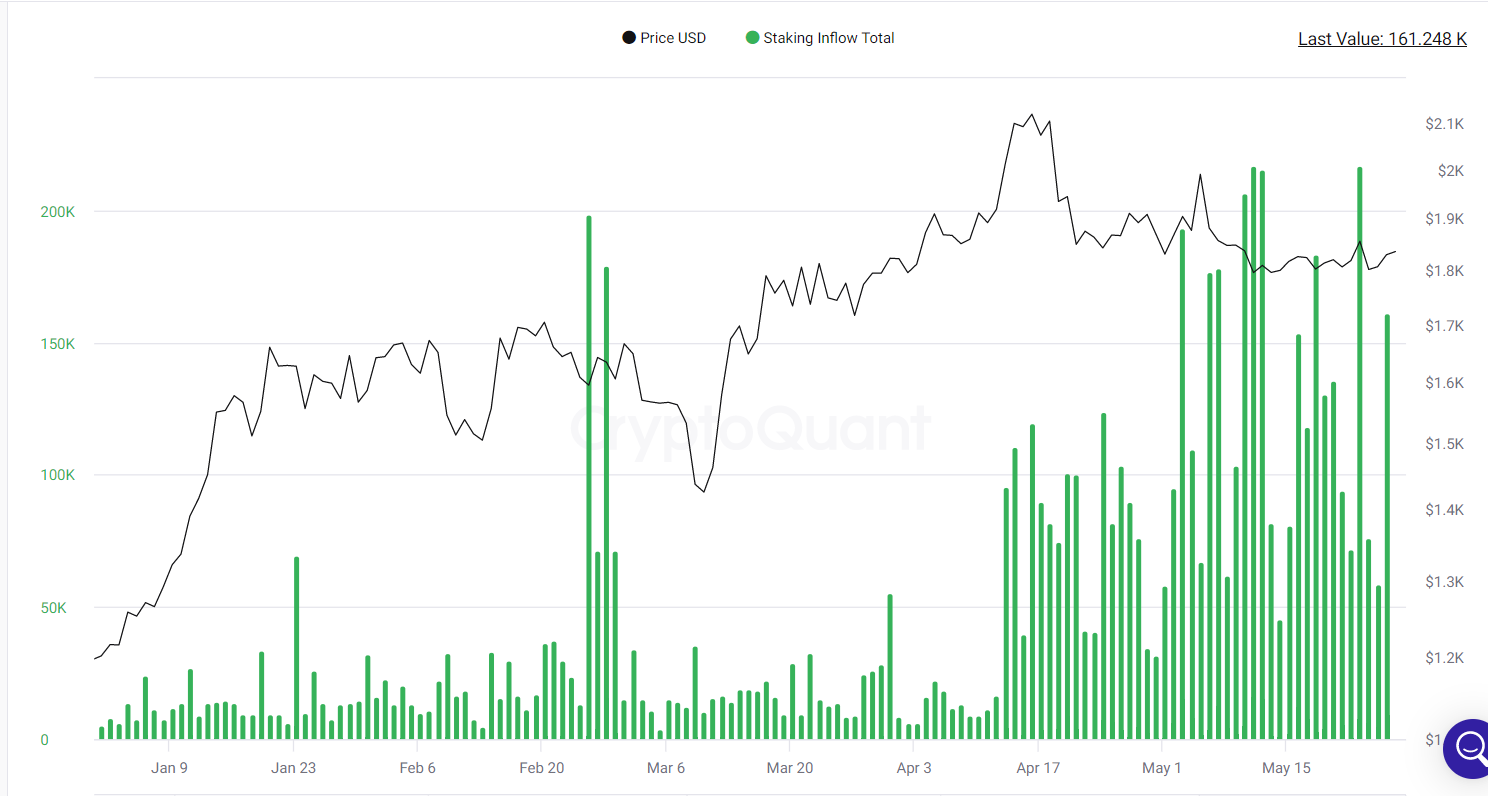 ETH Staking Inflows 270523
The total value staked climbed higher, supported by the spike in staking inflows and the bullish Friday session.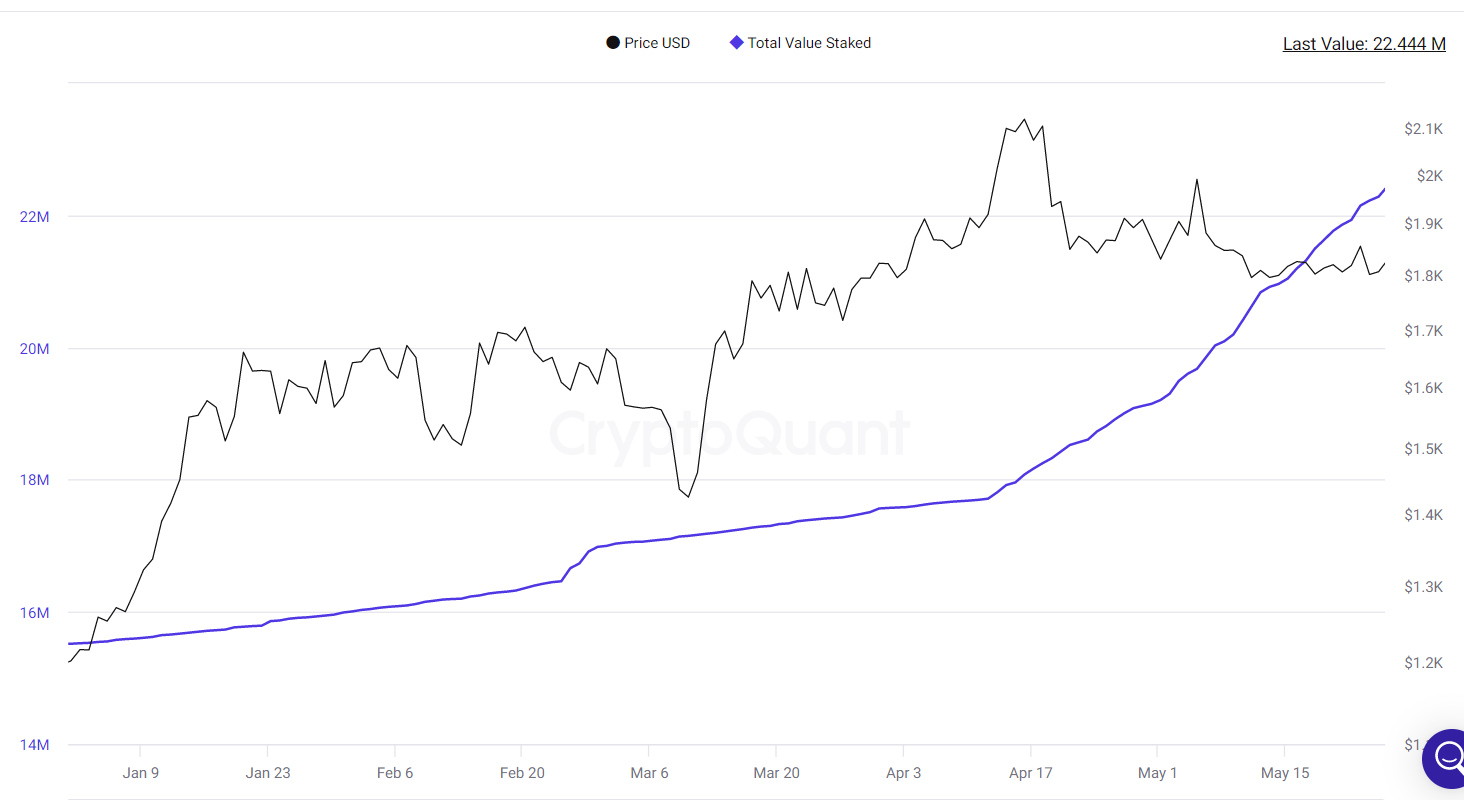 Total Value Staked 270523
The withdrawal profile was also bullish. Overnight, principal withdrawals decreased to normal levels. However, withdrawal projections for the morning session were bearish, with principal ETH withdrawals expected to spike.
On Friday, the net ETH staking balance fell from a surplus of 80,270 ETH on Thursday to a 58,560 ETH surplus, equivalent to $105.54 million. Deposits totaled 65,550 ETH versus withdrawals of 6,990 ETH.
According to TokenUnlocks, total pending withdrawals stood at 42,440 ETH, equivalent to approximately $77.80 million. Notably, the staking APR stood at 8.61%, up 0.23% over 24 hours.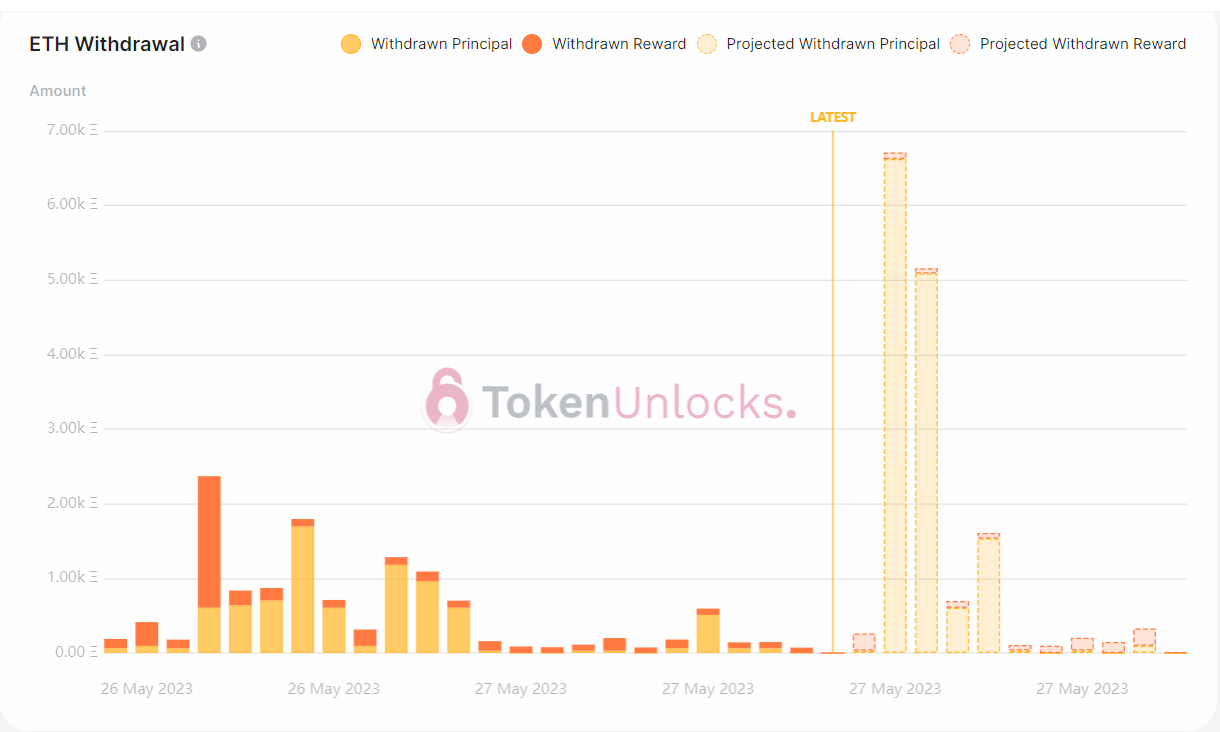 ETH Withdrawal Profile – 270523
Beyond the crypto market, reports of progress toward raising the US debt ceiling provided support. The prospects of avoiding a US default limited the impact of a pickup in US inflationary pressure that fueled bets on a June Fed interest rate hike.
According to the CME FedWatch Tool, the probability of a June hike increased from 51.7% to 64.2% on Friday. The Core PCE Price Index increased by 4.7% year-over-year versus 4.6% in March.
The NASDAQ Composite Index rallied 2.19%, with the Dow and S&P 500 seeing gains of 1.00% and 1.30%, respectively.
The Day Ahead
It is a quieter day for ETH. There are no US economic indicators to distract investors, leaving investors to consider the Friday stats and updates from Washington.
However, investors should continue to monitor the staking statistics and the withdrawal profile. A further rise in ETH staking inflows and a fall in withdrawals would support a bullish session.
SEC v Ripple updates and Binance and Coinbase (COIN)-related news would also move the dial.
Ethereum Price Action
This morning, ETH was up 0.21% to $1,832. A mixed start to the day saw ETH fall to an early low of $1,826 before rising to a high of $1,835.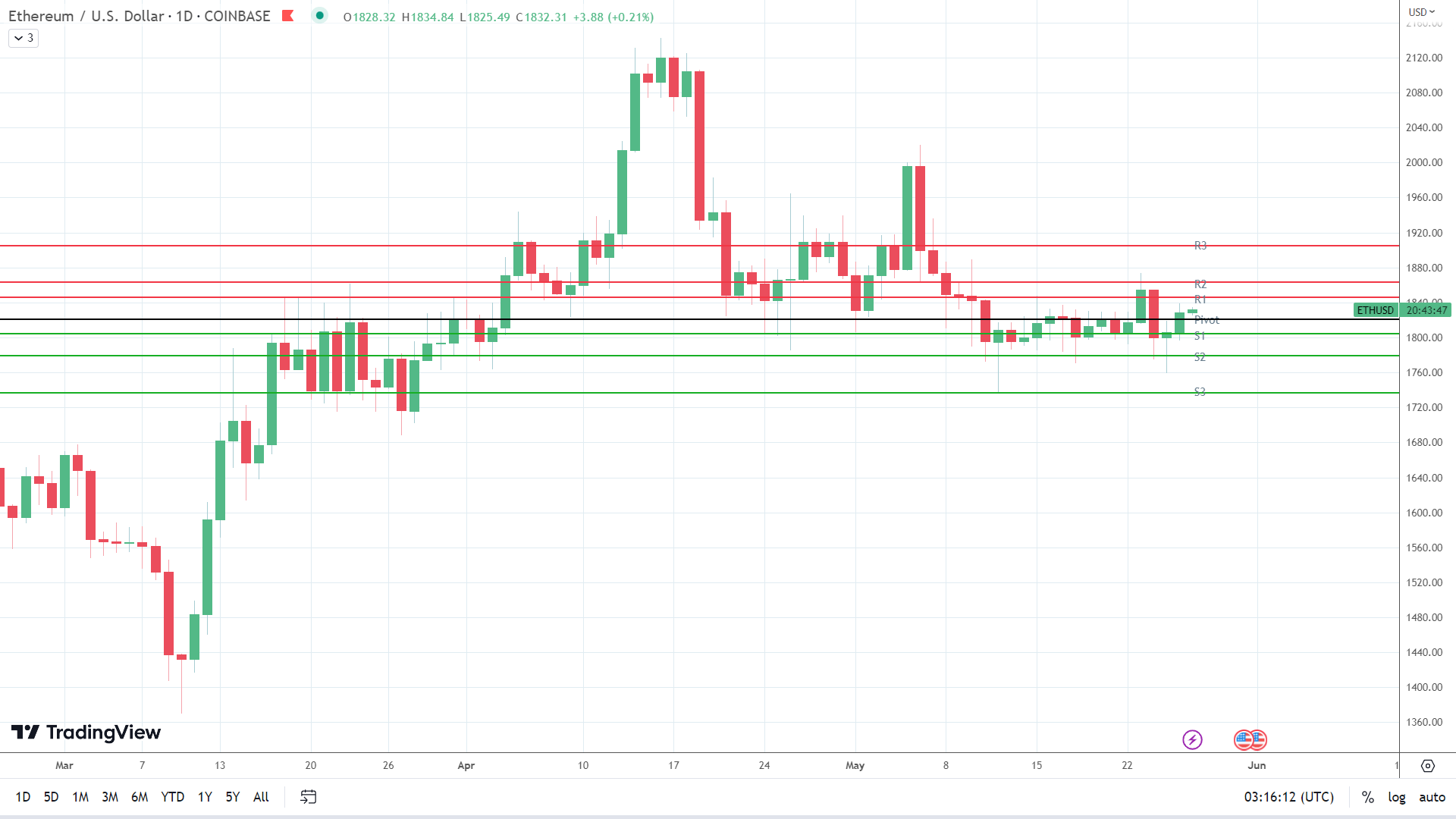 ETHUSD 270523 Daily Chart
ETH Technical Indicators
Resistance & Support Levels
| | | | |
| --- | --- | --- | --- |
| R1 – $ | 1,846 | S1 – $ | 1,804 |
| R2 – $ | 1,863 | S2 – $ | 1,779 |
| R3 – $ | 1,905 | S3 – $ | 1,737 |
ETH needs to avoid the $1,821 pivot to target the First Major Resistance Level (R1) at $1,846. A move through the Friday high of $1,839 would signal a breakout session. However, staking statistics and US debt ceiling updates must support a bullish session.
In the event of an extended rally, the bulls would likely test the Second Major Resistance Level (R2) at $1,863 and resistance at $1,900. The Third Major Resistance Level (R3) sits at $1,905.
A fall through the pivot would bring the First Major Support Level (S1) at $1,804 into play. However, barring a risk-off-fueled sell-off, ETH should avoid sub-$1,750. The Second Major Support Level (S2) at $1,779 should limit the downside. The Third Major Support Level (S3) sits at $1,737.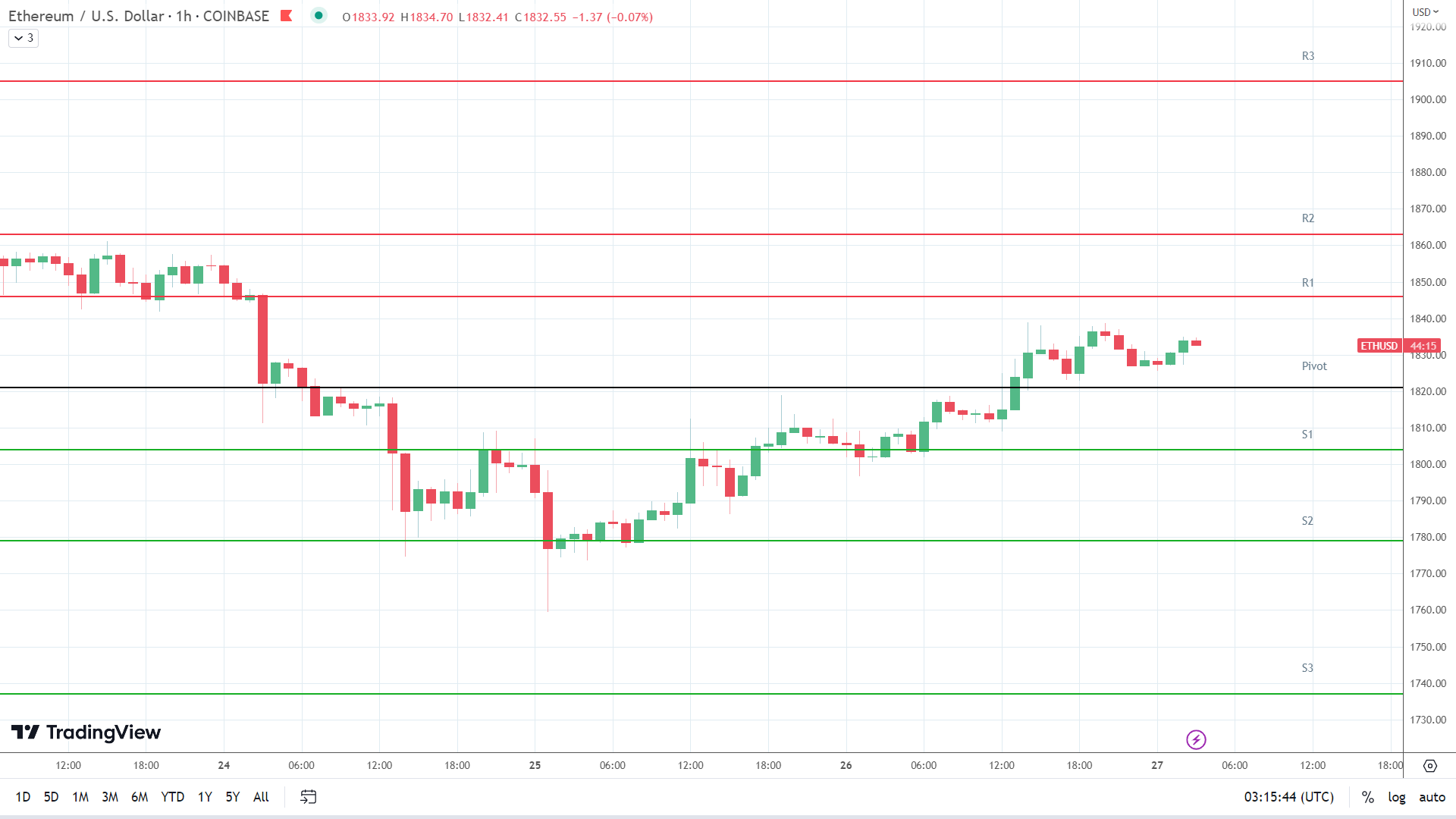 ETHUSD 270523 Hourly Chart
Looking at the EMAs and the 4-hourly candlestick chart (below), it was a more bullish signal. Ethereum sat above the 100-day EMA, currently at $1,825. The 50-day EMA closed in on the 100-day EMA, with the 100-day EMA narrowing to the 200-day EMA, delivering bullish signals.
A move through the 200-day ($1,839) would support a breakout from R1 ($1,846) to target R2 ($1,863) and $1,900. However, a fall through the 100-day ($1,824) and 50-day ($1,817) EMAs would bring S1 ($1,804) and sub-$1,800 Major Support Levels into view.
A fall through the 50-day EMA would send a bearish signal.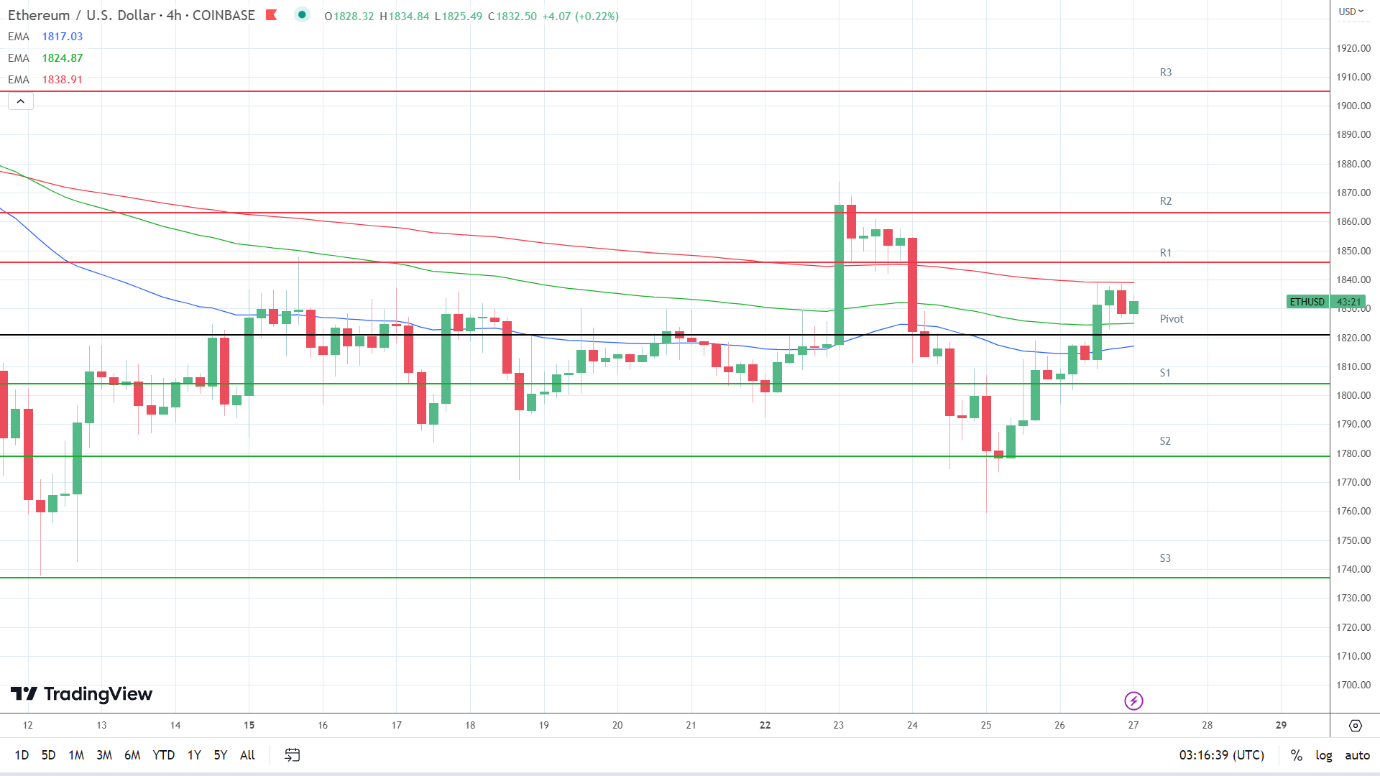 ETHUSD 270523 4 Hourly Chart
Don't miss a thing!
Sign up for a daily update delivered to your inbox
Sponsored Financial Content