NASDAQ 100, Dow Jones, S&P 500: Traders Await Debt Ceiling Deal
Updated

: May 16, 2023, 13:12 UTC
•
3
min read
Steady stock futures as focus shifts to debt ceiling talks and retail sales; U.S. Treasury warns of default risk and economic catastrophe.
Highlights
Stock futures show little change as focus turns to debt ceiling negotiations.
U.S. Treasury warns of potential default if debt ceiling deal not reached.
Retail sales data, central bank officials' speeches also on investors' radar.
Overview
U.S. stock futures showed little change in Tuesday's pre-market session as traders focused their attention on a meeting scheduled for Tuesday between congressional leaders and President Joe Biden.
At 05:00 GMT, futures associated with the S&P 500 index are down slightly by 0.08%, while Nasdaq 100 futures made a small downward move of 0.08%. Futures linked to the Dow Jones Industrial Average are off by 33 points, equivalent to 0.1%.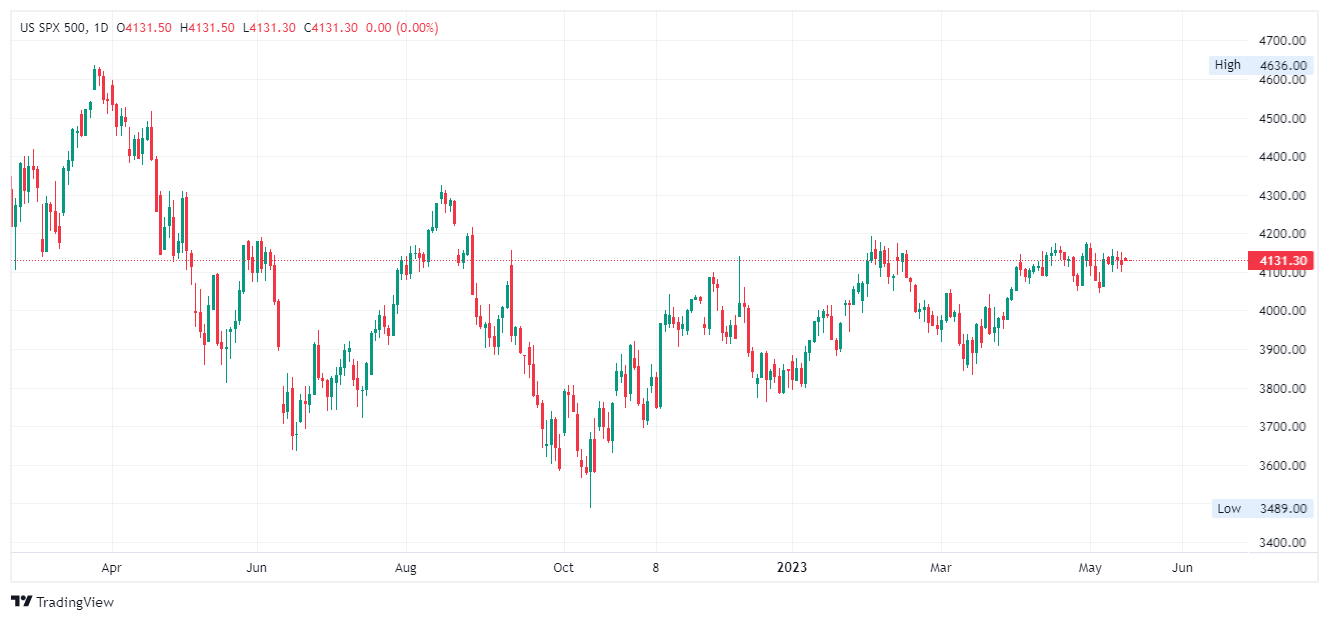 Daily US SPX 500
Debt Ceiling Deal Progress Awaited
Investors are eagerly awaiting progress on a deal to increase the debt ceiling before June 1. This is important because the Treasury Department has warned that the U.S. could potentially default on its debt obligations if an agreement is not reached by that date. Treasury Secretary Janet Yellen recently expressed concerns about the possibility of an "economic catastrophe" if a deal is not reached.
US Faces Money Shortage Risk
On Monday, Yellen confirmed that the United States could potentially run out of money by June 1 if the White House and Congress don't reach an agreement. This is known as the "X date." Yellen warned that waiting until the last minute to suspend or increase the debt limit could harm business and consumer confidence, increase borrowing costs, and negatively impact the country's credit rating. She also mentioned that the Treasury's borrowing costs for securities maturing in early June have already risen significantly.
Optimism, Obstacles in Debt Ceiling Talks
Over the weekend, Biden expressed optimism about the ongoing negotiations, while House Speaker Kevin McCarthy stated that there are still significant obstacles to overcome. We're entering a risky situation, and it's likely that we'll come very close to a crisis before a deal is reached. Biden has been firm that raising the debt ceiling is non-negotiable, while McCarthy has pushed for a deal to be tied to spending cuts.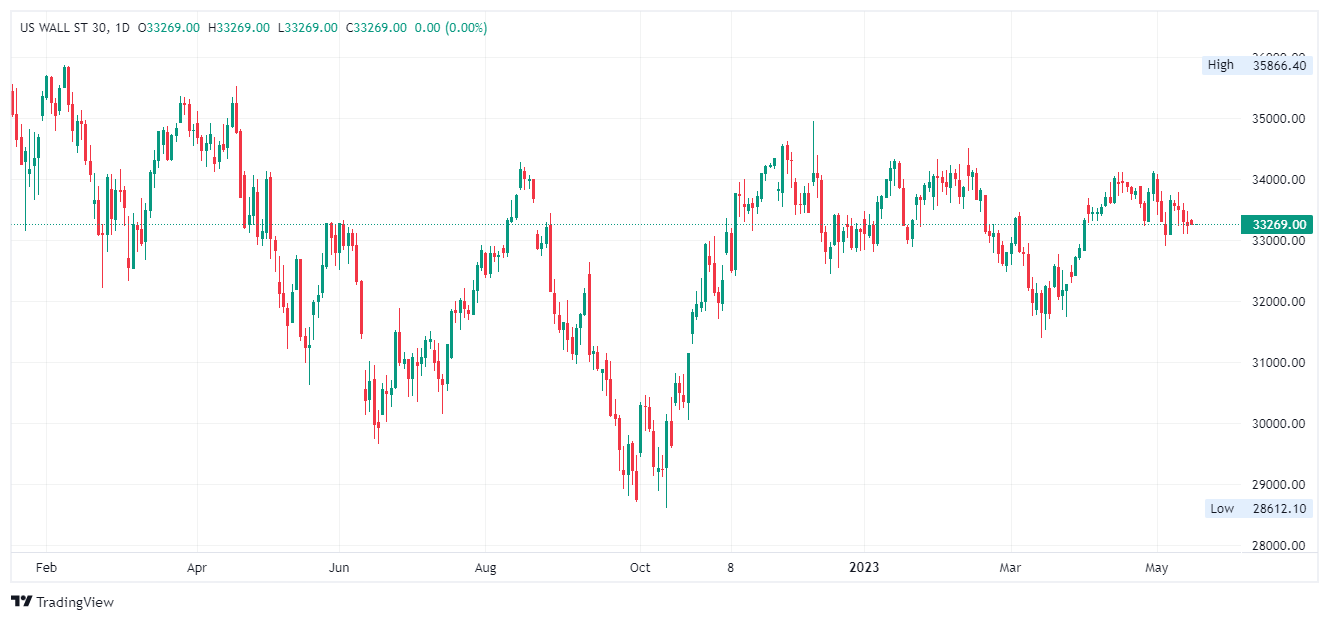 Dow Ends 5-Day Slump
Stocks had a positive day of trading on Monday, with the Dow, which consists of 30 major stocks, breaking its five-day losing streak. The Nasdaq Composite, which is heavily influenced by technology companies, led the way with a gain of 0.66%, while the broader S&P 500 index also saw a modest increase of 0.3%.
Key Events: Retail Sales, Central Bank Speeches, and Earnings Reports Await Investors
Later today at 12:30 GMT, investors will be paying attention to the release of April's retail sales data, which will provide insights into consumer spending. Economists surveyed by Dow Jones expect a growth of 0.8% in retail sales for that month.
There will be several central bank officials speaking today. Michael Barr, the Federal Reserve Vice Chair for Supervision, will testify before the House Financial Services Committee at 14:00 GMT. The hearing, titled "Oversight of Prudential Regulators," will address regulatory matters. Additionally, Federal Reserve Presidents Raphael Bostic (Atlanta), John Williams (New York), and Austan Goolsbee (Chicago) will be participating in separate events.
Investors will also be focused on earnings reports from consumer staple companies this week. Home Depot, Target, and Walmart are scheduled to release their quarterly results on Tuesday, Wednesday, and Thursday, respectively.
Don't miss a thing!
Sign up for a daily update delivered to your inbox
Sponsored Financial Content