Tarantino NFT Auction Hits Pause Due to Market Volatility
Updated

: Jan 31, 2022, 05:50 UTC
•
2
min read
Crypto market volatility hits the NFT market place. No data has been set for the resumption of the Tarantino NFT auction.
At the start of the year, news hit the wires confirming that Quentin Tarantino's Pulp Fiction NFT auction will go ahead. The highly anticipated auction was set to run from 17th January to 31st January.
Named "TARANTINO NFTs", the auction includes the sale of 7 NFTs that are uncut scenes only available to the buyers. The auction is being held on the Secret Network (SCRT) blockchain. The Tarantino NFT collection is based on the Ethereum (ETH) blockchain.
Royale with Cheese Goes for $1.1m
Last Monday, the first of the 7 TARANTINO NFTs sold for $1.1m. News hit the wires of the sale amidst a choppy time for the broader crypto market. The sale coincided with Bitcoin's (BTC) tumble to sub-$33,000 levels and an Ethereum (ETH) slide to a January low $2,159.
Heightened regulatory scrutiny and market sensitivity towards FED monetary policy have fueled the sharp pickup in crypto market volatility at the turn of the year.
For Tarantino and the Secret Network, the sharp increase in regulatory scrutiny may raise other concerns. Late last year, Miramax had filed a lawsuit against Tarantino for breach of contract, copyright infringement, trademark infringement, and unfair competition. The lawsuit had raised doubts over whether this month's auction could proceed.
Crypto Market Volatility Hits Tarantino NFT Sale
For Tarantino and Pulp Fiction fans looking to get their hands on one of the remaining 6 NFTs up for sale, there will be disappointment.
On Saturday, the Tarantino NFTs auction was suspended. Announcing the suspension on Twitter, the team stated "In light of extreme market volatility, we've decided to postpone the remainder of the auction to put the needs of our community first".
Following the Royale with Cheese sale, Pumpkin and Honey Bunny was the 2nd in the series of 7 to go on sale.
The other 5 NFTs are "Foot Massage", "Check Out the Big Brain on Brett", Captain Koons Monologue – The Gold Watch", "Bring out the Gimp", and "Last Scene: Coffee Shop – Ezekiel 25:17".
At the time of writing, there was no news on when the auction will resume.
Secret Price Action
At the time of writing, Secret was down by 1.34% to $5.54. A move back through last Wednesday's high $6.75 would bring the current month high $10.06 into play. Resistance at $10.00, however will likely peg Secret back from its November ATH $10.9994.
Look at the EMAs, a breakout from the $6.23 50-day EMA would bring January's high $10.06 into play. A move back through to $10.00 levels would then give Secret a run at November's ATH $10.9994.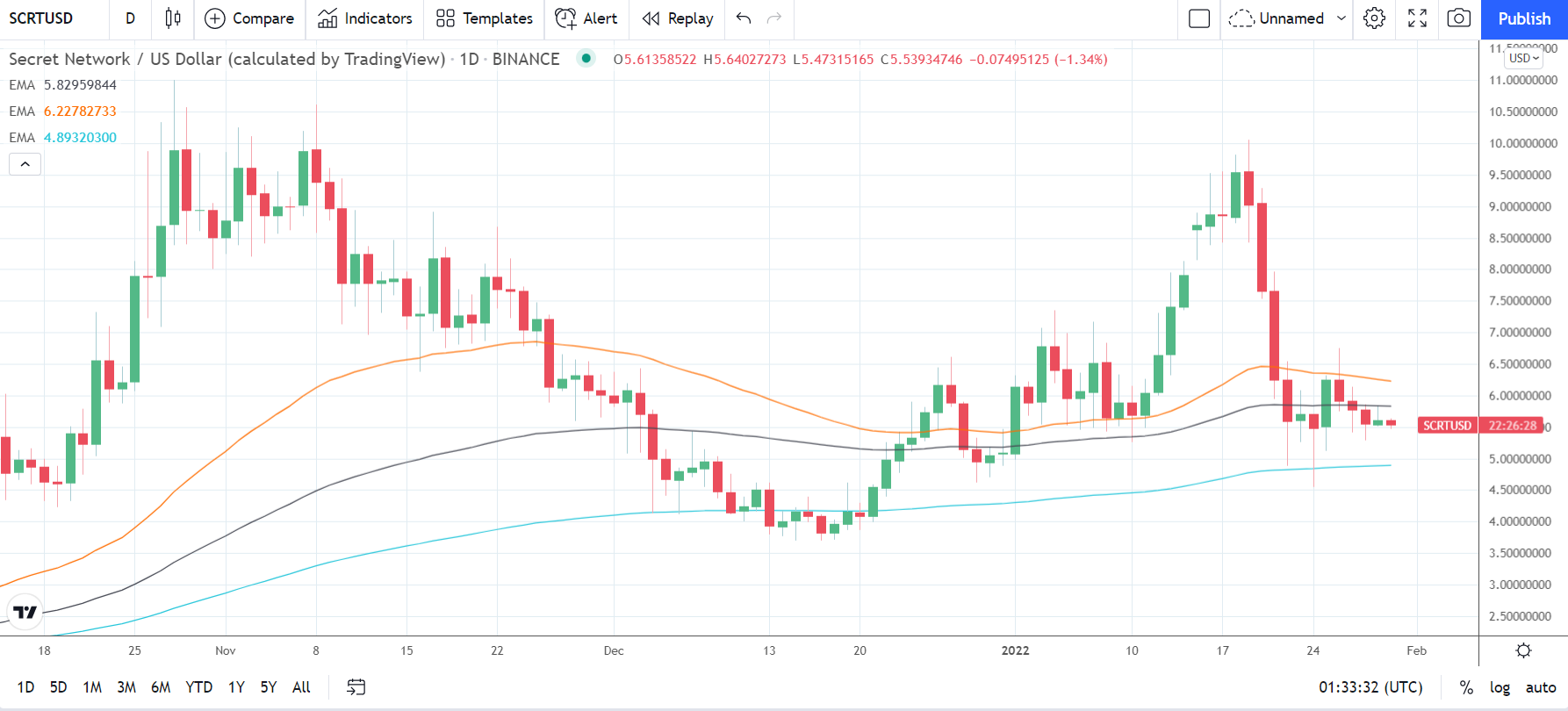 Don't miss a thing!
Sign up for a daily update delivered to your inbox
Sponsored Financial Content