Crypto News: SEC Chair Gary Gensler Gets Called Out for Crypto Securities Classification
Published

: Sep 22, 2023, 02:29 UTC
•
3
min read
SEC Chair, Gary Gensler, faces criticism from the crypto community after underscoring the applicability of securities laws to crypto security tokens, emphasizing investor benefits from disclosure.
Key Insights:
CBDC Act finds a champion in Senator Jackson, citing freedom control concerns.
Gensler draws ire for dismissing Judge Torres's XRP ruling on Programmatic Sales.
Mt. Gox's BTC repayment delay extends to October 2024; rumors confirmed.
The Thursday Session Overview
CBDC Anti-Surveillance State Act Gets Support: Republican Senator Ronny Jackson shared his support for the CBDC Anti-Surveillance State Act on Thursday. Senator Jackson had this to say about Central Bank Digital Currencies (CBDCs),
"A Central Bank Digital Currency is a TROJAN HORSE! The global elites want to use it to control YOUR freedom. I am a proud co-sponsor of the CBDC Anti-Surveillance State Act & thank you, Tom Emmer, for getting this important legislation passed out of committee yesterday."
Mt. Gox Repayment Deadline Officially Delayed until October 2024: Rumors of a delay to the Mt. Gox repayment turned out to be true. On Thursday, Mt. Gox announced a one-year postponement to October 31, 2024, for the early lump-sum and intermediate repayments.
According to MtGoxBalanceBot, the current balance on all known addresses of the MtGox Trustee stands at 135,890.98005555 BTC, with no BTC withdrawals from the Mt. Gox addresses since 2018/05/10.
Fed Fear Delivers Another Crypto Blow: On Thursday, US jobless claims aligned with the more hawkish Fed outlook on unemployment and growth. Initial jobless claims fell from 221k to 201k, signaling tighter labor market conditions. Rising bets on a November Fed rate hike weighed on riskier assets. The NASDAQ Composite Index slid by 1.82%, with the Dow and S&P 500 seeing losses of 1.08% and 1.64%, respectively. The total crypto market cap declined by 1.89% to $1,032 billion.
SEC Chair Gary Gensler Draws Crypto Community Ire: On Thursday, the crypto community responded to an SEC Chair Gary Gensler interview on Bloomberg. The Chief Legal Officer of Ripple, Stuart Alderoty, highlighted the SEC Chair's unwillingness to accept Judge Torres's XRP ruling on Programmatic Sales. SEC Chair Gensler had this to say about cryptos,
"The Securities Laws apply to crypto security tokens, and there's nothing incompatible with those tokens. With the Securities Laws, investors still benefit from disclosure, and investors get to choose based on that disclosure. Investors benefit from laws against fraud and manipulation and other conflicts in the markets."
Technical Analysis
Bitcoin Analysis
BTC remained below the 50-day and 200-day EMAs, affirming bearish price signals. Significantly, the 50-day EMA converged on the 200-day EMA. A bearish cross of the 50-day EMA through the 200-day EMA would support a BTC move to the trend line.
Hotter-than-expected US services PMI numbers would support another reversal. Tighter labor market conditions fuel spending and demand-driven inflation. Rate hikes would counter consumption and ease demand-inflationary pressures. BTC and the broader crypto market remain exposed to Fed Fear (the threat of higher US interest rates).
A break above the $26,755 resistance level would give the bulls a run at the EMAs.
Crypto-friendly SEC v Ripple and Coinbase (COIN) case-related news and BTC-spot ETF updates would drive buyer appetite.
The 14-Daily RSI reading of 49.96 supports a BTC move to the trend line before entering oversold territory.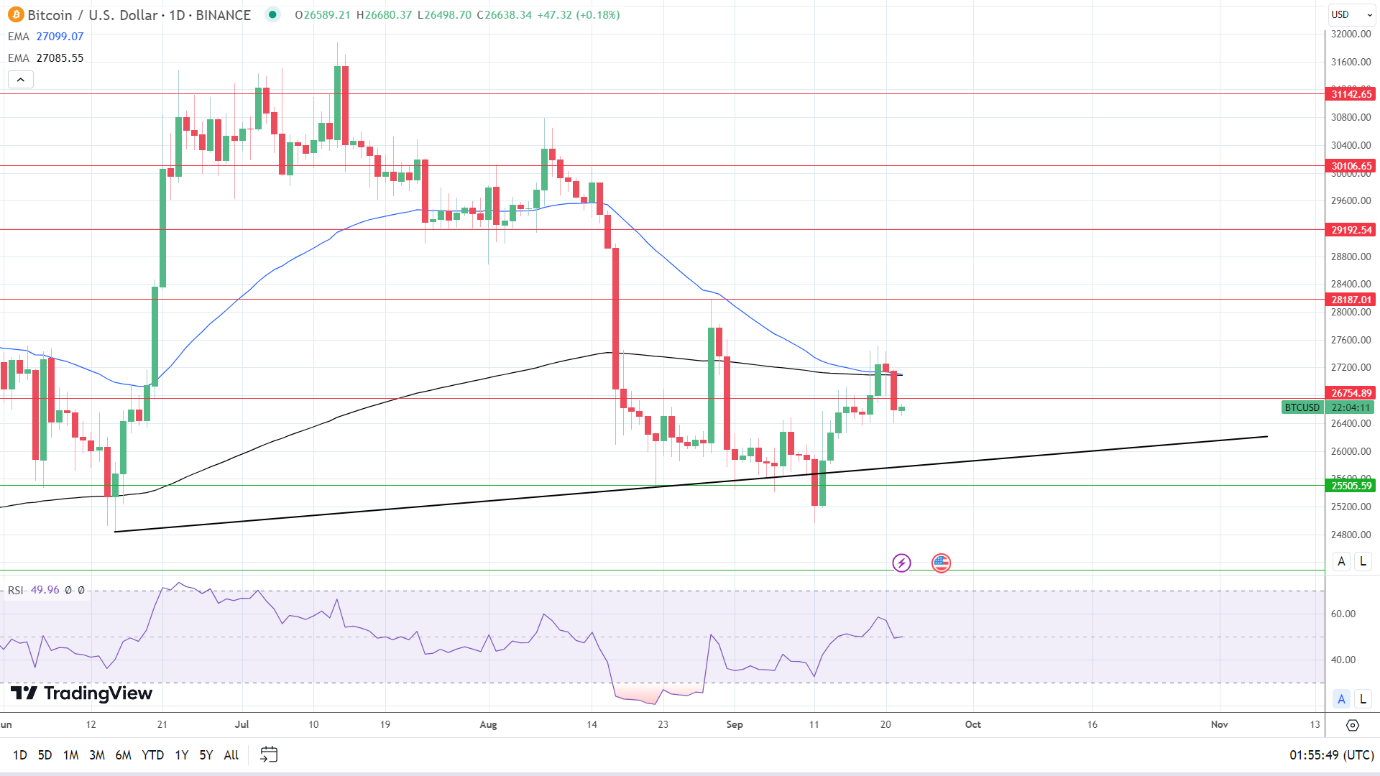 BTCUSD 220923 Daily Chart
Ethereum Analysis
ETH sat below the 50-day and 200-day EMAs, sending bearish price signals. An ETH fall to $1,550 would support an ETH break below the $1,502 support level.
ETH-spot ETF-related news and SEC activity will remain focal points over the near term. ETH remains sensitive to SEC activity after the SEC Chair threw ETH into the SEC securities basket earlier this year.
However, a break above the $1,626 resistance level would support an ETH move to the 50-day EMA.
The 14-Daily RSI reading of 39.79 supports an ETH return to $1,550 before entering oversold territory.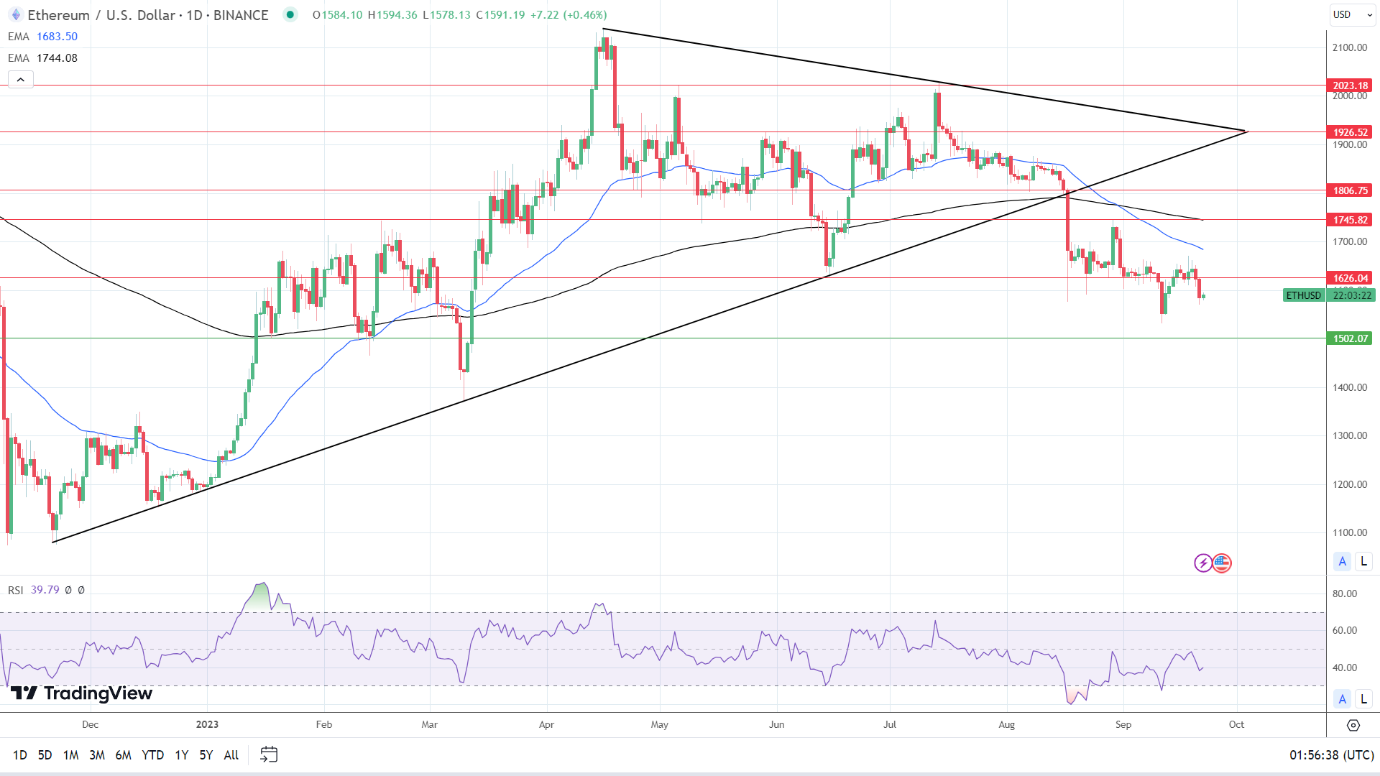 ETHUSD 220923 Daily Chart
Don't miss a thing!
Sign up for a daily update delivered to your inbox
Sponsored Financial Content