Eric Trump Labels TrumpCoin (TRUMP) Fraudulent
Updated

: Jan 25, 2022, 10:24 UTC
•
2
min read
Amidst rising crypto scrutiny and the latest crypto market meltdown, TrumpCoin (TRUMP) came into the view of the Trump family overnight.
Meme coins were all the rage in 2021, with the likes of Dogecoin (DOGE) and Shiba Inu (SHIB) giving investors healthy investment returns.
While Dogecoin is one of the oldest, a number of platforms have taken the names of world leaders, past and present.
PutinCoin (PUT) is one of a number of cryptos created in honour of Russian premier Vladimir Putin. With the Bank of Russia having proposed a ban on cryptos, the future looks less clear for PUT.
TrumpCoin Doesn't Get Trump Junior's Seal of Approval
Future prospects don't appear to be much better for another altcoin TrumpCoin (TRUMP). What's likely to be to the disappointment of the TrumpCoin community, Eric Trump took to twitter overnight, denouncing TrumpCoin.
President Donald Trump's son tweeted that TrumpCoin "has nothing to do with our family, we do not authorize the use and we are in no way affiliated with this group". Eric Trump added that the Trumps will take legal action.
Fraud Alert: It has come to our attention that someone is promoting a crypto currency called "TrumpCoin" (Symbol "TRUMP.") This has NOTHING to do with our family, we do not authorize the use and we are in no way affiliated with this group. Legal action will be taken.

— Eric Trump (@EricTrump) January 24, 2022
The TrumpCoin team responded to Eric Trump's "Fraud Alert" tweet, stating that it had never claimed an association to President Trump's brand in any way. TrumpCoin also highlighted the FAQ section and webpage that has clearly stated the lack of association since launch.
The timing of Eric Trump's tweet coincides with a sharp increase in crypto regulatory scrutiny.
What is TrumpCoin?
Named after President Trump, TrumpCoin launched in 2016 and was created "by patriots for patriots around the world".
According to the TrumpCoin website, TrumpCoin patriots "stand up against corruption, support integrity, preserve our individual rights in a free society and respect those flags around the world that represent freedom".
There is a total supply of 18 million TrumpCoin. TrumpCoin holders can earn staking rewards by staking TrumpCoin or, if a PatriotNode, can receive node rewards. PatriotNodes are responsible for protecting and monitoring the network. TrumpCoin has a Proof-of-Stake protocol.
At the time of writing, TrumpCoin was down by 25% to $0.2067. In mid-November, TrumpCoin had struck an ATH $0.6902 before hitting reverse. Eric Trump's tweet and threat of legal action has contributed to this morning's slump.
A TrumpCoin move back through January's high $0.5378 would support a run at November's ATH.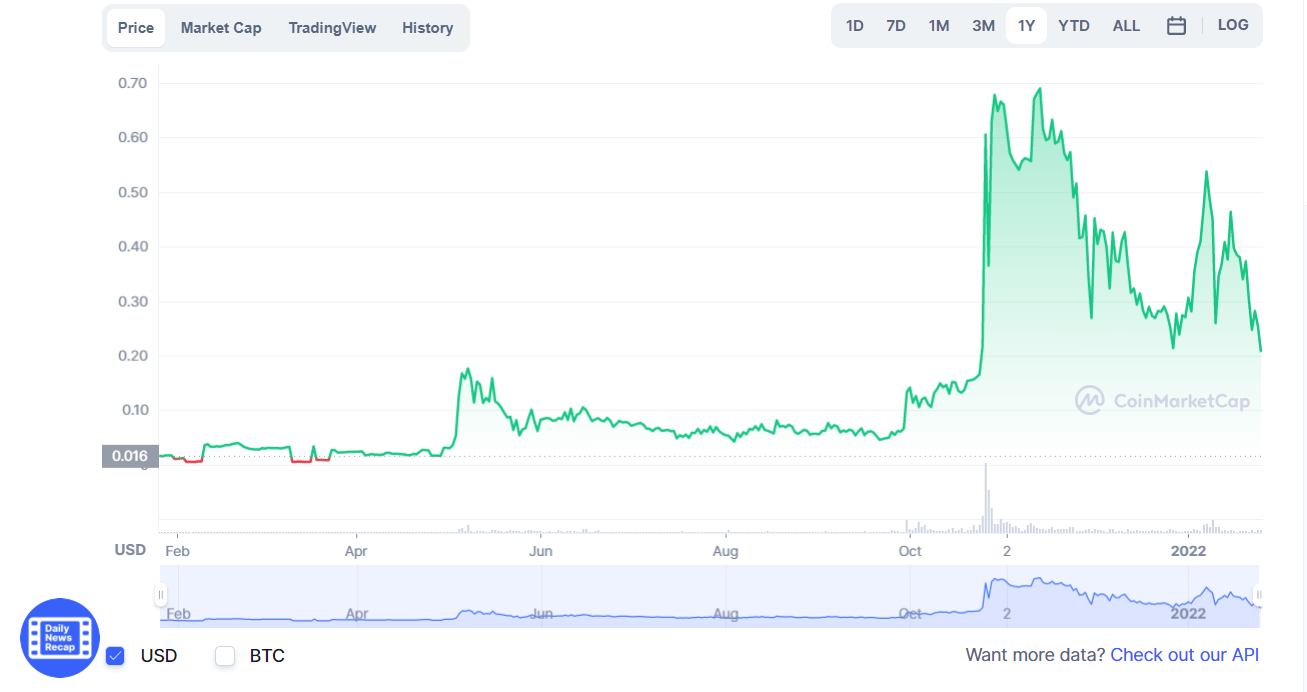 Don't miss a thing!
Sign up for a daily update delivered to your inbox
Sponsored Financial Content