Natural Gas Price Fundamental Daily Forecast – Given Wide Range of Storage Estimates, Look for Heightened Volatility
Published

: Oct 31, 2019, 13:29 UTC
•
3
min read
Technically, today's direction will be determined by trader reaction to a retracement level at $2.695. A sustained move over this level will indicate the presence of buyers. The daily chart indicates there is no resistance until $2.884. A break under $2.695 could trigger a move into a 50% level at
Natural gas prices are trading higher again on Thursday ahead of today's weekly government storage report. The rally is being fueled by a sustained drop in natural gas production and a relatively stable cold weather pattern. Additionally, the market is now trading on the strong side of a short-term technical area. After providing resistance for weeks, this zone could develop into support.
At 13:03 GMT, December natural gas is trading $2.728, up $0.037 or +1.37%.
All of the above mentioned factors are combining to create a bullish tone in the market place. However, there is still a concern that gains could be limited by expectations for today's storage report to show a much larger-than-normal injection. Furthermore, traders still aren't sure how long the cold will last.
Near-Term Weather Outlook
According to Natural Gas Intelligence, "While the current cold snap has been supportive for both futures and cash markets in recent days, the longevity of the Arctic air remains unclear and poses downward risk to prices if the second half of November trends warmer. Both the American and European weather models maintain the cold forecast for the first half of November, with the former coming in some 15 gas-weighted degree days (GWDD) colder than the latter."
"Both models again hint at changes that could bring about a milder pattern around the middle of the month, but as we have been pointing out, this keeps getting delayed," Bespoke Weather Services chief meteorologist Brian Lovern said. "While we believe that evolution ultimately does work out, confidence remains low until we see this progress forward in the forecast."
"As long as a strong upper level ridge anomaly continues up into Alaska, the bias of the pattern remains to the colder side, focused in the middle of the nation," according to Bespoke. "However, there is 'definitely enough cold' that continues to drop in to keep national demand above normal."
NatGasWeather confirms this viewpoint saying, "Indeed, the midday Global Forecast System (GFS) was colder trending for mid next week, although not quite cold November 12-14. Nevertheless, it still teased frigid cold would be right at the United States/Canada border and could push back into the United States at any time."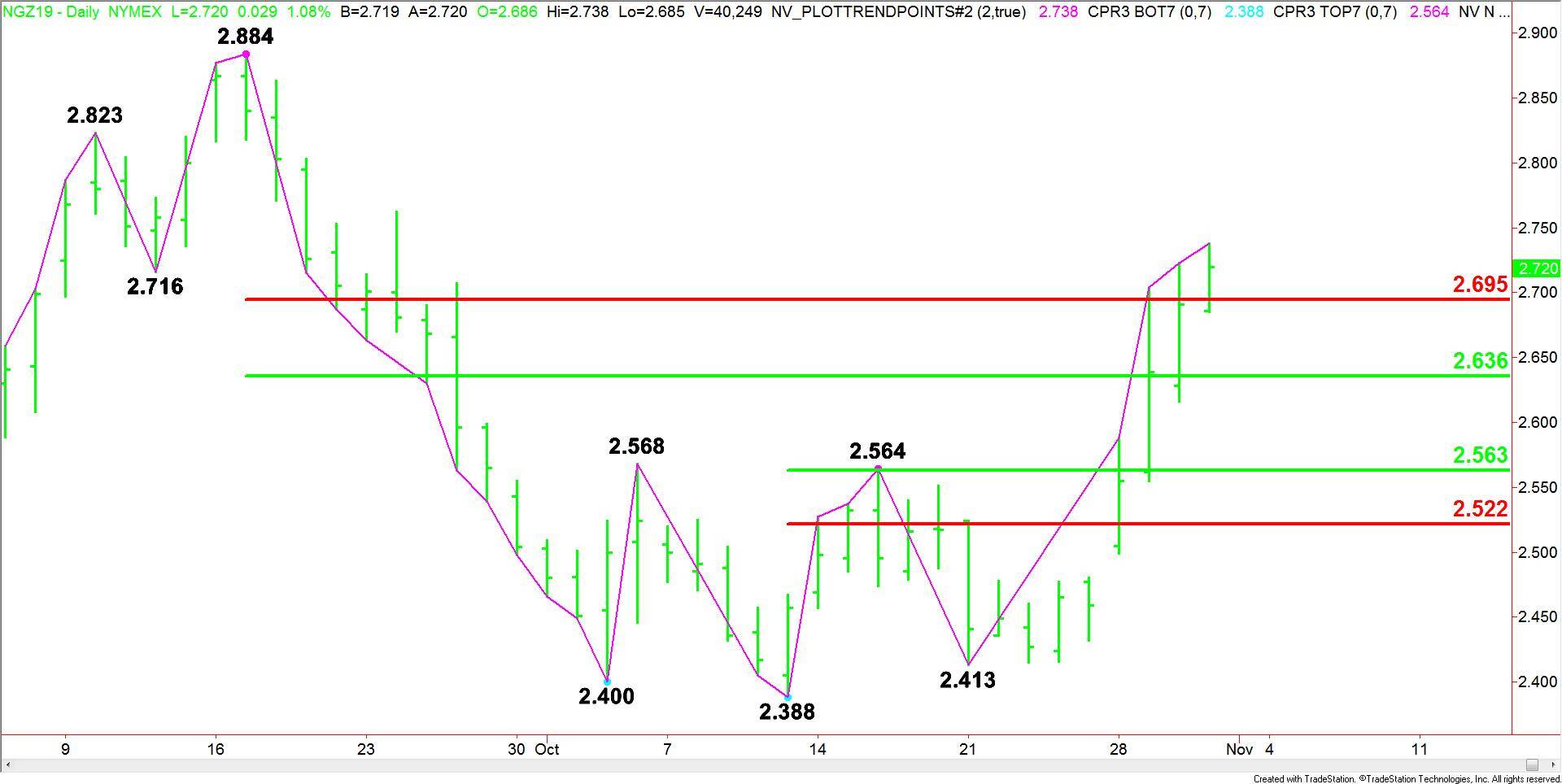 Daily December Natural Gas
Daily Forecast
Technically, today's direction will be determined by trader reaction to a retracement level at $2.695. A sustained move over this level will indicate the presence of buyers. The daily chart indicates there is no resistance until $2.884. A break under $2.695 could trigger a move into a 50% level at $2.636. Buyers could come in on a test of this level.
Fundamentally, a Bloomberg survey of 13 analysts showed a median build of 85 Bcf. A Reuters poll of 18 market participants had a range from 66 Bcf to 94 Bcf, with a median of 85 Bcf. Natural Gas Intelligence (NGI) projected a 93 Bcf injection.
Adjustments are being made due to the forecasts, I am now seeing some predictions of 47 Bcf. Last year, the EIA reported a 49 Bcf injection, while the five-year average build stands at 65 Bcf.
Given the wide range of injections, the EIA report is likely to be the source of heightened volatility today.
Don't miss a thing!
Sign up for a daily update delivered to your inbox
Sponsored Financial Content