Nikola's Stock Falls to Record Low After $100M Stock Offering
Updated

: Mar 31, 2023, 16:51 UTC
•
2
min read
Nikola's struggles ramping up production continue to impact investor confidence
Highlights
Nikola announces $100M secondary stock offering at 20% discount
Funds raised to be used for general purposes and working capital
Unnamed private investor purchases remaining shares directly from Nikola
Overview
Electric truck manufacturer, Nikola, has announced a $100 million secondary stock offering at $1.12 per share, which is 20% below the closing price of $1.40.
The underwriter, Citigroup, was only able to place about a third of the shares with its clients, indicating limited interest on Wall Street. As a result, shares fell by over 15%, hitting a new 52-week low.
An unnamed private investor has agreed to purchase the remaining shares directly from Nikola.
The funds raised from the offering will be used for general purposes and working capital as Nikola prepares to launch a new long-range electric semi-truck powered by hydrogen fuel cells later this year.
The new truck will complement Nikola's shorter-range Tre battery-electric heavy truck, which began shipping last year.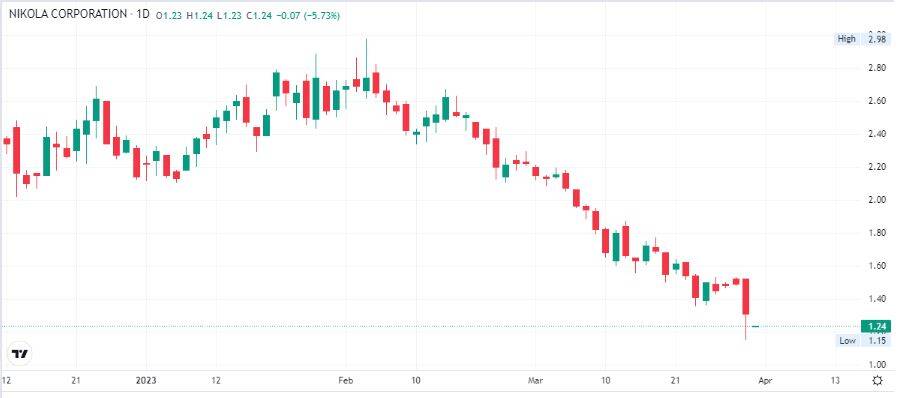 Daily Nikola Corporation
Nikola's Stock Hits Record Low After $100M Secondary Stock Offering
However, Wall Street was concerned about the offering price of $1.12, and the shares hit a record low.
The offering consisted of 29.9 million shares in public offering and 59.4 million shares to hedge fund Antara Capital L.P., an existing holder of the company's convertible bonds.
The decline in Nikola's stock price resulted in BTIG analyst, Gregory Lewis, downgrading the stock from "buy" to "neutral."
Nikola Management Faces Balancing Act Despite $100M Cash Injection
Despite the cash injection, the management has a lot of work to do to balance cash burn against its existing cash.
Nikola, along with other smaller EV firms, has been struggling to ramp up production, and last year, it announced its plan to sell shares to raise up to $400 million.
The factors that hit demand for its battery-powered trucks were not expected to ease in the near future, after delivering fewer than a sixth of the battery-powered trucks it made in the fourth quarter.
As of March 28, the company has $123 million in cash and $85 million in restricted cash.
Other EV stocks, including Tesla, Rivian Automotive, Lordstown Motors Corp, and Lucid Group Inc, are up between 2% and 6%.
Don't miss a thing!
Sign up for a daily update delivered to your inbox
Sponsored Financial Content