GBP/USD Price forecast for the week of February 19, Technical Analysis
The British pound rallied during the week, breaking above the 1.40 level again. We are giving back some of the gains, but ultimately, I think we are in a range of consolidation, perhaps trying to build up the necessary momentum to break above the 1.43 level. I think the market is heavily supported underneath, and therefore I believe that buying on dips makes sense.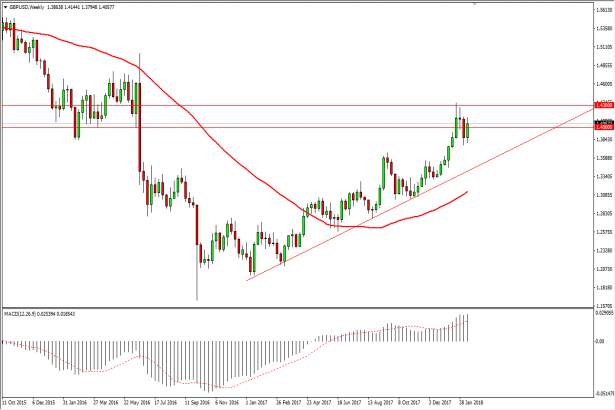 The British pound rallied a bit during the week, breaking above the 1.40 level again. I think that the 1.43 level after that is the next target, perhaps opening the door to the 1.45 level as it is the next large, round, psychologically significant number. The uptrend line underneath should continue to support this market, so it's not until we break down below the 1.35 level that I am concerned about the overall uptrend. This is an area that of course features a lot of noise, so don't be surprised if we have a lot of choppy back and forth type of momentum.
The US dollar has been softer some time, and most of the giveback that we had seen on the weekly chart was on Friday, and early in the day for that matter. It looks as if the Americans are willing to sell off the US dollar, so it's very possible that we may see a continued momentum coming out of the United States leaving the US dollar.
I believe that longer-term, the British pound will continue to climb quite nicely, especially as it appears that the currency markets are starting to doubt the ability of the Federal Reserve to raise interest rates as rapidly as once thought. You can start to see this in the bond markets, and of course against the major currencies around the world.
GBP/USD Video 19.02.18