NASDAQ 100, Dow Jones, S&P 500: Tech Sector Soars, but Other Industries Struggle in May
Updated

: Jun 1, 2023, 00:22 UTC
•
3
min read
AI-related stocks lift Nasdaq Composite by 5.8%, led by chipmaker Nvidia; S&P 500 rises only 0.3% and Dow falls by almost 3.5% in May.
Highlights
U.S. stock index futures show mixed results, AI-related stocks rise.
Nasdaq Composite gains 5.8% in May, driven by AI companies like Nvidia.
Technology sector outperforms while other sectors face challenges.
Overview
The major U.S. stock index futures contracts are showing mixed results in early overnight trading. Highlighting May May was a significant increase in stocks related to artificial intelligence.
As of 23:23 GMT, the futures contract for the Dow Jones Industrial Average, which includes well-established companies, is trading at 32,940.00, down 39.00 points or 0.12%. The futures contract for the S&P 500 Index, which represents a broad range of stocks, is at 4,192.75, up 2.25 points or 0.05%. The futures contract for the Nasdaq, which is composed of technology companies, is trading at 14,298.25, down 2.25 points or 0.02%.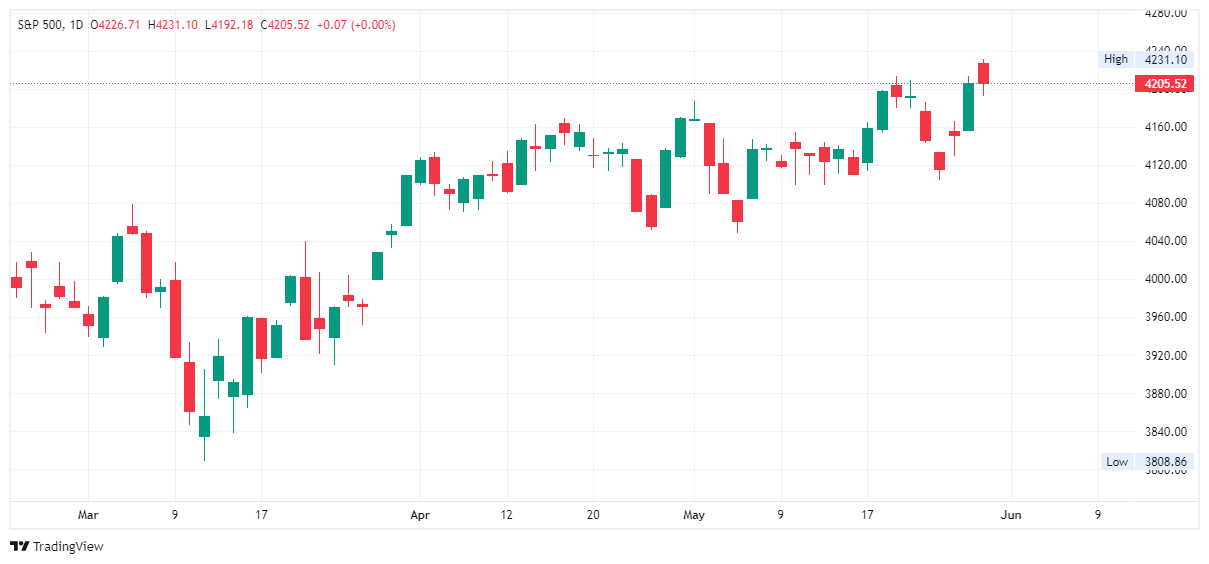 The Nasdaq Composite ended May with a 5.8% increase as investors remained enthusiastic about AI-related companies. One notable performer was chipmaker Nvidia. It saw a 36% increase in May and briefly reached a market capitalization of $1 trillion this week. Companies like Alphabet (Google's parent company), Meta (formerly Facebook), and Amazon also saw gains of at least 10% during the month.
However, outside of the technology sector, it was difficult to find significant gains. The S&P 500 only rose by 0.3% during the month, while the Dow Jones Industrial Average fell by almost 3.5%. This decline was mainly due to underperforming stocks such as Nike, Walt Disney, and Chevron.
Despite facing negative sentiment and headlines, the market has shown resilience since hitting its low point in March. It has managed to absorb and recover from a continuous wave of pessimism.
Congress Races to Raise Debt Ceiling Amid Default Risk
Congress is racing against time to pass a bill that would raise the debt ceiling and cut government spending, with a potential risk of sovereign default looming. Investors closely monitor this development as it could trigger a market breakout, but concerns arise regarding overbought conditions in the technology sector and mega-cap stocks, which may hinder market progress without broader sector participation.
Rate Hike Uncertainty Looms
The upcoming Federal Reserve policy meeting on June 13-14 is also under scrutiny, as the probability of a rate hike has dropped to 32% following comments from officials indicating a "hawkish pause." Philadelphia Fed President Patrick Harker suggests a rate hike may be skipped, pending the payrolls report.
Job Openings Surge, Rate Hike Uncertainty
Meanwhile, unexpected growth in U.S. job openings raises prospects of labor market strength. This, along with potential wage and inflation pressures, led Fed Governor Philip Jefferson to advocate for delaying a rate hike. Uncertainty surrounding the rate hike and caution from Fed officials have made market sentiment less certain ahead of the meeting.
Intel Soars, Financial Sector Declines
In stock market news, Intel Corp experienced a significant surge, while Hewlett Packard Enterprise and Nvidia declined. The financial sector saw a decline, driven by bank stocks, and auto parts makers also faced setbacks. The dynamic nature of the stock market was evident as companies displayed varying performances based on financial results and market expectations.
Economic Data Release: Jobless Claims, PMI
Economic data, including weekly jobless claims and the purchasing managers' index, was scheduled to be released on Thursday.
Don't miss a thing!
Sign up for a daily update delivered to your inbox
Sponsored Financial Content